Chevron Mustache: A Time-Honored Classic for the Suave Man
Mustache you a question – have you ever considered the stylish and timeless appeal of the Chevron Mustache?
This iconic facial hairstyle has graced the upper lips of some of the world's most distinguished gentlemen, adding an air of sophistication, charm, and a dash of rugged masculinity.
The Chevron Mustache is more than just a facial hair choice; it's a statement. It speaks volumes about your personality, reflecting your confidence, individuality, and boldness.
Ready to embrace the Chevron Mustache and make it your own? Read on to discover how this classic mustache style can TRANSFORM your look and leave a lasting impression.
10 Unique and Trendy Chevron Mustache Looks
1. The Alluring Chevron Mustache with Shorter Sides
A Chevron Mustache with shorter sides is perfect for gents seeking a subtler look.
This variation of the classic Chevron Mustache makes the facial hair more understated, while still maintaining its iconic charm.
I've always admired how it frames the mouth, adding personality and character to the wearer's overall appearance.
2. The Timeless Classic Chevron Mustache
There's a reason why the Classic Chevron Mustache has been a favorite for generations: its simplicity and elegance.
When I think of iconic mustaches, this style immediately comes to mind.
With its full, thick look, it beautifully accentuates the upper lip, making a strong statement of sophistication.
3. Modernizing the Chevron Mustache with Stubble
A Chevron Mustache paired with stubble provides a contemporary twist on a classic style.
This combination adds a rugged touch, perfect for men who want to appear effortlessly cool.
I personally love how the stubble balances the prominent Chevron, giving it a more laid-back vibe.
4. The Fusion of Chevron Mustache and Beard
For gents who want a bolder facial hair statement, combining a Chevron Mustache with a beard is an excellent choice.
This fusion seamlessly blends the two styles, creating a harmonious, eye-catching look.
I find this pairing to be versatile and adaptable, suitable for various face shapes and personal styles.
5. The Distinguished Grey Chevron Mustache
There's something undeniably distinguished about a Grey Chevron Mustache.
The grey color adds a touch of wisdom and refinement to the classic style.
I can't help but admire guys who wear this mustache, as it exudes an air of experience and sophistication.
6. Crafting the Perfect Chevron Mustache
Achieving the Perfect Chevron Mustache requires patience and precision.
I've learned that regular trimming and grooming are essential to maintaining the ideal shape and thickness.
With attention to detail and DEDICATION, anyone can sport a flawless Chevron Mustache that is sure to turn heads.
7. The Unique Blonde Chevron Mustache
A Blonde Chevron Mustache offers a distinctive spin on the classic style.
The lighter hair color adds an element of uniqueness, ensuring that the wearer stands out in a crowd.
I've always been fascinated by how the blonde shade highlights the Chevron's contours, giving it an extra dimension.
8. Freddie Mercury's Iconic Chevron Mustache
When it comes to famous Chevron Mustaches, Freddie Mercury's is arguably the most iconic.
The legendary Queen frontman's facial hair is synonymous with his powerful stage presence and unforgettable performances.
I find Mercury's Chevron Mustache to be an inspiring example of how a simple style can become a defining characteristic.
9. The Stylish Chevron Mustache with a Faded Hairstyle
Pairing a Chevron Mustache with a faded hairstyle is a fashionable choice that exudes confidence.
This combination creates a cohesive look that is both contemporary and timeless.
I appreciate the way the faded hairstyle complements the Chevron, emphasizing the mustache's prominence.
10. Chevron Mustache for Bald Heads: A Bold Statement
A Chevron Mustache can be a fantastic option for men with bald heads.
This facial hair style adds character and definition to the face, enhancing one's overall appearance.
I find that the Chevron Mustache brings a sense of balance and symmetry to men who sport it, regardless of their hair situation.
11. Tom Selleck: The Idol of Chevron Mustache Wearers
Tom Selleck has become synonymous with the Chevron Mustache for decades.
His iconic facial hair is a symbol of masculinity, charm, and style.
I've always admired his ability to effortlessly make the Chevron Mustache look both sophisticated and approachable, serving as an inspiration to countless fans around the world.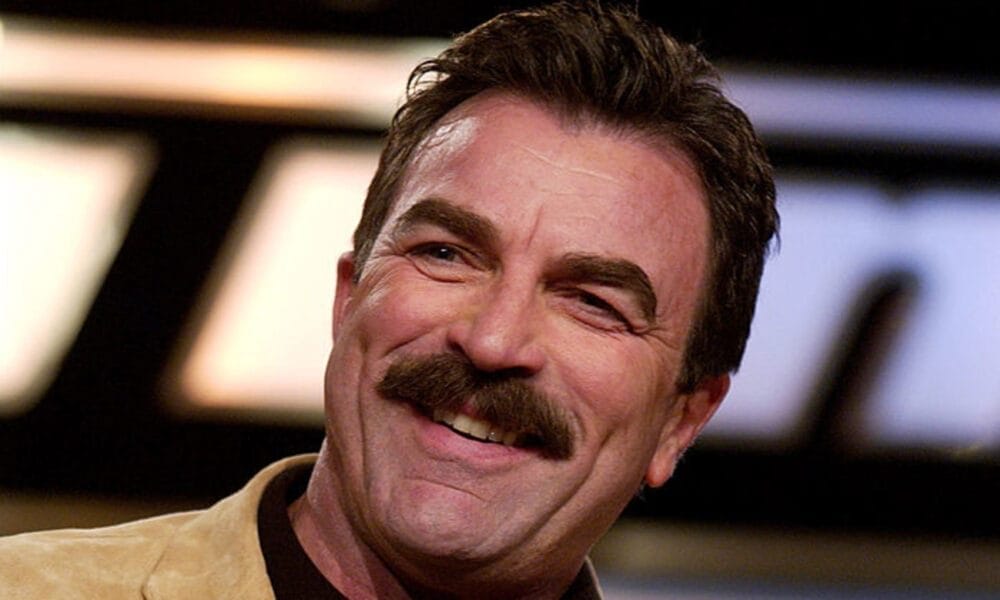 12. The Intriguing Almost Pyramidal Chevron Mustache
An Almost Pyramidal Chevron Mustache is a unique variation that adds a touch of flair to the classic style.
This version tapers toward the center, creating a subtle, yet captivating, pyramid shape.
I find this Chevron Mustache to be a creative expression of individuality, setting it apart from traditional design.
Conclusion
The Chevron Mustache is an excellent way to showcase your sophistication, confidence, and timeless style.
As someone who appreciates classic facial hair choices, I believe this iconic mustache can elevate your appearance and make a memorable statement.
Embrace the Chevron Mustache and exude ELEGANCE!
FAQs
Q1. Is Chevron Mustache Old School?
While the Chevron Mustache may have its roots in traditional styles, it has transcended time to remain relevant and fashionable. This classic facial hair look exudes sophistication, confidence, and masculinity, which never go out of style. By adopting the Chevron Mustache to modern trends and personal preferences, it continues to be a popular choice for both old-school enthusiasts and contemporary fashion followers alike.
Q2. Can anyone grow a Chevron Mustache?
Almost anyone can grow a Chevron Mustache, provided they have the necessary facial hair growth. Patience and dedication are crucial for achieving this classic style. Regular trimming and grooming help maintain the desired shape and thickness. While some may face challenges due to genetics or uneven hair growth, the Chevron Mustache remains an attainable and distinguished choice for many facial hair enthusiasts.
Q3. Which Celebrity sported Chevron Mustache?
One of the most famous celebrities to sport a Chevron Mustache was the legendary Queen frontman, Freddie Mercury. His iconic mustache became a defining feature of his powerful stage presence and unique persona. Additionally, actor Tom Selleck is widely recognized for his signature Chevron Mustache, which has become a symbol of charm, masculinity, and timeless style throughout his career.
Q4. Why is the Chevron Mustache Popular?
The Chevron Mustache has gained popularity due to its timeless appeal and association with iconic figures like Tom Selleck and Freddie Mercury. This classic facial hairstyle exudes confidence, sophistication, and masculinity. The Chevron Mustache's simplicity also makes it versatile, suiting various face shapes and personal styles. Its enduring charm continues to captivate and inspire new generations of mustache enthusiasts.
Q5. Why is it called a Chevron Mustache?
The term "Chevron Mustache" is derived from the distinct, inverted V-shape it forms above the upper lip. This shape closely resembles a chevron, a popular design pattern often found in architecture and textiles. The Chevron Mustache is well-known for its bold and striking appearance, making it a classic choice for men seeking a distinguished facial hair style.
Khamis Maiouf is a professional barber who graduated from Hinckley College in England with a degree in hairdressing. He has also won several barbering contests and successfully operated a barbershop for the last two decades. As a skilled hair stylist for 20 years, his goal is to teach others how to achieve a beautiful appearance through their hairstyles.