Boys with Curly Hair: Rock Those Spirals with Confidence & Style!
Are you ready to "curl" up with some fabulous hairstyles?
Celebrating boys with curly hair is all about embracing those natural spirals and finding the perfect style to match your child's unique personality.
In this article,I'll guide you through an amazing selection of trendy, low-maintenance haircuts specifically designed for bouncy curls.
Vibrant, Spirited, and Effortless – prepare to embark on a journey that highlights the best looks for your curly-headed boy, ensuring he feels CONFIDENT and stylish every day!
10 Show-Stopping Haircuts for Boys with Curly Hair
Looking for haircut inspiration for your curly-haired little one?
Here are 10 unique and eye-catching haircuts perfect for Boys with Curly Hair that will make your child feel like a star!
1. Frohawk with a Temple Fade for Boys with Curly Hair
The Frohawk with a temple fade is a bold and stylish haircut for boys with curly hair.
This look features a narrow strip of curls down the center of the head, with a clean temple fade on the sides.
I love this option for its daring yet fun appeal.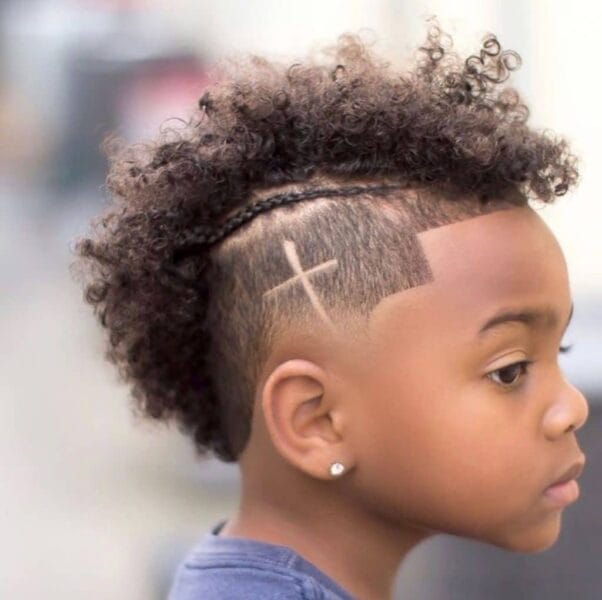 2. Long Loose Curls for Boys with Curly Hair
For a more relaxed and natural look, consider letting your boy's curls grow out into long loose curls.
This style celebrates their hair's texture and creates a charming, carefree vibe.
As a barber, I adore the effortless beauty of this hairstyle.
3. Full Natural Afro for Boys with Curly Hair
Embrace your child's beautiful curls with a full natural Afro.
This classic style showcases their hair's volume and texture while making a strong fashion statement.
I believe this haircut is perfect for boys who want to wear their curls proudly.
4. Side-parted Curls
Add a touch of sophistication to your boy's curly hair with side-parted curls.
This hairstyle features a defined side part, creating a polished and well-groomed look.
I find this option perfect for special occasions and family gatherings.
5. Rainbow Frohawk
For a truly unique and playful look, consider the Rainbow Frohawk.
This colorful hairstyle combines the boldness of a Frohawk with vibrant shades of the rainbow, making it perfect for creative and expressive boys.
6. Buzzfade or High Fade and Undercut
A buzzfade or high fade and undercut is a modern and versatile haircut for boys with curly hair.
This style features short hair on the sides and longer curls on top, allowing for various styling options.
I love this choice for its adaptability and contemporary flair.
7. Short Afro
A short Afro is a timeless and low-maintenance option for boys with curly hair.
This haircut highlights their natural curls while keeping their hair neat and manageable.
As a parent, I appreciate the practicality and elegance of this classic style.
8. Curly Undercut
The curly undercut is a trendy and stylish choice for boys with curly hair.
This look features short sides with longer curls on top, creating a striking contrast.
I find this haircut perfect for young trendsetters who want to showcase their unique sense of style.
9. Afro with Line-up and Temple Fade
For a clean and sharp look, consider an Afro with line-up and temple fade.
This haircut features a neatly shaped Afro, paired with a precise line-up and a subtle temple fade.
I love this option for its polished appearance and timeless appeal.
10. Wavy Caesar
The Wavy Caesar is a fantastic option for boys with slightly wavy or curly hair.
This classic haircut features a short, even length all around, with a subtle fringe in the front.
I adore this style for its simplicity and versatility.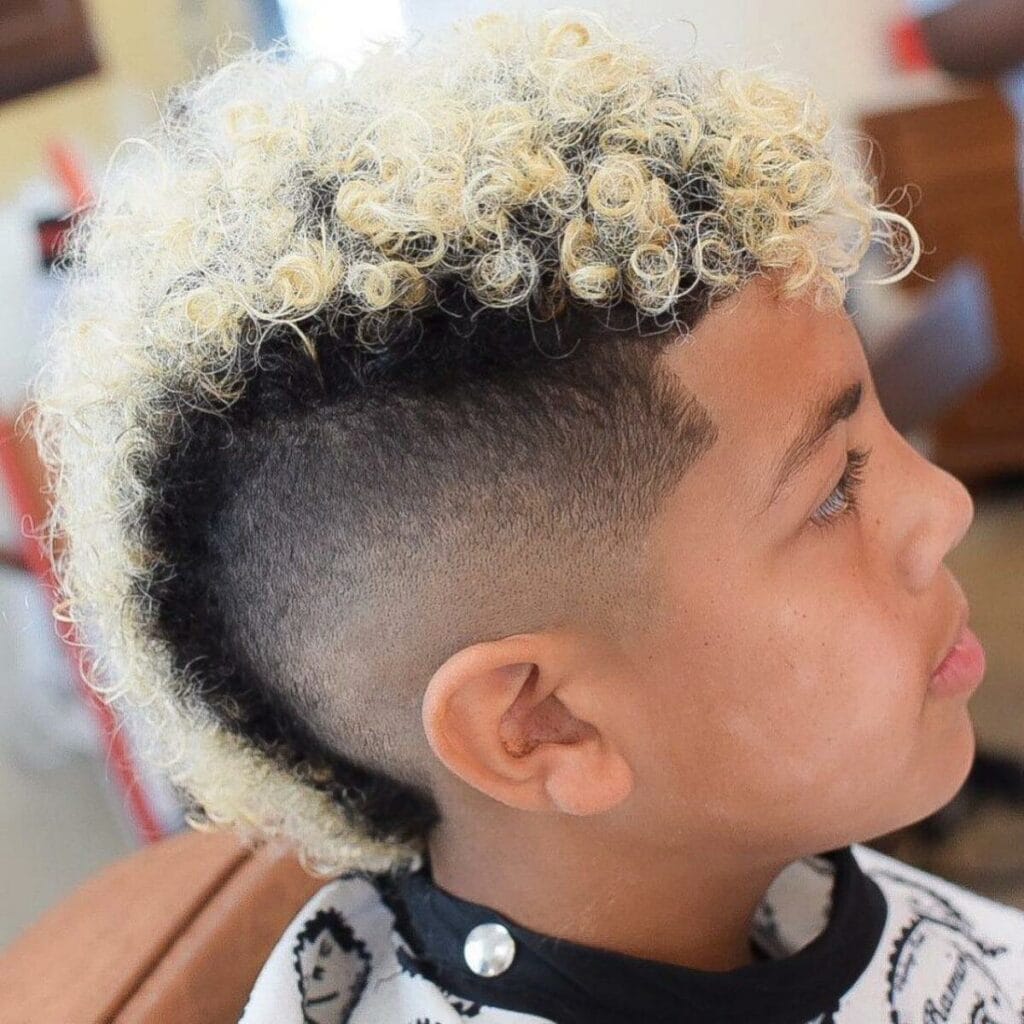 Conclusion
Embracing a Boy with Curly Hair means celebrating their natural texture and uniqueness.
I've been delighted to share the top styles and creative tips to help you and your child make the most of their curls.
Remember, it's all about encouraging their individuality and letting their spirited personalities shine. Stay FASHIONABLE, and enjoy the curly ride!
FAQs
Q1. How can boys enhance their appearance with curly hair?
Boys with curly hair can enhance their appearance by styling their curls in different ways. Applying leave-in conditioner, using a diffuser when blow-drying, and avoiding over-brushing can prevent frizz and define curls. Experimenting with different haircuts, such as layered or textured cuts, can also accentuate curls and add volume.
Q2. Is managing curly hair difficult for boys?
Managing curly hair can be challenging for boys, but it's not impossible. Using a moisturizing shampoo and conditioner, avoiding heat styling tools, and using a wide-tooth comb can help prevent breakage and keep curls intact. However, curly hair needs extra care and attention than straight hair, so boys with curly hair should embrace their natural texture and learn how to style it accordingly.
Q3. What products should boys use to style their curls?
Boys with curly hair should use products that hydrate and define their curls. A curl-enhancing shampoo and conditioner, along with a styling cream or gel, can help maintain the curls' shape and reduce frizz. It's essential to choose products that are specifically designed for curly hair and avoid using too many products that can weigh the hair down.
Q4. Is curly hair well-suited for boys?
Curly hair can be well-suited for boys who want to stand out and showcase their unique style. Curly hair is versatile and can be styled in different ways, making it an excellent way to express one's individuality. With proper care and styling, boys with curly hair can rock their curls with confidence and style.
Q5. Do boys with curly hair appear attractive?
Boys with curly hair can definitely appear attractive. Curly hair is often associated with a sense of playfulness, youthfulness, and personality, making it an attractive feature. However, it's important to remember that attractiveness is subjective, and boys should feel confident and comfortable with their chosen hairstyle.
References:
curly hair
Some of the prettiest hair you can find
Im glad Angel didn't cut his curls yet. Everytime I see him I want to scream QUE LINDO…..VAMOS A TIRAR. source
Khamis Maiouf is a professional barber who graduated from Hinckley College in England with a degree in hairdressing. He has also won several barbering contests and successfully operated a barbershop for the last two decades. As a skilled hair stylist for 20 years, his goal is to teach others how to achieve a beautiful appearance through their hairstyles.