Neymar's facial features shined out of the spotlight in World Cup 2014, while the finals took place. Neymar Haircut is one of the most popular haircuts in football industry, but do you know why? What makes it so special? Or What is the reason Neymar haircut stands out? If you really want to know, then you have to read this blog thoroughly.
The young Brazilian footballer Neymar, did not only made an image in football industry, but also many stylists are inspired by him. From his unique fade and undercut, we have the best iconic hairstyles of neymar. Check out the styli Including his new haircut for the upcoming season.sh pictures of Neymar haircut, which was during his first season as a pro soccer player.
And don't forget about how he styled it during the 2018 World Cup. Pure classic!
Top 15 Neymar Haircut(s) You Must Try!
1. Neymar Haircut – Shaved Sides
Shaved sides with a quiff hairstyle are one of the best and most popular Neymar Haircut(s). If you want to look fabulous, then you must go with this look. In this style, you will get a unique and funky hairstyle.
Neymar's shaved side haircut is known for its signature style. You can also get this haircut with simple steps;
Make sure that you trim equal sides, with clear and straight hairlines.
2. Neymar Haircut – Mute Colored Messy Faux
A mute-coloured messy faux haircut looks so perfect on Neymar. The professional and famous footballer, Neymar is popular for his extraordinary haircuts and Neymar Haircut is an ongoing trend. In December 2011, Neymar appeared in mute coloured messy faux haircut. He dyed his hair blonde and grew them in one direction. If you want to follow Neymar's Hairstyles, then you will need to colour your mid-level hair blonde and follow the growth requirements as Neymar.
3. Platinum Blonde Hair
We all know that Neymar loves to dye his hair in different and unique shades. In 2014, he decided on a free hairstyle with blonde hair. This hairstyle looks simple, but perfect. A man with oval face shape will absolutely look perfect in this Neymar haircut. All you need to do is to dye your hair blonde.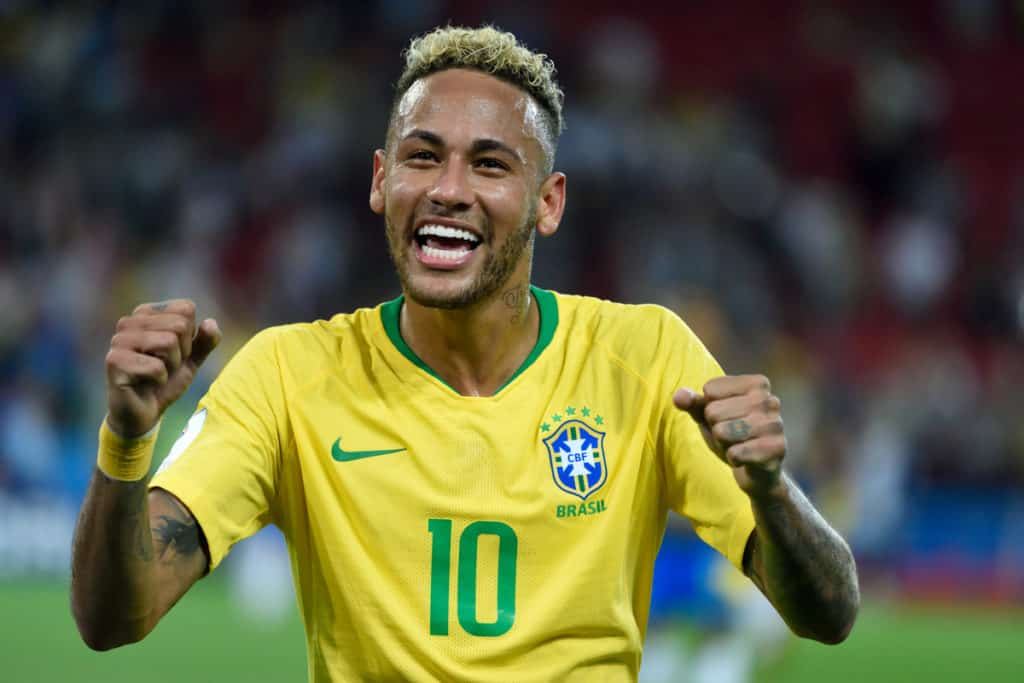 4. A Long Mohawk Hairstyle – Rarest Neymar Haircut
Neymar in 2010, carried this fantastic hairstyle in a match against the United States. He is perfect with his hairstyles just like he is with his performances in the matches. Although his hairstyle needs more care and treatment. A hair with long and mid-deadlocks all over the head is known as Mohawk.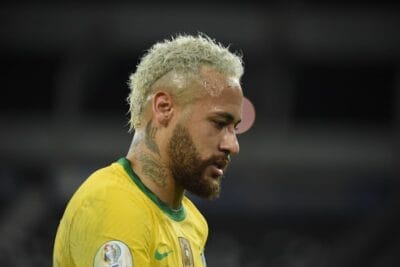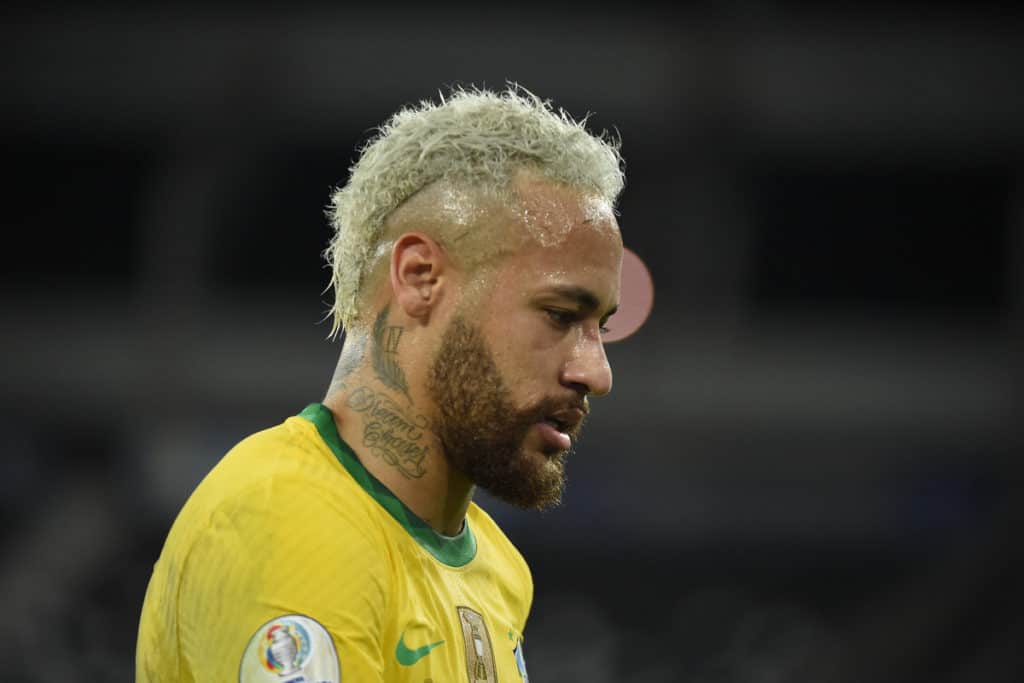 You will need to create a deadlock for this hairstyle and dye it black or dark chocolate (upto you).
5. A Faux Hawk Haircut By Neymar
In the World Cup (2015), Neymar styled his upper portion of hair blonde, and left the rest of his hair in black. This was one of the coolest Neymar Haircut, and it made people go crazy and blonde!
This hairstyle is inspired by fauxhawk, in which you just need to bleach a small amount of the upper area of your hair, and leave the rest as natural black. He not only looked unique, but was highlighted all the way through the World Cup. Neymar is also considered a fashion influencer in the United States.
6. High Fade With Short Curly Neymar Haircut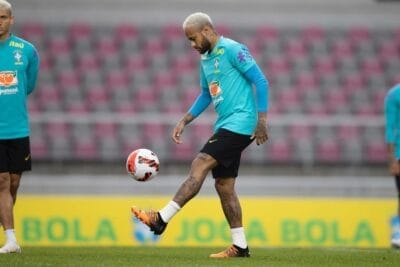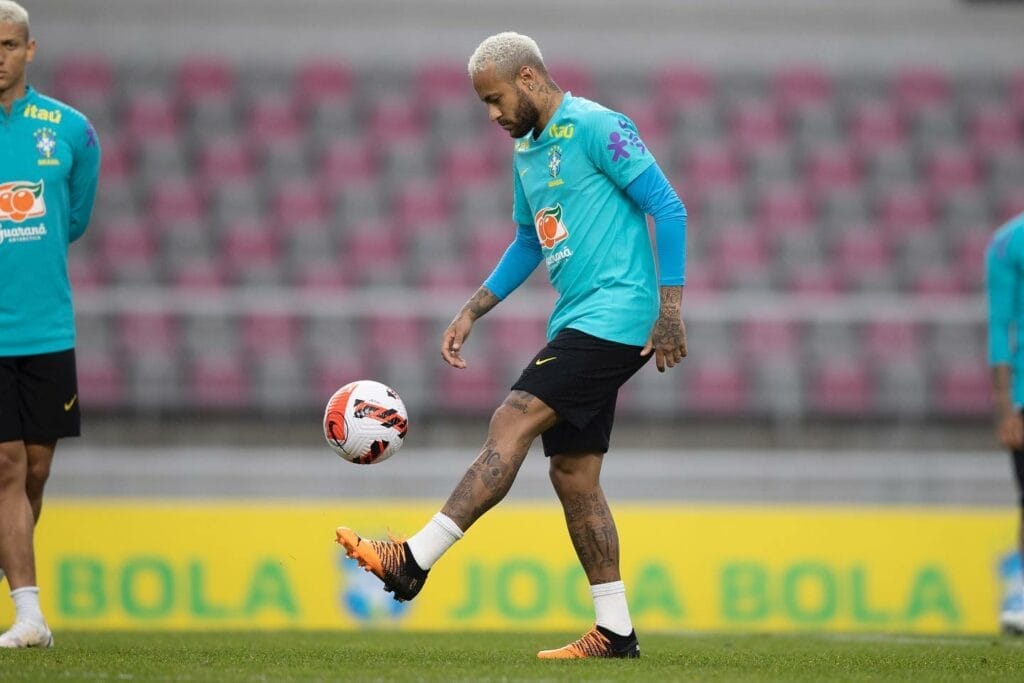 Neymar looked real handsome and stylish in his high fade, with tiny-sized curly haircut. There is no doubt that Neymar is famous for his hairstyles, but this simple and common haircut made him look more striking and cool. This style doesn't need much care or any artificial products to make it perfect.
7. Neymar With A Layered Mohawk
Neymar is truly loved with dreadlocks and mohawk hairstyle. When he gets any chance to attend a party or an occasion he prefers only a mohawk hairstyle to give him a marvellous look. In this extraordinary hairstyle, Neymar has set an equal layer on both sides and dyed it black. A simple black-coloured mohawk hairstyle is uncommon in the whole industry.
8. Neymar Haircut – Natural Curly Hair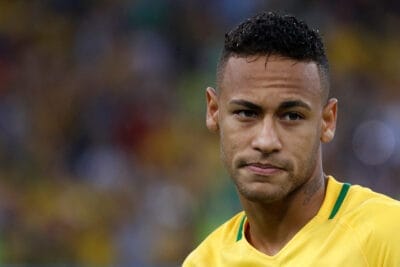 Men with curly hair, give a very attractive and impressive vibe on any occasion. In 2012, Neymar steooed into the world of football tournament, with curly his hair. Neymar gained a lot of attention, and was praises among his fans. His natural curly hair made his personality more sizzling and cool.
9. Neymar With A Comb Over Fade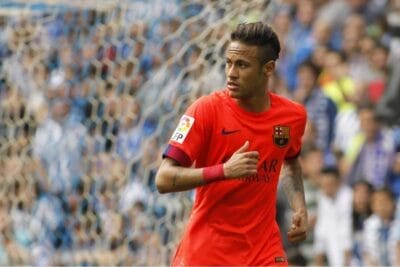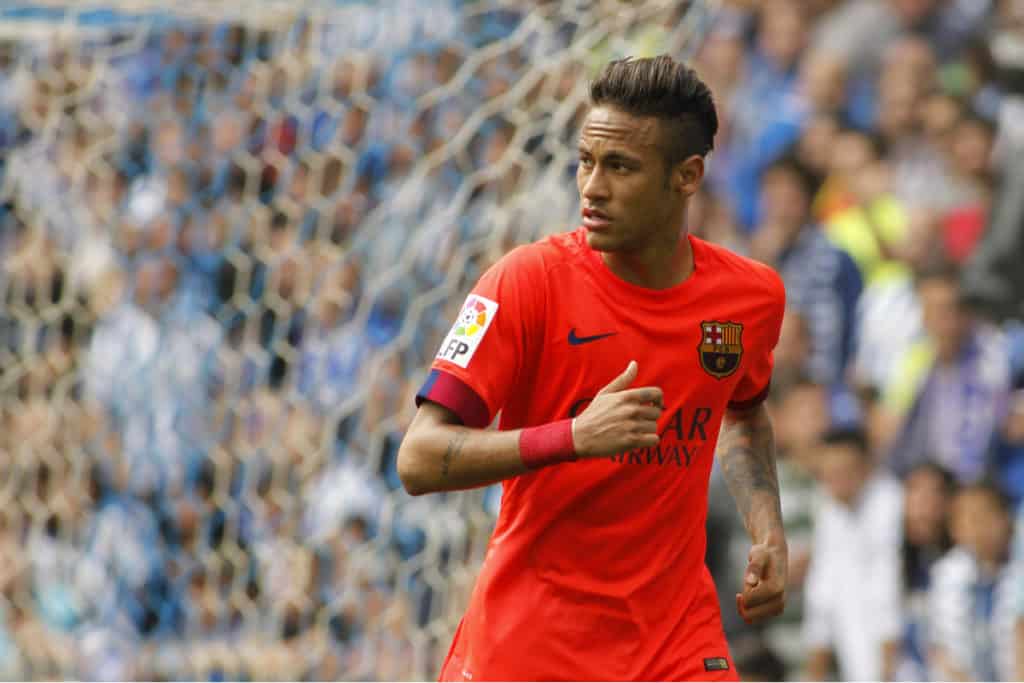 Neymar with his simple comb over fades gave out a personality of a cute college boy. In 2013, he styled his hair with comb-over fades and made them simple and short. This style don't need much tricks and tips. You will also get this look with simple and clear fades. If you suffer from hair fall then, this haircut is the best option for you to go with as it gives you stylish look without worrying about hair fall problems.
10. Low Bald Fade With Long Fringe – Neymar Haircut
Neymar haircut with a low bald fade and long fringe made him distinctive from the others. He and his unique choice of styling makes you feel terrified, and get all your attention. You will need a lot of courage, and guts to show yourself with confidentiality in public. Because this haircut is not for everyone but you can be the one!
11. Spiky Neymar Haircut With Bangs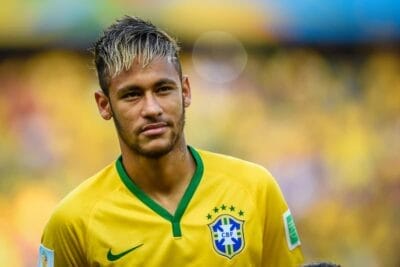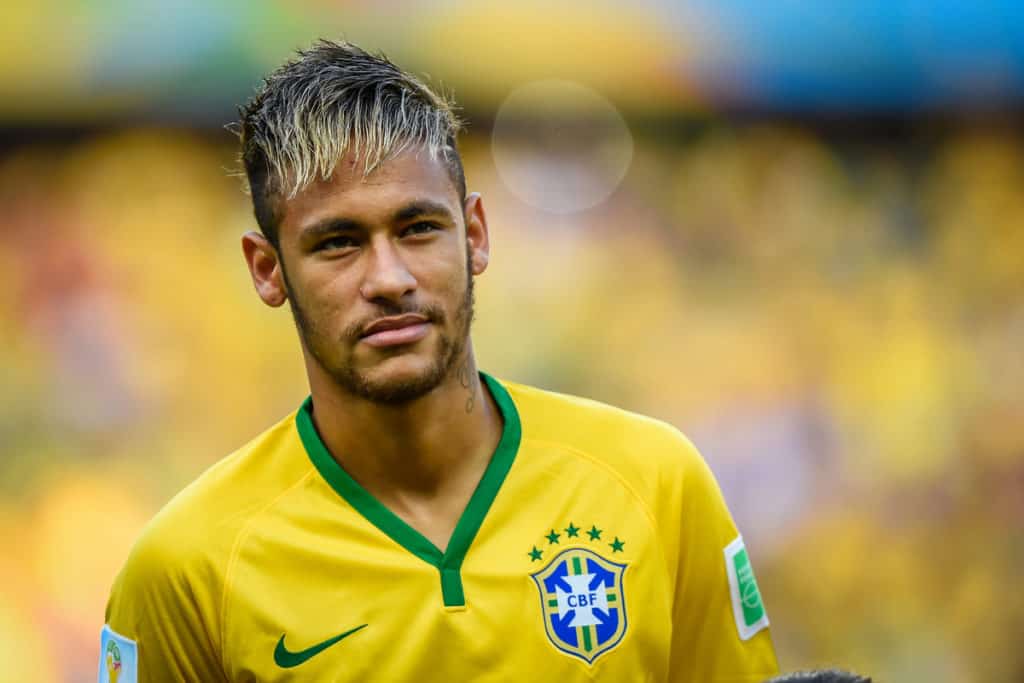 Neymar with spiky hair with bangs gives a look that is more stylish and classy. Neymar is a man with a versatile personality and he always manage to look good, when he has hos very own, Spiker Neymar Haircut. To get this haircut, all you need to do is to get a spiked up. Spikey Haircuts have always been very unique, and sexy to go with, especially when your hair length is medium or short.This Neymar Haircut is also very common as it was one of the most copied haircut of Neymar.
12. Neymar With A Messy hairstyle And Undercut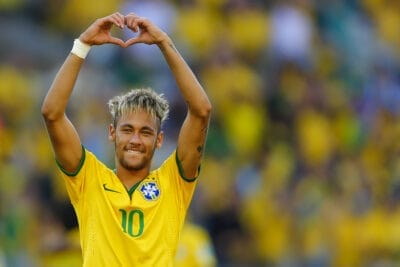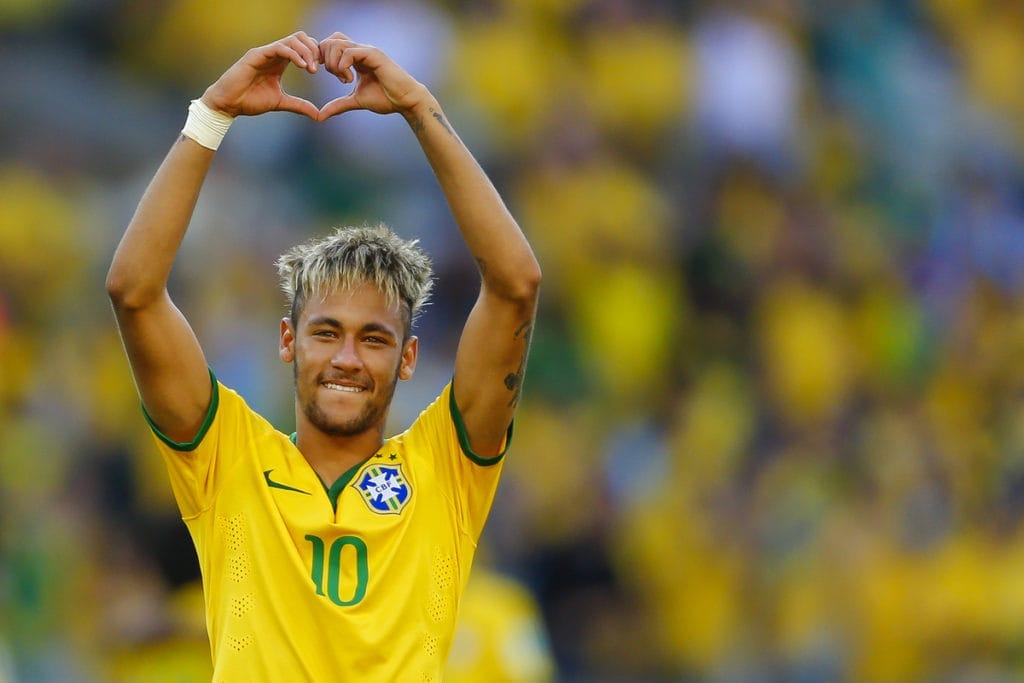 A messy hairstyle is especially made for tall and dark men, And men like Neymar are the ideal for this hairstyle. Neymar recently posted a picture on social media( Instagram), in which he looked super hot as he had his messy hairstyle along with deep undercut.
In an interview, Neymar confessed that he loved his hair short and messy, because he thinks growing your hair in different braids and dreadlocks styles, can be very time consuming. Do you agree with him?
13. Brushed back Neymar Haircut with shaved sides
Brushed back hair and shaved or trimmed sides, is one of the decent haircut of Neymar haircut.
Neymar gained a lot of attention because of this haircut and his fan following started to grow even more. As who wouldn't like a footballer, who's also great when it comes to styling? His fans are crazy about Neymar's styling skills and classic personality. It's one of the best choice of haircut for 14-25 aged men, and the best thing about this haircur is that you don't even have to grow your hair out for a long time.
Easy! Isn't it?
14. Angular Fringe with Tapered Side
Angular fringes with tapered sides are everyone's favourite hairstyle. Even Neymar tried this hairstyle once in summer (2019). This look gained him some collaboration projects with styling brands. It's an ideal hairstyle for every aged man and best for 25-30 men.
15. Textured Spiky Hair with High Skin Fade on the Sides
A newly textured spiky hair with a high fade on both sides gave Neymar a very young, and hot look. Neymar always comes with a new haircut. He looked real handsome and dashing his in spiky hair with high fades. Neymar has always been very creative with his hairstyles,
And he did not only had these haircuts, but he also slayed in them. Neymar haircut(s) is the best choice for the young generation as they give you the hot look you want. Neymar being a successful footballer did not only have partnerships with styling brands bit also with some well-known gaming platforms, for instant PokerStars.
Conclusion
Neymar has a very strong personality, and has become an inspiration for the younger generation. Neymar is one of the most popular, and successful footballer, And today we learnt, that he is also very famous for his haircuts, and the reason behind it. His hairstyles are unique and excellent just like his performance.
He's too concerned about his style and looks, which is an attractive quality to have, as a man. Whether you're Neymar's fan or not, but you must be inspired by his haircuts, And I hope the credit is all mine to take. Decide your most favorite Neymar haircut, and go get in the competition of being one of the most hottest men alive.