The Secret to Neymar's Iconic Hairstyles Revealed!
Inspired by the legendary Brazilian footballer, the Neymar hairdo is taking the world by storm with its bold, daring, and edgy look.
Whether you're a fan of the sport or love to keep your hair on point, the Neymar haircut is the perfect way to make a statement.
Neymar has not only made an image in the football industry for himself but has also attracted the attention of many stylists.
From his unique fade and undercut to shaved sides, we conclude that his iconic hairstyles are mind-blowing.
His unique choice of hair styling will certainly make you go nuts! Sometimes you'll need the guts of a lion facing a herd of buffalos to rock certain hairstyles.
We have created a list of his best haircuts you must try this season.
Top 15 Neymar Haircuts You Must Try!
1. Neymar Haircut – Shaved Sides
The Shaved sides with a quiff hairstyle is your ultimate combination of edge and class. This hairstyle features a sharp, clean-shaved side with a voluminous quiff on top.
Its perfect balance of boldness and sophistication adds to the beauty of Neymar's sport.
Whether you're dressing up for a night out or keeping it casual for the day, the shaved sides with a quiff will make you stand out from the crowd.
Plus, if you want a unique and funky hairstyle, then you must go with this look.
2. Neymar Haircut – Mute Colored Messy Faux
As one of the most experienced football professionals out there, Neymar never fails to make a statement with his unique and fashionable haircuts. A mute-colored messy faux cut is his latest addition to his hair portfolio.
Bold and oh-so-chic, this hairstyle will put your grooming map on a higher level.
To rock this bold style, dye your mid-length hair blonde and let it grow out for a significant, naturally messy effect. Whether you're hitting the pitch or going to town, this hairstyle is the perfect way to unleash your inner self.
Try out this bold and beautiful hairstyle today, and you'll never look back. You can decide to use pink hair color if you are looking to be unique.
3. Platinum Blonde Hair
We all know that Neymar loves to dye his hair in different and unique shades. This stunning shade is the epitome of daring and confidence. In 2014, he decided on a free hairstyle with blonde highlights.
This hairstyle looks simple but perfect.
Try this style if your face is oval in shape for a mouthwatering look. All you need to do is to dye your hair blonde.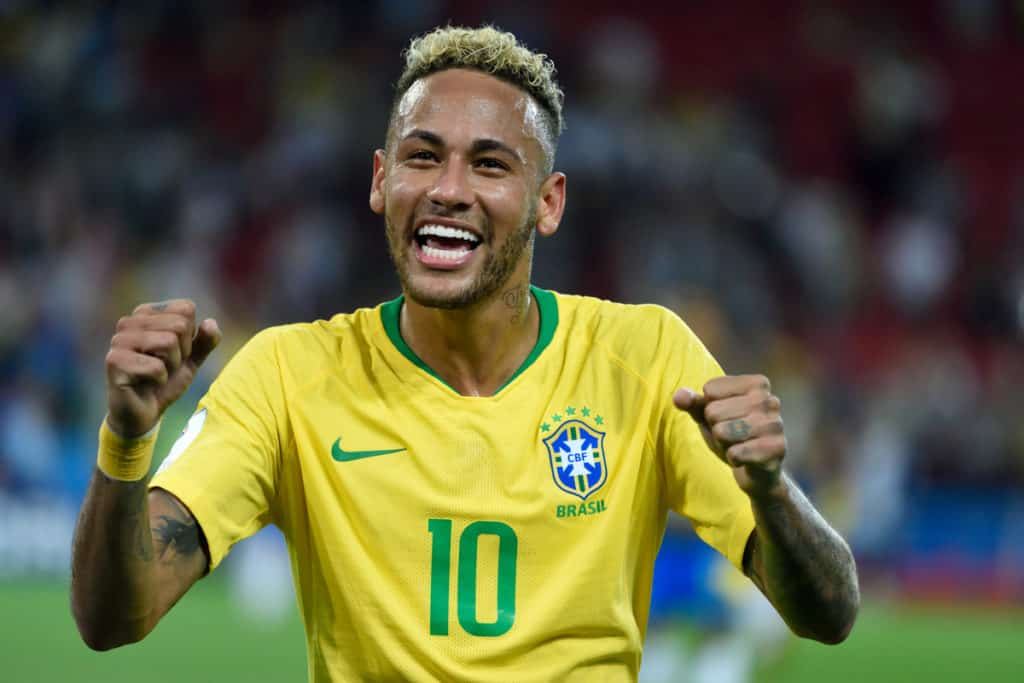 4. A Long Mohawk Hairstyle – Rarest Neymar Haircut
Neymar is perfect with his hairstyles, just like he is with his performances in the field. Although his hairstyle needs more care and treatment.
A hair with long and mid-deadlocks all over the head is known as Mohawk.
You will need to create a deadlock for this hairstyle and dye it black or dark chocolate; it all boils down to you!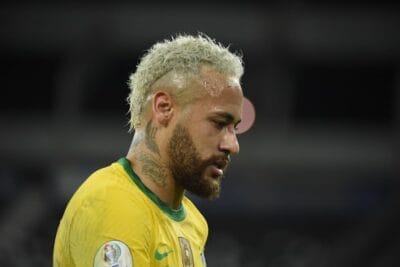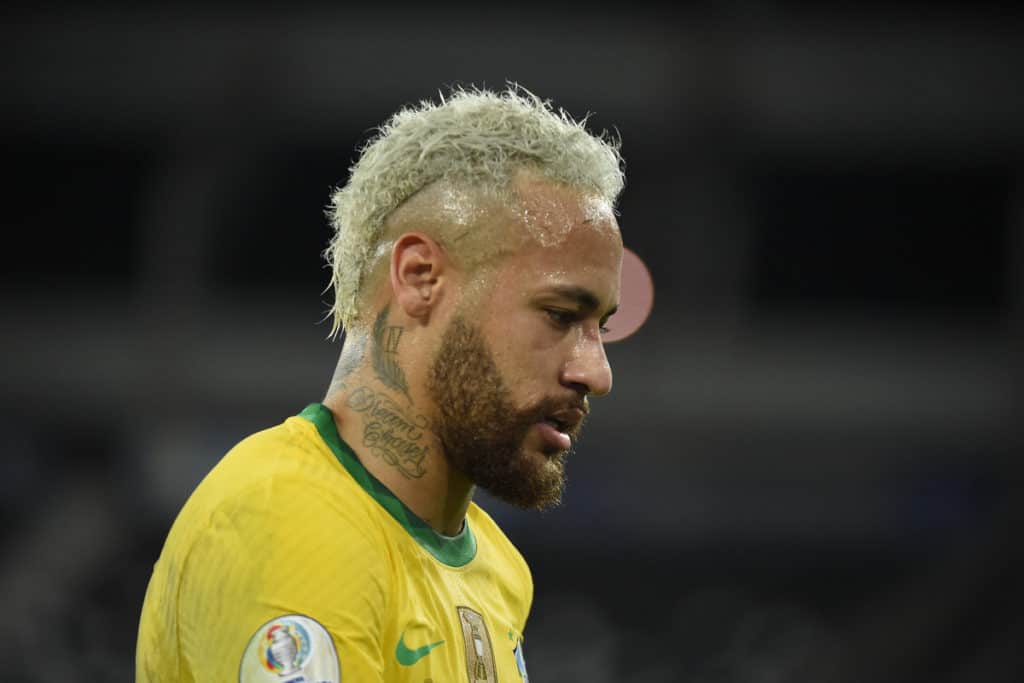 5. A Faux Hawk Haircut By Neymar
Many times, Neymar has been spotted styling the upper portion of his hair with blonde highlights and leaving the rest of his hair black.
We confess that this has been one of the coolest Neymar haircuts that made people go crazy!
This fauxhawk-inspired hairstyle is achieved by bleaching a portion of the hair at the top and keeping the rest black.
Neymar's unique look during the World Cup in Qatar caught the attention of football fans. Out of his looks, Neymar has become a fashion influencer in the United States.
6. High Fade With Short Curly Neymar Haircut
Neymar is known for his choice of fashion and unique sense of style. If you thought you had seen enough of him, you are wrong! He looks striking in his high fade, with a tiny-sized curly haircut.
The good thing with this hairstyle is that it doesn't need much care or any artificial products to make it perfect.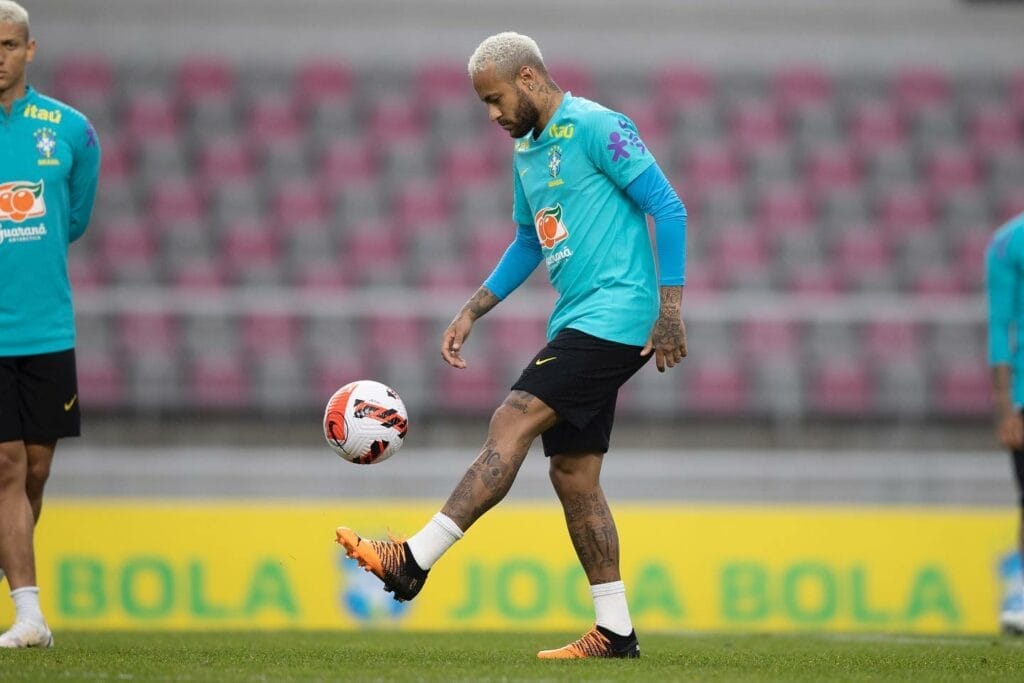 7. Neymar With A Layered Mohawk
In this extraordinary hairstyle, Neymar has set an equal layer on both sides and dyed it black.
A simple black-colored mohawk hairstyle is uncommon in the beauty industry, making him stand out from the crowd.
8. Neymar Haircut – Natural Curly Hair
Men with curly hair look very attractive and offer an impressive vibe on any occasion. In 2012, Neymar stepped into the world of football with curly hair. His curly hair made him receive the praise of his fans.
Wearing a curly hairstyle will definitely make your personality more sizzling and cool.
9. Neymar With A Comb Over Fade
Upgrade your classic comb over with a modern touch. A low fade adds a contemporary twist to this timeless style.
With the fade starting at or below the ears, you get a seamless transition into the length on top for a natural and romantic look. If you seek a blend of trendiness and timelessness, you'll not be disappointed.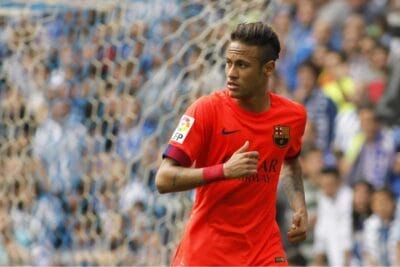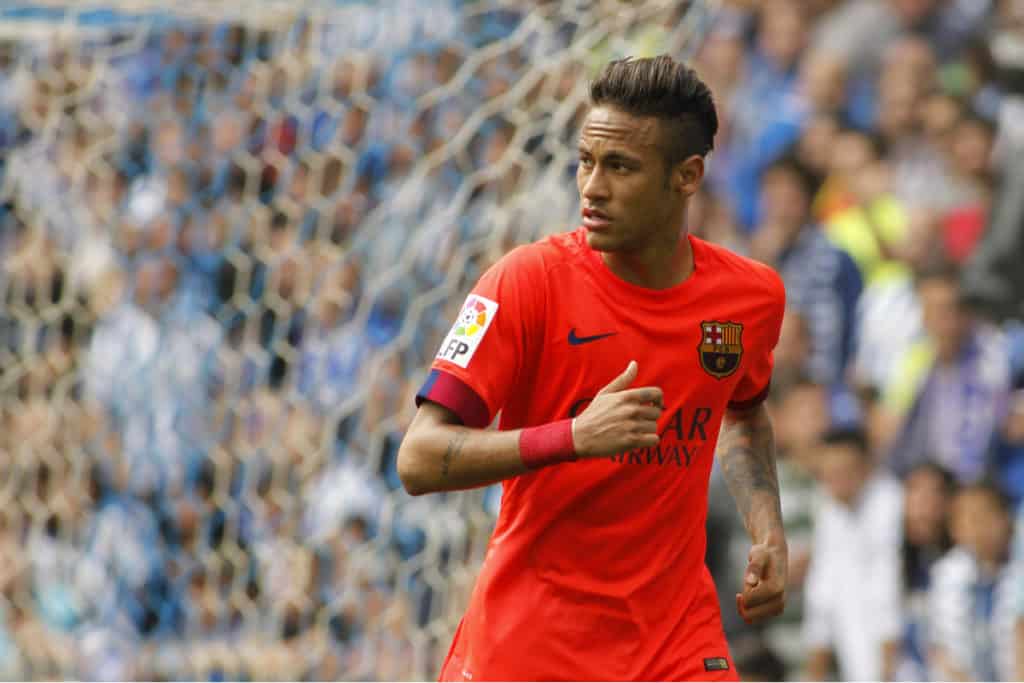 10. Low Bald Fade With Long Fringe – Neymar Haircut
A low bald fade and the long fringe style have made Neymar distinctive from the others. This hairstyle features a polished bald fade that seamlessly blends into longer hair on top, creating a striking contrast.
The long fringe adds a touch of edge, making it a perfect choice for those who want to make a bold fashion statement.
11. Spiky Neymar Haircut With Bangs
The spiky Neymar haircut with bangs is your ultimate choice if you want to stand out. This versatile look showcases Neymar's unique sense of style.
Spikey haircuts leave you looking fantastic and sexy, especially when paired with medium or short hair.
Get ready to be the center of attention with this fashionable and effortless hairstyle.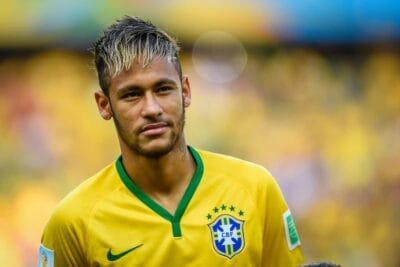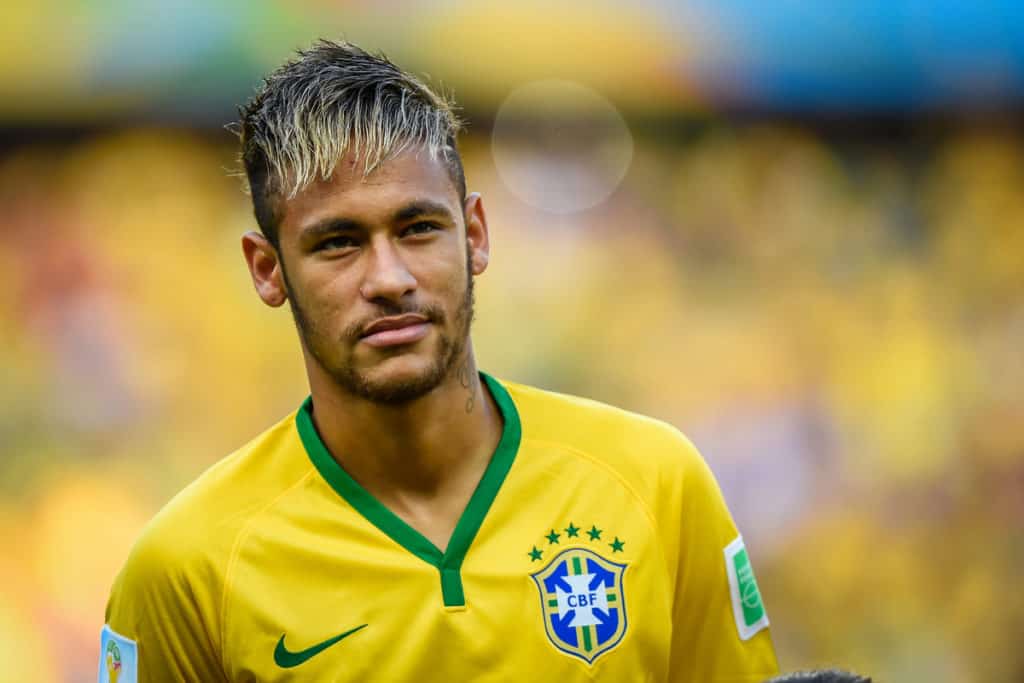 12. Neymar With A Messy hairstyle With Undercut
This edgy cut features longer hair on top styled in a messy, textured manner to add movement and show your inner self. The undercut provides a stark contrast, giving a modern touch.
Ideal for tall men, this cut adds texture and personality to your hair. Neymar recently rocked the look on Instagram. And saying he looked hot is an understatement.
Unleash your unique style and get ready to turn heads with the messy hairstyle.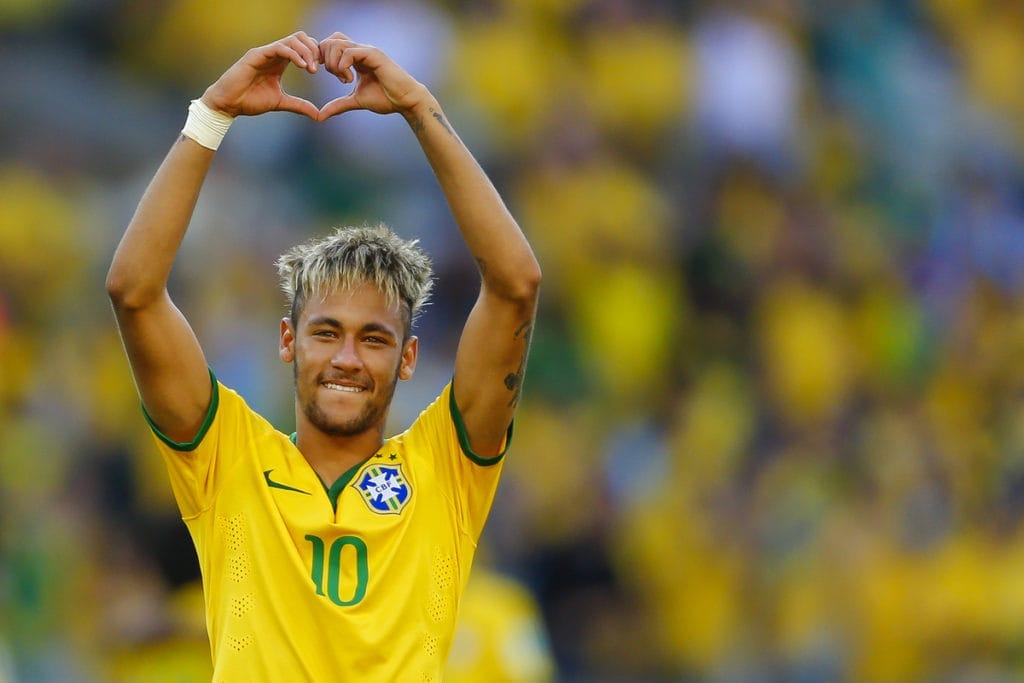 13. Brushed back Neymar Haircut with shaved sides
Brushed back hair with shaved or trimmed sides is one of Neymar's decent haircuts.
Ideal for those who want to keep their hair out of their face while still looking polished and put-together, the brushed back with shaved sides haircut is a versatile and fashionable choice.
The best thing about this haircut is that you don't have to grow your hair for a long time.
14. Angular Fringe with Tapered Side
This edgy hairstyle features an angular fringe on top, paired with a tapered side, for a modern and stylish look .
The tapered sides add definition and create a sleek silhouette, while the angular fringe adds personality and edge.
In the past, this hairstyle has seen Neymar gain collaboration projects with styling brands.
15. Textured Spiky Hair with High Skin Fade on the Sides
A textured spiky hair with a high fade on both sides gives Neymar a very young and hot look.
To style your spikes, apply hair gel, mousse, or other styling products to the desired areas with a gentle touch.
The spiky fade hairstyle requires minimal maintenance, making it a convenient choice for busy men. Unlike other haircuts, you don't need a lot of time to get ready when wearing this style.
Conclusion
Throughout the years, the Brazilian forward has experimented with various hairstyles synonymous with his unique flair and fashion sense. This has helped him create a lasting impression on his fans and opponents.
From his iconic mohawk to his latest buzz cuts, Neymar's hairstyles have contributed to his game by reflecting his individuality, confidence, and determination on the field. Whether you want to keep a natural hair color, shorter hair, or wavy hair texture, Neymar's signature hairstyles will help you compete to be one of the hottest men alive.
Khamis Maiouf is a professional barber who graduated from Hinckley College in England with a degree in hairdressing. He has also won several barbering contests and successfully operated a barbershop for the last two decades. As a skilled hair stylist for 20 years, his goal is to teach others how to achieve a beautiful appearance through their hairstyles.