Men's Hair & Beard Hygiene: Elevate Your Grooming Game!
As a man with a mane, I know that when it comes to grooming, it's not just about the hair on top – it's about the whole package.
That's why men's hair and beard hygiene is so important. With great hair comes great responsibility, and maintaining a clean, healthy, and well-groomed appearance is key to looking and feeling your BEST.
In this guide, I'll share valuable insights on the essential practices for top-notch hair and beard care. Together, we'll explore the steps to achieve a dapper look that speaks volumes about your personal style and attention to detail.
Let's embark on this grooming journey and put our best face forward!
5 Best Tips To Keep Your Beard and Hair Squeaky Clean & Hygienic
1. Shampoo and Condition Regularly
As a celebrity hairstylist, I often come across clients who underestimate the importance of regular shampooing and conditioning.
For optimal Men's Hair & Beard Hygiene, it's essential to cleanse both your hair and beard with suitable products.
Shampoo removes dirt, oil, and impurities, while a good conditioner moisturizes and nourishes your hair and beard, keeping them healthy and manageable.
2. Use Quality Grooming Tools
Investing in high-quality grooming tools is crucial for maintaining excellent Men's Hair & Beard Hygiene.
A good comb or brush helps in detangling, styling, and distributing natural oils evenly.
I always recommend using tools with soft bristles for your beard and wide-tooth combs for your hair, as they minimize breakage and promote healthy growth.
3. Trim and Shape Periodically
Keeping your hair and beard well-trimmed and shaped not only enhances your appearance but also contributes to better hygiene.
Regular trims prevent split ends and help maintain a clean, well-groomed look.
As a professional, I suggest scheduling haircuts and beard trims every 4-6 weeks to preserve a sharp and tidy appearance.
4. Stay Hydrated and Maintain a Balanced Diet
Proper Men's Hair & Beard Hygiene goes beyond external care; it also involves taking care of your body from the inside.
Drinking enough water and maintaining a balanced diet rich in vitamins and minerals promote healthy hair and beard growth.
As a celebrity hairstylist, I often advise my clients to include foods containing biotin, zinc, and omega-3 fatty acids in their diets for optimal hair and beard health.
5. Avoid Over-Styling and Use of Harsh Chemicals
While styling products can help you achieve a desired look, overusing them can lead to product build-up, damaging your hair and beard.
To maintain proper Men's Hair & Beard Hygiene, avoid using excessive styling products and choose those with natural ingredients.
Minimize the use of harsh chemicals and heat-styling tools, as they can cause dryness, breakage, and overall damage.
Consequences of Unhygienic Beard and Hair Care
1. Unpleasant Odor and Itchiness
Neglecting proper Men's Hair & Beard Hygiene can lead to unpleasant odors and itchiness.
Dirt, sweat, and bacteria can accumulate, resulting in an undesirable smell and an itchy sensation.
As a celebrity hairstylist, I have seen many cases where a lack of cleanliness has caused discomfort and embarrassment. Regular washing and grooming are crucial to avoid these issues.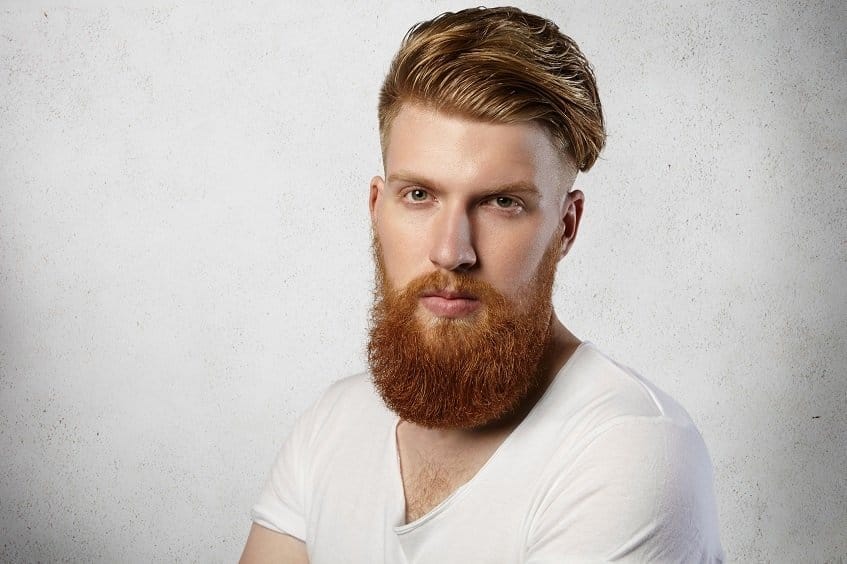 2. Infections and Skin Irritation
Poor Men's Hair & Beard Hygiene can also result in infections and skin irritation.
Bacteria, fungi, and other microorganisms can thrive in unclean hair and beards, causing inflammation, redness, and even acne.
In my experience, maintaining a hygienic routine not only keeps your hair and beard looking great but also promotes healthy skin.
3. Hindered Hair Growth
Unhygienic hair and beard care can impede healthy growth.
Product build-up, dirt, and oil clog hair follicles, potentially leading to hair loss and slow growth.
As a professional hairstylist, I recommend using appropriate products and keeping your hair and beard clean to stimulate growth and maintain a full, luscious appearance.
4. Unattractive Appearance
A poorly maintained hair and beard can make you appear unkempt and unprofessional.
In the world of celebrity hairstyling, I have seen how a lack of Men's Hair & Beard Hygiene can negatively impact one's personal and professional life.
Ensuring your hair and beard are well-groomed helps you present a polished and confident image.
5. Decreased Self-Confidence
Lastly, neglecting Men's Hair & Beard Hygiene can lead to a decline in self-confidence.
Unkempt hair and beard can make you feel self-conscious, affecting various aspects of your life.
As a celebrity hairstylist, I firmly believe that taking care of your hair and beard significantly contributes to your overall self-esteem and well-being.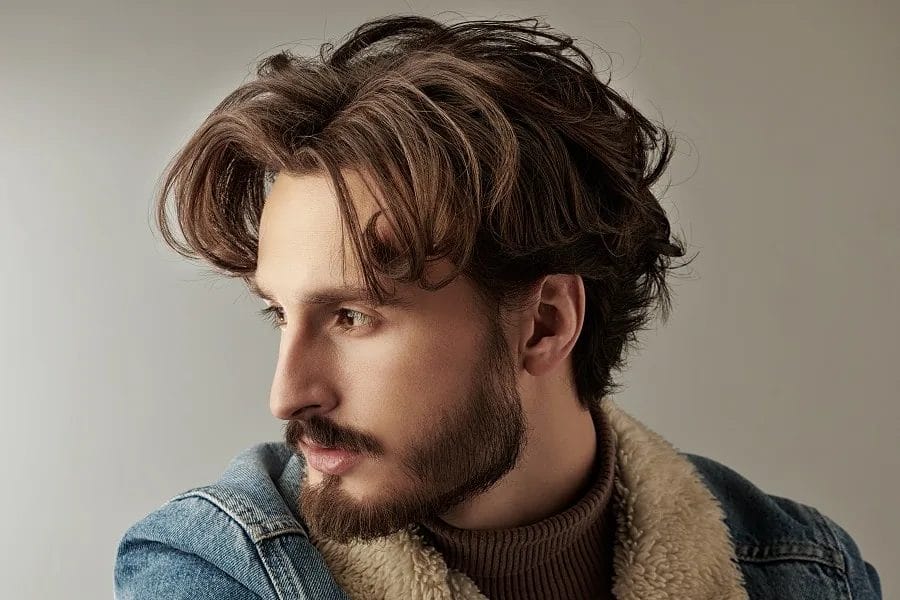 Conclusion
Investing in Men's Hair and Beard Hygiene is key to achieving a polished and confident appearance.
As I've discussed, maintaining proper grooming practices can make all the difference.
Embrace the essentials and elevate your personal style with a dapper look that truly SHINES.
FAQs
Q1. Could you provide some tips on maintaining good hygiene for a beard?
Maintaining good hygiene for a beard is essential to healthy hair growth and avoiding common problems such as itchiness, dandruff, and breakouts. Some tips include washing the beard regularly with a beard shampoo, combing it regularly to prevent tangles and knots, using beard oil or balm to keep it hydrated and nourished, avoiding touching the beard too often with dirty hands, and trimming it regularly to keep it looking neat.
Q2. Is there a recommended frequency for washing hair and beard?
The frequency of washing hair and beard depends on individual factors such as hair type, lifestyle, and skin sensitivity. However, men's hair and beard hygiene experts recommend washing the beard at least two to three times a week, or more frequently if the beard is particularly dirty or if you engage in activities that expose the beard to sweat and grime.
Q3. Is it better to use shampoo or soap for washing the beard?
When it comes to washing the beard, it's better to avoid using ordinary soap, as it can strip the beard of its natural oils and cause irritation. Instead, opt for a beard shampoo that is specifically formulated for men's hair and beard hygiene. These shampoos contain ingredients that cleanse the beard gently, without stripping it of its natural moisture.
Q4. Can bacteria be found in a man's beard?
Yes, bacteria can be found in a man's beard if it is not washed regularly. Men's facial hair can harbor bacteria from food and drink, as well as dirt and oils from the environment. These bacteria can lead to skin irritation, inflammation, and infection. Fortunately, washing the beard regularly with a beard shampoo can help prevent the buildup of bacteria.
Q5. Is it necessary to wash the beard every time you take a shower?
Washing the beard every time you take a shower is not necessary, but it's a good idea to wash it regularly to keep it clean and healthy. As mentioned earlier, it's recommended to wash the beard at least two to three times a week. If you're concerned about over-washing, you can always rinse the beard with water and apply a small amount of beard oil or balm to keep it moisturized and nourished between washes.
References:
A beard is the hair that grows on the jaw, chin, upper lip, lower lip, cheeks, and neck of humans and some non-human animals. source
"Wow!! You smell good… what are you wearing?" No, it's not Armani… I think to myself, as that also has been asked several times. source
Khamis Maiouf is a professional barber who graduated from Hinckley College in England with a degree in hairdressing. He has also won several barbering contests and successfully operated a barbershop for the last two decades. As a skilled hair stylist for 20 years, his goal is to teach others how to achieve a beautiful appearance through their hairstyles.