Men's Braids: 7 Hairstyles Every Beginner Should Try this Summer
Are you tired of your boring hairstyle and want to look fresh this summer?
Why not give men's braids a try? It is a popular, convenient, low-maintenance, and protective hairdo.
Since 2018, braided hair has become fashionable. Without losing manliness, it gives men a stylish and attractive appearance.
Many men, including rappers and well-known celebrities like Travis Scott, Snoop Dogg, Asap Rocky, and more, are so into this male hairstyle craze.
Although black men and boys have traditionally worn braided hairstyles, any man around the world can also pull off this trend. This summer is the time to explore it if you have always been curious to attempt braided hair.
It is not an issue if you are looking for ideas for your new braided hairdo. Below are the men braids styles that you can be full of this summer!
Cornrow For Men
The cornrow braids for men are essentially the same as the cornrow braids for women and also refer to skin braids or cane rows.
This common haircut for black men is made by braiding the hair close to the head, which results in an unbroken raised row.
Modern hairstyles offer a wide variety of the most intricate and gorgeous cobwebs, although classic cornrows are braided in straight rows.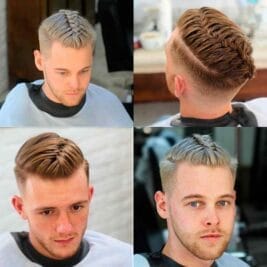 Fishtail Braids
The French braid is made similarly to how the fishtail braid, which is also known as the herringbone braid, is made.
The fishtail braid differs from the French braid in that it only requires two sections of hair as opposed to three.
It requires longer hair for men, and to guarantee that the hair ends will be in place in the desired form, you must dampen the hair and apply a sticky product.
Box Braids
One of the famous people who has worn these braids is Asap Rocky. They help it become a well-known hairdo all around the world.
This type of braid is one of the easiest to maintain. You only need to wrap it every night while you sleep to maintain its sharp appearance; otherwise, you can wash your head and carefully condition the braids.
Man Bun Braids
Man bun braids are an amazing combination that will unquestionably provide a sizzling and fashionable image.
Although, before trying this kind of braid, you must consider your face shape first.
The diamond, oblong, triangle, and square face shapes are the best that will complement this kind of style.
Braids with buns come in a lot of styles. It can be long, short, messy, or even mini. It is entirely up to you to decide what you want to try or what will suit you the best.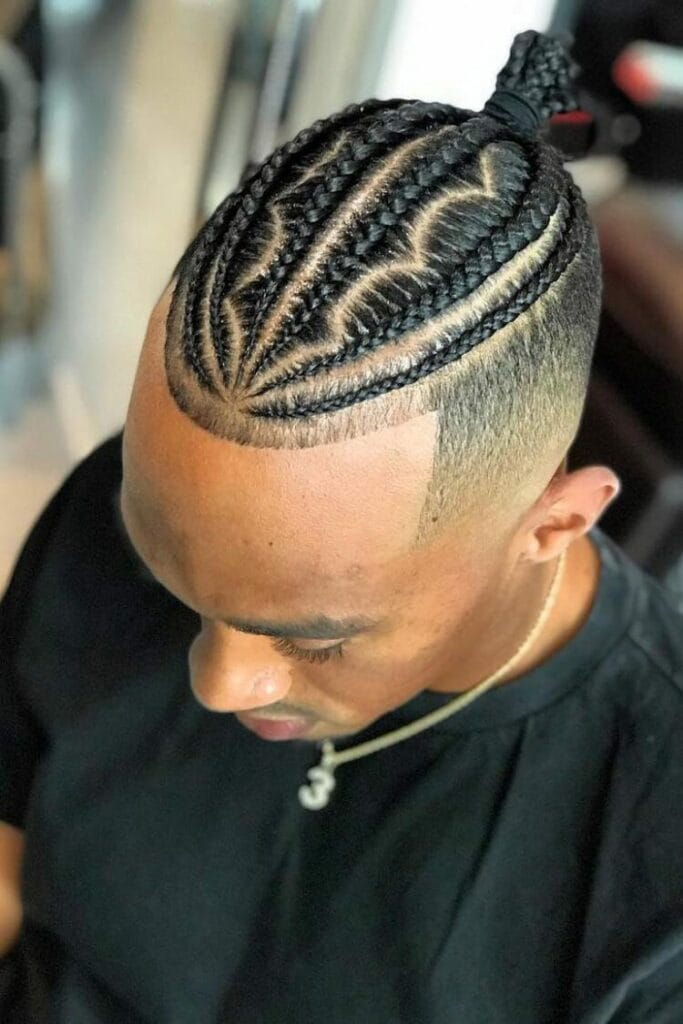 Two Braids
A kind of style that will be full of your masculinity. It typically begins with a middle part that separates your hair into two portions.
Then, depending on how long your hair is, your hairdresser will twist and braid the back of your hair to create two braids that go from your head to your back.
Whether your hair is thick or not, it can achieve the two-braid look. If you don't have enough, you can always add more weaves and more creation of additional hues and patterns to make it more attractive and stylish.
Low Man Braid
The low-man braid is one of the classic and easiest braids you can try.
Sweep your long hair back and divide it into three sections to achieve the appearance.
After crossing the right portion over the middle one, the left section should do the same for the new middle part. Up till the ends of your hair, keep doing this. Then use a hair tie to fasten the braid's ends.
Dread Braids
By adopting two classic hairstyles and fusing them for the ultimate look, dread braids blend two hairstyles into one.
This kind of style will bring additional volume and texture to your hair. Since your hair is thick, it will be easier for you to maintain styles.
It allows you to alter the braiding method without too much concern or tedious knotting time!
Shorter hairstyles keep males from looking feminine. Thus dread braids are ideal for them.
Finding the braids that will best suit you and make you feel young is the best thing to do now that you have a range of ideas for these braids to try in the summer.
Do not also forget that the comfy of the hair is one of the things to consider. Now book an appointment with your trusted hairstylist and enjoy your summer with your new hairstyle.
Khamis Maiouf is a professional barber who graduated from Hinckley College in England with a degree in hairdressing. He has also won several barbering contests and successfully operated a barbershop for the last two decades. As a skilled hair stylist for 20 years, his goal is to teach others how to achieve a beautiful appearance through their hairstyles.