Expert Tips On How to Conquer Frizzy Hair For Men
Frizzy hair is a common concern for many individuals, affecting both men and women alike.
While it is often thought of as a predominantly female issue, FRIZZY hair can be just as challenging and frustrating for men.
In fact, as men's grooming habits have evolved over time, they have come to recognize the importance of effectively managing and styling their hair to suit their unique needs and preferences.
In this article, I aim to provide a comprehensive guide that addresses the root causes of frizzy hair, as well as offer practical advice and solutions for men struggling with this issue.
Throughout this guide, I will explore the factors that contribute to frizzy hair, such as GENETICS, hair type, and environmental conditions.
By examining these aspects, I hope to empower men with the knowledge necessary to understand and combat this common hair concern.
From selecting the right hair products and tools to mastering various grooming techniques, this guide will equip men with the skills needed to tame their frizz and achieve a sleek, polished appearance.
What Is Frizzy Hair For Men?
Frizzy hair men often experience is a hair condition characterized by hair strands that are difficult to manage and appear dry or DAMAGED.
This hair type is often the result of a lack of moisture, causing the hair cuticle to lift and create a frizzy, unmanageable appearance.
In this section, I will delve into the causes, characteristics, and potential solutions for frizzy hair in men.
Frizzy hair men deal with is often seen as unruly, tangled, and difficult to style.
This type of hair has a rough texture, and the strands seem to have a mind of their own, going in different directions rather than lying flat and smooth.
Frizz can affect all hair types, from straight to curly or wavy, but is especially prevalent in gentlemen with curly or coarser hair.
Frizzy hair can have a significant impact on a man's self-esteem and confidence.
A bad hair day is not just an inconvenience; it can also affect how a person feels about their appearance.
Men with frizzy hair may feel self-conscious or embarrassed, and this can lead to a lack of confidence in social or professional settings.
It is essential for men with frizzy hair to know that they are not alone and that there are solutions available to help manage and improve their hair's appearance.
By understanding the characteristics of frizzy hair and exploring various treatments and styling techniques, men can regain control over their hair and boost their confidence.
Characteristics of Frizzy Hair in Men
When it comes to frizzy hair men experience, there are several key characteristics to look out for:
Dryness: Frizzy hair is often dry to the touch, lacking the natural moisture that is present in healthier hair.
This dryness can make the hair feel rough and more prone to breakage.
Lack of Shine: One common attribute of frizzy hair is that it tends to lack shine or luster.
Hair with a healthy level of moisture will usually appear shiny and smooth, whereas frizzy hair appears dull and lifeless.
Tangles and Knots: Frizzy hair is notorious for being difficult to comb or brush due to the increased presence of tangles and knots.
This can lead to more time spent on grooming and styling, which can be both frustrating and time-consuming.
Unmanageability: A primary complaint from men with frizzy hair is that it is hard to manage and style.
The unruly nature of frizzy hair can make it challenging to achieve a desired look, often requiring more effort and styling products to keep it in place.
Understanding the Causes of Frizzy Hair
Frizzy hair can be a frustrating problem for many people, especially for men who struggle with taming their locks.
It's important to understand the causes of frizzy hair in order to effectively manage and treat it.
In this post, I'll discuss some common factors that contribute to frizzy hair men experience, such as genetics, humidity, hair care practices, and environmental factors.
Genetics
One of the primary reasons behind frizzy hair men experience can be attributed to genetics.
Some individuals are born with a natural tendency for frizz due to the structure of their hair follicles.
Curly or wavy hair is more susceptible to frizz as the irregular shape of the hair shaft makes it more difficult for the hair's natural oils to travel down the strand.
If your parents or grandparents had frizzy hair, there's a good chance that you may inherit this trait as well.
However, don't be discouraged, as there are ways to manage and reduce frizz even if it's in your genes.
Humidity
Another common cause of frizzy hair men encounter is humidity.
High humidity levels in the air can cause the hair to absorb moisture, which leads to the hair shaft swelling and the cuticle lifting, resulting in frizz.
In simple terms, when the weather is humid, your hair may become frizzy as it tries to adjust to the moisture in the air.
To combat humidity-induced frizz, it's essential to use appropriate hair products that help lock in moisture and create a barrier against the external environment.
Hair Care Practices
Hair care practices also play a significant role in contributing to frizzy hair men struggle with.
Overwashing, using harsh shampoos, and applying heat to the hair can strip the hair of its natural oils, making it more prone to frizz.
Additionally, brushing or combing dry curly, or wavy hair can cause breakage and exacerbate frizz.
I recommend using sulfate-free shampoos, conditioning your hair regularly, and avoiding excessive heat styling to help minimize frizz.
It's also a good idea to use a wide-toothed comb or your fingers to detangle your hair when it's wet to avoid breakage.
Environmental Factors
Lastly, various environmental factors can lead to frizzy hair men have to deal with.
Exposure to sun, wind, and pollution can damage the hair CUTICLE, making it more susceptible to frizz.
To protect your hair from environmental stressors, it's crucial to wear a hat or use hair products containing UV filters when spending time outdoors.
Incorporating a deep conditioning treatment into your hair care routine can also help to NOURISH and repair damaged hair, thus reducing frizz.
By understanding and addressing the factors that contribute to frizzy hair, you can take steps to achieve smoother, more manageable locks.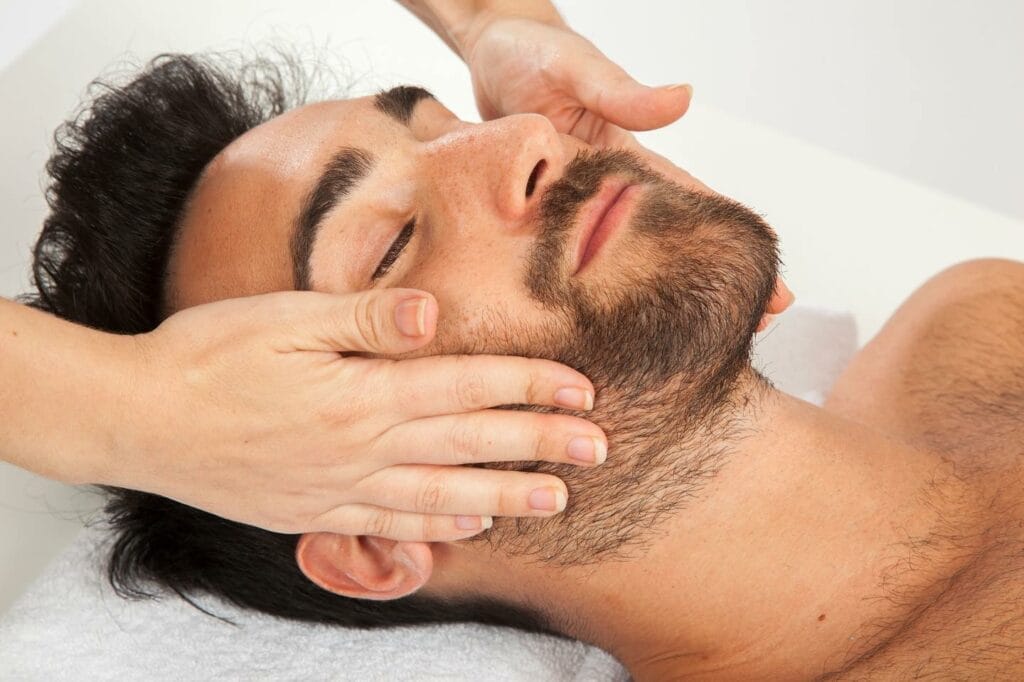 How to Manage Frizzy Hair For Men
As someone who has dealt with frizzy hair, I understand the struggle of TAMING unruly locks.
In this post, I'll share some tips on how to manage frizzy hair for men. By following these simple suggestions, you can keep your hair looking smooth, sleek, and under control.
Choose the Right Hair Care Products
Selecting the right hair care products is crucial for managing frizzy hair. Let's take a look at some products that can help you on your journey to SMOOTHER locks.
Shampoo
When it comes to shampoo, I recommend opting for one specifically designed for frizzy hair or curly hair.
These shampoos usually contain ingredients like glycerin, which can help to lock in moisture and prevent frizz.
Avoid shampoos with harsh sulfates, as they can strip your hair of its natural oils, leading to dryness and frizz.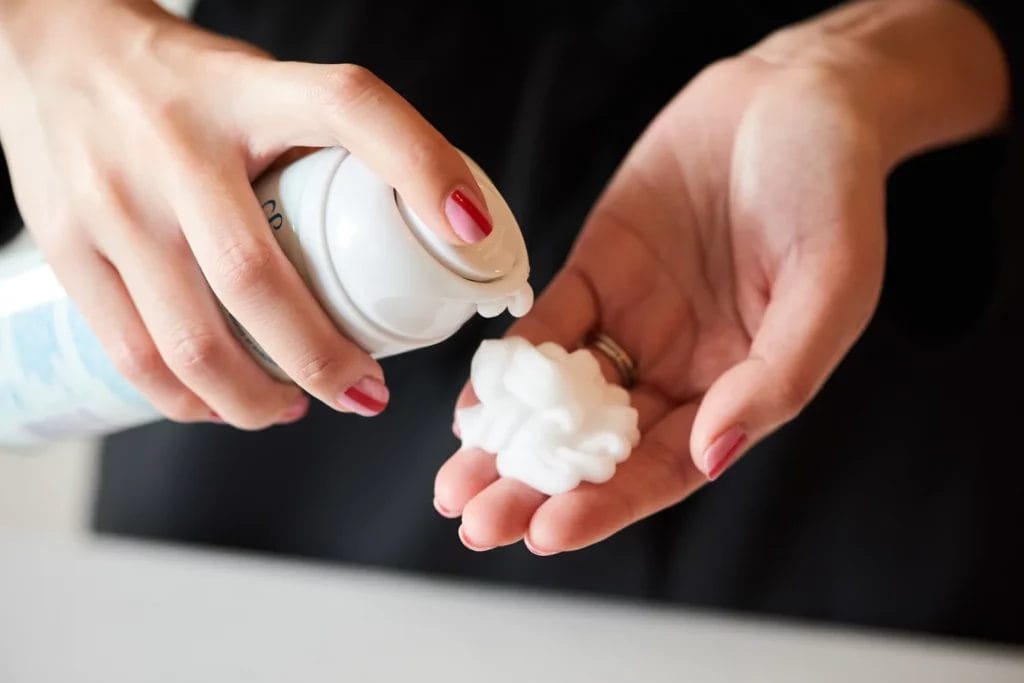 Conditioner
Conditioning is essential for taming frizzy hair. Look for a moisturizing conditioner that's formulated for frizzy or curly hair.
Make sure to apply it from mid-lengths to the ends of your hair, avoiding the roots to prevent your hair from becoming greasy. You can also try a leave-in conditioner for extra hydration and frizz control.
Hair Serums
Hair serums can be a game-changer for frizzy hair men.
Look for one that contains silicone or natural oils, which help to smooth the hair cuticle and reduce frizz.
Apply a small amount to damp hair, focusing on the ends and any particularly frizzy areas.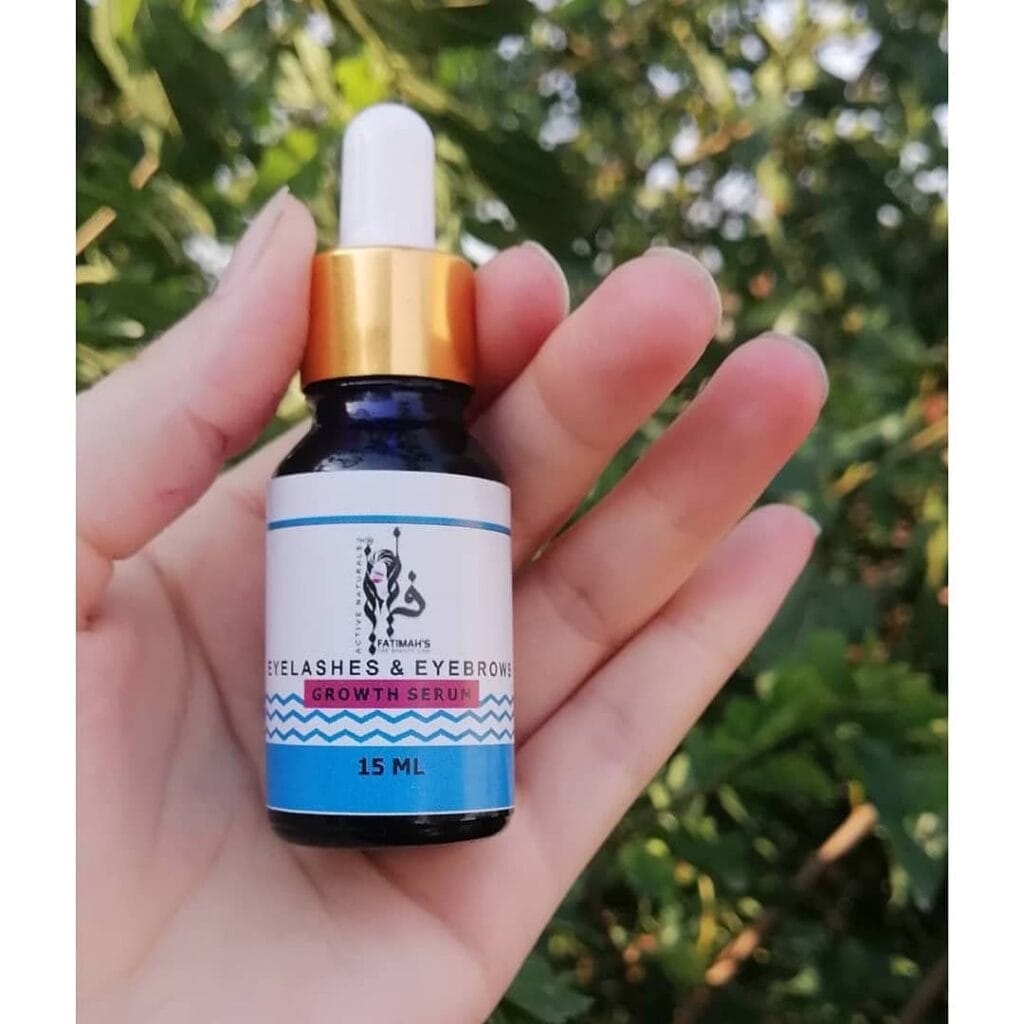 Hair Care Techniques
Apart from using the right products, adopting proper hair care techniques can make a significant difference in managing frizzy hair.
Washing
When washing your hair, be gentle and try not to rub the hair too harshly. This can cause frizz by roughing up the hair cuticle.
Instead, massage your shampoo into your scalp with your fingertips, then gently work it through the lengths of your hair.
Drying
After washing, avoid rubbing your hair with a towel, as this can create more frizz.
Instead, gently squeeze out excess water and pat your hair dry with a microfiber towel or an old t-shirt.
Allow your hair to air dry whenever possible, as heat styling tools can contribute to frizz.
Styling
When it comes to styling frizzy hair, less is often more. Try to minimize the use of heat styling tools, and instead, embrace your hair's natural texture.
For added control and definition, apply a small amount of styling cream or mousse to damp hair, then scrunch or twist your hair to encourage its natural curl pattern.
Lifestyle Choices
Lastly, certain lifestyle choices can help you manage frizzy hair more effectively.
Maintaining a healthy diet, rich in vitamins and minerals, can promote stronger, healthier hair.
Drinking plenty of water also helps to keep your hair hydrated from within. Additionally, consider using a satin or silk PILLOWCASE, as they can reduce friction and help prevent frizz while you sleep.
Conclusion
Frizzy hair in men can be both a unique characteristic and a challenge.
Embracing one's natural hair TEXTURE is important, but for men who desire to manage or minimize frizz, a variety of techniques and products are available.
Proper hair care, including regular washing, conditioning, and MOISTURIZING, is essential for maintaining healthy and manageable frizzy hair.
FAQs
How do I get rid of frizz in 5 minutes?
Quickly taming frizzy hair for men can be a lifesaver when you're short on time. I've found that using a leave-in conditioner is an excellent solution.
Simply apply a small amount to your palms, rub them together, and gently distribute them through your hair.
This will help to moisturize, detangle, and reduce frizz. Another option is to use a light hair serum or argan oil to smooth out frizzy strands.
If you're facing persistent frizz, try combing your hair with a wide-tooth comb while it's still damp to minimize breakage and frizz.
What frizzy hair looks like?
Frizzy hair is characterized by strands that are dry, rough, and often tangled, leading to a lack of smoothness and definition.
For frizzy hair men, it can appear as if individual hairs are sticking out or standing up, giving the hair an overall uneven, messy appearance.
This is caused by the hair cuticle not laying flat, allowing moisture to enter and swell the hair shaft. This swelling disrupts the hair's natural pattern and leads to frizz.
The degree of frizziness may vary depending on hair type and environmental factors.
Does oil make your hair frizzy?
Oil can both help and hurt when it comes to managing frizzy hair for men.
Certain oils, like coconut oil, argan oil, or jojoba oil, can work wonders in taming frizz by nourishing and moisturizing the hair, as well as sealing the cuticle to prevent moisture from entering.
However, using too much oil or applying it incorrectly can actually make hair look greasier and exacerbate frizz.
The key is to use the right amount and type of oil for your hair and to avoid applying it directly to the roots.
Which hair type is the most frizzy?
Curly and wavy hair types are generally more prone to frizz due to their natural structure.
With curls and waves, the hair shaft is uneven, making it more difficult for the hair's natural oils to travel down the strand.
This results in drier, more susceptible hair that is prone to frizz. Nonetheless, anyone can experience frizz regardless of their hair type.
Factors like humidity, damage, and improper care can lead to frizz in all types of hair, including frizzy hair for men.
What causes frizzy hair?
Frizzy hair occurs when the hair cuticle, which is the outermost layer, becomes raised or damaged, allowing moisture to enter the hair shaft.
This moisture causes the hair to swell and disrupts its natural pattern, leading to frizz.
Common causes of frizzy hair include a lack of moisture, damage from heat styling or chemical treatments, and exposure to high humidity.
For frizzy hair men, other factors like using the wrong hair products, over-washing, and towel-drying too roughly can contribute to frizz as well.
References:
frizz
The mass of fro-like hair found on ones head. source
Frizz is hair that does not align with the surrounding hair, but stands up or curls independently, creating a fuzzy or irregular texture. source
Khamis Maiouf is a professional barber who graduated from Hinckley College in England with a degree in hairdressing. He has also won several barbering contests and successfully operated a barbershop for the last two decades. As a skilled hair stylist for 20 years, his goal is to teach others how to achieve a beautiful appearance through their hairstyles.