Wet Hair Look for Men: Achieve Effortless Style & Sophistication!
Ready to dive into a suave, effortless style? Unravel the secrets of the Wet Hair Look for Men and redefine your grooming game.
This contemporary look is all about achieving a sleek, polished appearance that oozes confidence and CHARIZMA.
Mastering the wet hair look is all about versatility, sophistication, and effortlessness. With the right approach, you can transform your locks into a work of art that captures your cool, modern vibe.
Dive into the wet hair look and make a splash with a refined, runway-worthy style that leaves a lasting impression.
10 Cool Wet Hair Looks for Men
As a celebrity hairstylist, I know that a great hairstyle can make or break your look.
The wet hair look for men has been a popular trend on the red carpet and beyond, providing a sleek and polished appearance that's both versatile and stylish.
Here are ten of my favorite wet hair looks for men's styles to help you make a splash this season!
1. Fringe Wet Hair Look for Men
If you're sporting a fringe, the wet hair look can add a whole new dimension to your style.
This low-maintenance option creates a cool, tousled appearance that's perfect for casual outings or dressier events.
Simply work some hair gel or pomade into your fringe for a fresh, put-together look.
2. Pompadour Wet Hair Look for Men
The pompadour is a timeless classic, and the wet hair look takes it to the next level.
For a sophisticated, polished vibe, use a high-shine hair product to create a smooth, glossy finish and sculpt your pompadour to perfection.
3. Slick Back Wet Hair Look for Men
A slick back wet hair look is the ultimate in suave sophistication.
Use a generous amount of hair gel or wax to achieve a sleek, high-shine finish that'll turn heads wherever you go.
This style works best on medium to long hair and complements a variety of face shapes.
4. Side Part Wet Hair Look
The side part wet hair look is a versatile option that can easily transition from the boardroom to the bar.
By adding a touch of shine with a high-quality hair product, you'll create a professional, stylish appearance that's perfect for any occasion.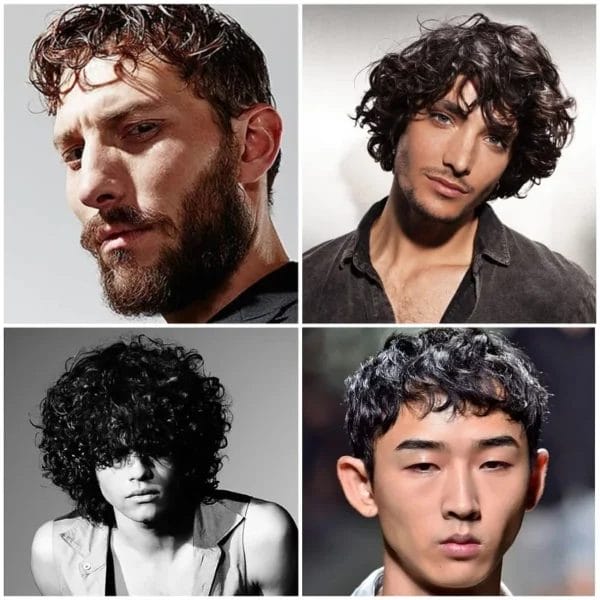 5. Natural Curls Wet Hair Look for Men
Men with natural curls can also rock the wet hair look with ease.
Simply apply a curl-enhancing product to damp hair and scrunch your curls for a defined, glossy finish.
This look is perfect for showcasing your unique texture while staying on-trend.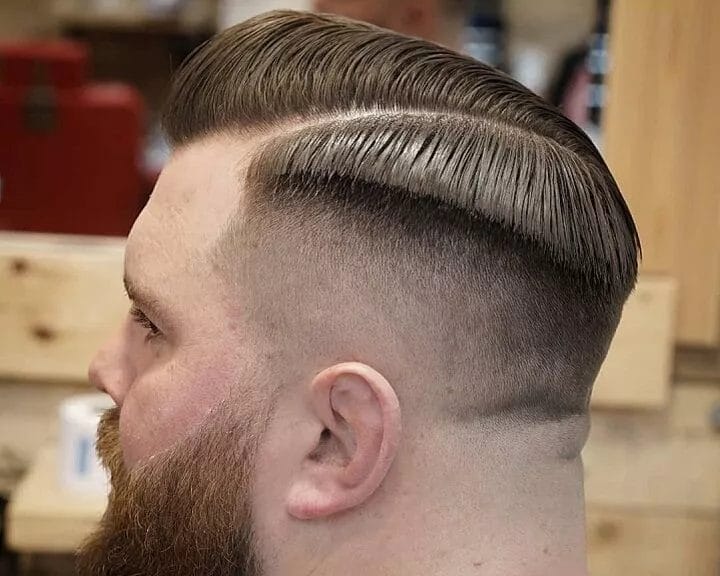 6. Quiff Wet Hair Look for Men
The quiff is an iconic hairstyle that continues to be a favorite among style-savvy men.
To achieve the quiff wet hair look, apply a high-shine pomade or gel to damp hair and use a comb or brush to create a voluminous, structured quiff.
This modern classic is perfect for any occasion and suits a variety of face shapes.
7. Long and Messy Wet Hair Look for Men
If you have long locks, the long and messy wet hair look is a perfect choice.
This laid-back style adds an element of carefree sophistication while showcasing your hair's natural texture.
Use a light hair gel or serum to add shine and definition to your tresses, creating a relaxed yet refined appearance.
8. Hard Part Wet Hair Look
The hard part of a wet hair look is all about precision and edge. This daring style features a razor-sharp part that adds a modern twist to the traditional side part.
To achieve this look, work a high-shine hair product into damp hair and create a distinct, clean part using a comb or your fingers.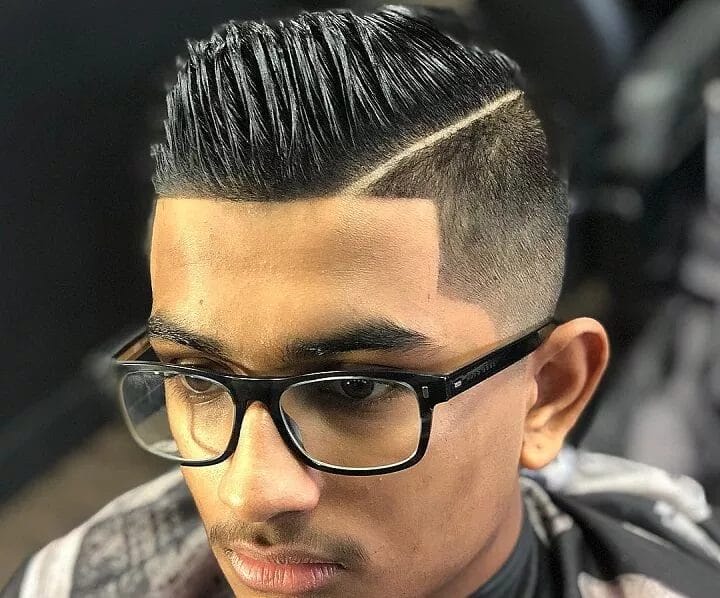 9. Comb Over Wet Hair Look for Men
Channel some old-school Hollywood glamour with the comb-over wet hair look. This timeless style is perfect for men seeking a polished, sophisticated appearance.
Apply a generous amount of high-shine pomade or gel to damp hair, and use a fine-tooth comb to create a sleek, smooth comb-over that exudes confidence and charm.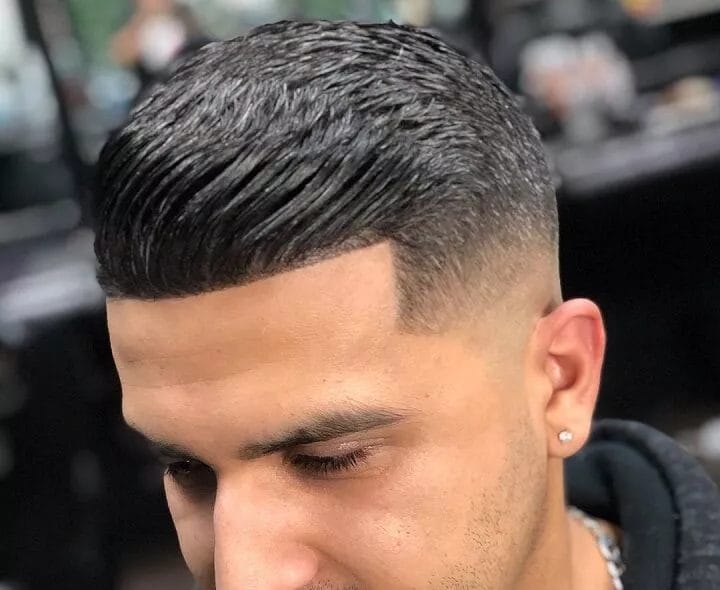 10. Military Haircut Wet Hair Look
The military haircut wet hair look combines the clean lines and structured appeal of a classic military cut with the glossy sheen of the wet hair look.
To achieve this powerful, streamlined style, apply a high-shine hair product to your freshly trimmed military haircut, and comb it into place for a bold and refined finish.
Conclusion
Mastering the Wet Hair Look for Men has never been easier. With an emphasis on adaptability, elegance, and simplicity, I can confidently say that this style has redefined my grooming routine.
Don't hesitate to dive into this sleek, modern look and experience the transformative POWER it holds.
FAQs
Q1. What are some ways for men to achieve the appearance of wet hair?
One way for men to achieve the appearance of wet hair is by applying hair gel or pomade on damp hair. Using a comb or fingers, work the product evenly from root to tip for a sleek, wet look. Another option is to use a salt spray to achieve a natural, beachy wet hair look. Don't forget to apply a heat protectant before using a straightener or curling iron to finish the look with some texture or waves.
Q2. What can I do to maintain a wet hair look throughout the day, specifically for men?
To maintain a wet hair look throughout the day, use a strong hold styling product that's specifically designed to give that sleek, wet look. Apply the product on damp hair, and then style it as desired. If you're worried about the product fading or losing its hold throughout the day, bring a travel-sized product with you for touch-ups. Avoid touching your hair as much as possible to keep the wet look intact.
Q3. Is the look of wet hair appealing to males?
The look of wet hair can be incredibly appealing to males. It's seen as a confident, chic, and bold style that screams intensity and sophistication. However, it's not for everyone, and it's good to experiment to see if it suits you. With a bit of product and styling, the wet hair look can work on most men with short to medium-length hair.
Q4. What is the reason for the popularity of wet hair among men?
Wet hair has become popular among men for a variety of reasons. It's easy to style and doesn't require a lot of time, plus it has a timeless appeal. Many celebrities have been spotted rocking the wet hair look, which has helped it gain popularity among men. Also, the style is versatile, meaning you can be creative and play around with different looks, from slicked back to just-messy-enough natural styles.
Q5. Who is credited for originating the trend of having wet hair?
The origin of the wet hair trend for men is difficult to pinpoint to a specific person or era. However, the style's emergence may have started in the 1920s with the introduction of hair pomades, which were the earliest styling products for achieving the wet look. Since then, the wet hair trend has evolved to suit modern tastes, and it now remains a classic look that will not fade away anytime soon.
Khamis Maiouf is a professional barber who graduated from Hinckley College in England with a degree in hairdressing. He has also won several barbering contests and successfully operated a barbershop for the last two decades. As a skilled hair stylist for 20 years, his goal is to teach others how to achieve a beautiful appearance through their hairstyles.