23 Gorgeous Perm Hairstyles for Men Hot lasting Appearance
Perm hairstyles offer a one-stop shop for guys tired of straight hair and looking for a change. The hairstyles use chemicals to change your hair type into glamorous curls and waves to take you places.
Imagine using your regular income for other things instead of visiting your stylist every fortnight. Fantastic, right?
This is what you get with wearing a perm. You can spend up to 8 months without visiting your salon.
What a cheap yet fulfilling way to keep your hair!
Grab any of these fabulous and trendy hairstyles and reap the fruits a perm haircut brings to your doorstep.
Modern Man Perm Hairstyle
Get a modern perm for an attractive look. This hairstyle perfectly combines with drop fade and curls to give you an appearance befitting an adventuring guy.
The fade offers high contrast between the top and sides to give you a glamorous look.
Loose Waves Perm
Loose waves flow down your head to give you a long-lasting impression.
This style does well with several fade variations according to your preference. Even though maintaining the hairstyle is a bit hectic, it's worth your investment.
Medium Length Perm
Have you planned a date with the LOVE of your life or admired a sexy look?
Plan to clad in a medium-length perm. It does the magic. To have a complete and hassle-free look apply sea salt spray for a messy texture. But you can also use a curl-defining cream for a natural and polished appearance.
This haircut allows you to style your curls in whichever way you like. What's more, you can wear it to any event, from parties to official functions.
Wavy Man Perm
Change your look from the usual straight hair to the wavy perm style.
Yes, put on the voluminous waves with rods to rock. Try this hairstyle with a beard for a flawless look.
Long Hair Perm
Think of rocking with long hair think of the perm hairstyle. This hairdo provides a modern twist that leaves your hair pleasant and inviting. Even so, ensure the hair is long because the curl will reduce it.
Invest well in products to keep your hair in a pristine condition and shape.
Tight Curls Perm
Tight curls suit all men, but it's best for guys who are still young and exploring.
If your hair is medium, make a point of trying this classy hairstyle. Ask your stylist to wrap your hair around the small rods to complete the perm process.
You can add tapered sides for a modern and clean finish. Plus, apply a solid pomade to hold the kinky coils on top bouncy.
Textured Perm for Men
Style your hair to a wavy textured form and let your decent look shout to the world.
The texture gives you many options to spice your look, including faded sides, fringe, and crop.
Messy Perm for Men
This style involves spicing your wave perm with intense, messy styling. The look is incredible and natural, giving you an easy time maintaining your hair. Go for this hairstyle in case your hair length is sufficient.
Afro Perm Haircut for Men
Afro is coined from tiny ringlets and tight curls. This hairstyle has unlimited options to perm your hair, starting with short to medium length and, finally, long hair.
The styling process results in tight curl formation leading to your hair gaining bouncy volume.
Guys with naturally curly hair can also wear this hairstyle and still shake the world. You, however, need constant maintenance to avoid hair breakage.
Loose Perm
Bleach blonde curls will stir your man perm over the moon. These two styles combined will stun your critics.
Volume Perm
Nothing attracts more than this style done by an experienced stylist. Get a perm for a bouncy volume and thickness. This is your immediate remedy in case you are dealing with thinning hair.
Your curls fall around your face to give you the needed disguise.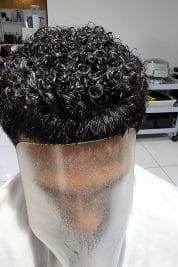 Curly Crop Perm Haircut
Perms and curls form hard-to-separate conjoined twins. They blend so well that going for another hairstyle might be difficult once you get used to this one.
If you are that bold guy, go for a shadow fade and a dense perm, and your hair will glow.
What's more, the curl crop perm works with all face types and textures. It's high time you decide and go for it.
Long Fringe Man Perm
Permed hair makes your long fringe excellent with a sexy youthful look. The fringe does the magic to conceal your broad forehead.
Side Part Perm for Men
Have you tried a side part before? It's an excellent starting point as you navigate the perming world. You will be surprised by how your NEW look turns into a glamorous shine.
Perm With Temple Fade
A perm fits well with temple fade to give you the much-sought beauty. Add dense curls on your top in case you have thick hair.
Make your look more enticing by mixing your perm with other beauty spices, including a razor line or a modern beard.
Highlighted Curls Perm for Men
Go overboard and have your hair highlighted with your favorite color. But I recommend you get this hairstyle from an experienced hairdresser to avoid a dangerous mix of bleach and perming products.
Curled in Front Perm for Men
Have you ever done a perm before? Start with a bit of curl at the front and see how it goes. Shave your sides clean for a standout and flawless look.
Short Curly Cut Perm for Men
Brag your NEW hair texture by wearing short, cropped curls.
Your hairdresser puts more curls at the front to create depth while the back remains clean. The good side of this haircut is that it's done in moderation.
And you don't lose your original straight hair.
You can also reverse the hairstyle should it fail to please you. The advantage of short curls is that you don't require expensive products since the style is built into your hair.
Cut your back and sides short and take your look to another level.
Brushed Back Perm for Men
A high fade on the side will add more texture to your hair. The curls are dense on the top and in front giving your hair a lot of depth. The back is, however, clean to ensure easy maintenance.
Alternatively, consider brushing your curls backward to keep your face open. check out the best slicked-back hairstyles!
Combed Up Perm for Men
Play with your look by perming up your curly hair to experience natural beauty. I like this hairstyle because it doesn't discriminate against height.
Both short and tall guys fit well in it. Even so, you require natural hair products to keep your hair firm and in position all day.
Faux Hawk Perm
This hairstyle comes out well with wavy, thick, or straight hair since you already have an in-built volume.
The hair at the crown acts as a base, while other details, such as ombre dye, infuse more significant rebellion. Your stylist keeps the sides short and gives prominence to the top.
Apply hair products to spike and push your hair toward the center for an excellent faux hawk perm.
Caesar Cut Perm for Men
Its short and sleek appearance forms formidable strengths for the Caesar cut to remain relevant for years.
Short bangs in front characterize this hairstyle.
Ask your barber to trim your curly hair while maintaining the extra length in the front to obtain this look. Combing your permed Caesar cut forward brightens your face the more.
Spiral Perm Men
A spiral perm is your best bet if you are allergic to high hair volume.
The curls spring up from the middle at equal lengths in all directions instead of forcing you to choose to part your hair with a side part.
Wrap-up
Perms are popular thanks to recent inventions. A lot of fun arises as you experiment with these trendy hairstyles. Try perm hairstyle if you're tired of straight hair, and you'll like it. It would help if you committed to caring for your perm once you get it. But if you don't like it, wait until it grows out.
FAQs for Perm hairstyles for men
How Much Do Guy Perms Cost?
A perm will cost you anywhere between $50 and $200. Given the different factors in play, it's hard to give the exact quote. But in general, price factors in your hair length, perm type, and whether you want a partial or complete perm.
Will a Perm Cause Hair Loss?
Hair loss depends on your stylist. I recommend you go to an experienced barber who understands perming well. This is because reckless use of natural hair products will damage your hair structure. Be aware that perms expose your body to foreign chemicals that may harm you in the future.
How Often Can a Guy Perm His Hair?
Your hair length is the chief factor that determines how often you'll need to perm your hair. Be ready to visit your stylist every 3-4 months on average for short hair. Guys with long hair can go up to 8 months to have the next perm.
How Long Should a man's Hair be to Get a Perm?
In the general sense, if your hair is above 2 inches, you are good to go. This hair has enough volume for perm rod wrapping. So, go and perm your hair according to your taste.
Are There Short Hair Perms for Guys?
Yes, they are out there. Short perm hairstyle has been a trend for many years and is found nearly everywhere. You need it; you have it.
Khamis Maiouf is a professional barber who graduated from Hinckley College in England with a degree in hairdressing. He has also won several barbering contests and successfully operated a barbershop for the last two decades. As a skilled hair stylist for 20 years, his goal is to teach others how to achieve a beautiful appearance through their hairstyles.