Shave Your Head Like a Pro: Unraveling Shaving Head Tips
Shaving one's head is not merely a hairstyle choice; it is an art, a statement, and a form of self-expression.
The decision to go BALD can be fueled by various reasons, ranging from personal style preferences to medical conditions.
Regardless of the motivation behind taking the plunge, the process of head shaving requires proper technique, care, and attention to detail to ensure a smooth and irritation-free result.
In this article, I will delve into the art of head shaving, discussing the essential tips and tricks for achieving a FLAWLESS, polished look.
I will cover essential tools, preparation methods, optimal shaving techniques, and essential aftercare practices to ensure your shaved head is always looking its best.
Whether you are a first-time shaver or a seasoned veteran in the world of head shaving, this article will provide valuable insights and advice to enhance your experience and help you maintain a stunning, hair-free appearance.
Preparing for the Shave
I cannot emphasize enough the importance of proper PREPARATION when it comes to shaving your head.
Shaving head tips are essential to achieving a smooth, comfortable, and even shave. In this section, I will share my insights and knowledge to help you achieve the best possible results.
1. Gather Necessary Tools For Shaving
The first step in preparing for a head shave is assembling the right tools.
I recommend using a sharp, high-quality razor with multiple blades, a shaving brush, and a bowl for mixing your shaving cream.
Additionally, you'll need pre-shave oil, shaving cream, and a clean towel. Having these items readily available will make your shaving experience more comfortable and efficient.
2. Cleanse Your Skin
Before you start shaving, it's crucial to clean your scalp thoroughly. This step removes dirt, oil, and dead skin cells that can hinder a smooth shave.
I suggest using a gentle cleanser specifically designed for the scalp, as it will not strip away natural oils or irritate the skin.
Pat your head dry with a clean towel once you've finished cleansing.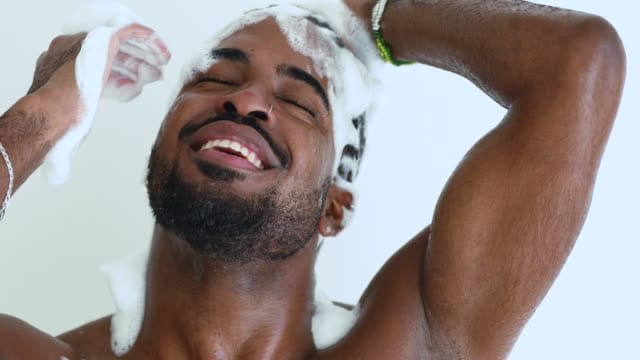 3. Exfoliate Gently
Exfoliating your scalp is one of the most important shaving head tips I can offer.
By gently removing dead skin cells, you'll create a smooth canvas for your razor, allowing it to glide effortlessly across your skin.
Use a mild scrub or an exfoliating brush, applying light pressure in circular motions. Remember to rinse your head thoroughly afterward.
4. Apply Pre-Shave Oil
Applying pre-shave oil is a step that many people overlook, but it is essential for a comfortable shave.
The oil provides a barrier between your skin and the razor, reducing the risk of irritation and razor burn. I recommend using a pre-shave oil specifically designed for the head, as it will offer the best results.
Apply a few drops of oil to your fingertips, and massage it gently into your scalp.
5. Lather Up Shaving Cream
Quality shaving cream is a must-have when shaving your head. It not only provides a smooth surface for your razor but also moisturizes and protects your skin.
Using a shaving brush, mix your cream with a small amount of water in a bowl until you achieve a thick, creamy lather.
Apply the lather to your head, working it in with the brush to ensure even coverage.
6. Choose the Right Razor
Selecting the right razor is crucial for achieving a smooth, even shave.
As a professional hairstylist, I recommend using a razor with multiple blades, as it will provide a closer shave with less irritation.
Keep in mind that the razor should be sharp and well-maintained to avoid nicks and cuts.
7. Map Out Your Shave
One of the most valuable shaving head tips is to plan your shave. Start by shaving with the grain of your hair growth, applying gentle pressure, and using short, even strokes.
I recommend beginning at the top of your head and working your way down to the sides and back.
Once you've shaved with the grain, you can carefully shave against the grain for a closer shave if desired. Remember to rinse your razor frequently to avoid clogging and maintain a sharp edge.
By following these shaving head tips and taking the time to properly prepare for your shave, you'll be able to achieve a smooth, even, and comfortable result.
As a professional hairstylist, I can assure you that proper preparation and technique are the keys to a successful head shave.
5 Shaving Techniques
Wet Shaving
I often recommend wet shaving for gentlemen who are looking for a close and smooth shave.
Wet shaving involves using a razor with water and shaving cream or gel to create a slick surface for the razor to glide over.
This method is excellent for preventing irritation and ensuring a clean, even shave.
Shaving head tips are essential when wet shaving, as they help to avoid nicks and cuts, as well as maintain the health of the scalp.
Remember to always shave with the grain and to rinse the blade frequently for the best results.
Electric Shaving
In my experience, electric shaving is a convenient and time-saving option for clients who want a quick and easy shave. Electric razors come in two types: foil and rotary.
Foil razors have a series of oscillating blades covered by a thin metal foil, while rotary razors have circular blades that spin under a protective guard.
Shaving head tips for using electric razors include starting with a clean and dry face, moving the razor in a circular motion for rotary shavers, or up and down for foil shavers, and cleaning the device regularly.
Straight Razor Shaving
Straight razor shaving is an art form that has been around for centuries. As a hairstylist, I appreciate the precision and control that a straight razor offers.
It provides an incredibly close shave and a unique experience for clients.
Shaving head tips for straight razor users include maintaining a sharp blade, using a pre-shave oil to soften the hair and protect the skin, and utilizing a proper shaving technique to avoid cuts and irritation.
It's essential to use a strop to keep the blade sharp and to exercise caution when handling the razor.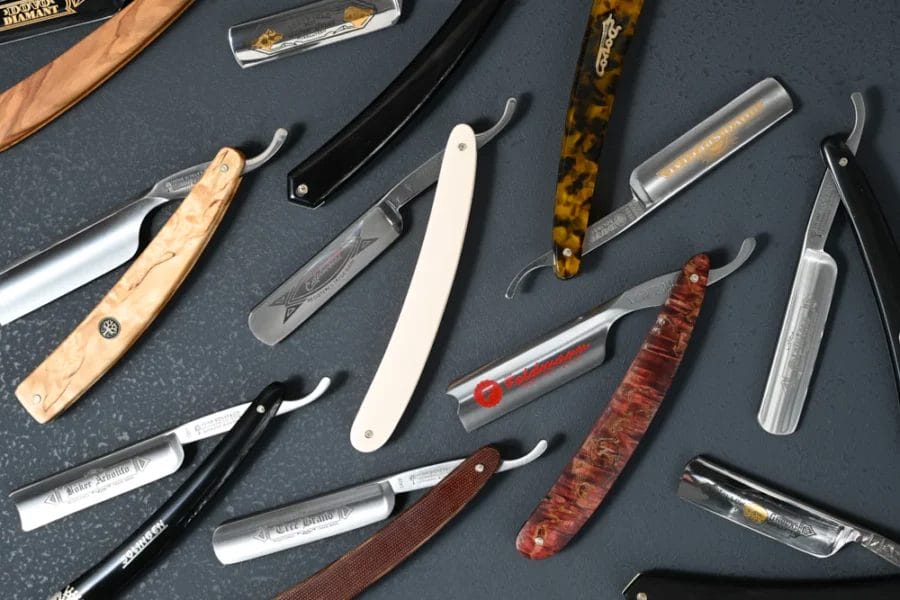 Shavette Shaving
Shavette shaving is a modern twist on the classic straight razor experience. A shavette razor uses disposable blades, eliminating the need for stropping and honing.
This makes it an excellent choice for beginners who want to learn the art of straight razor shaving without maintenance.
Shaving head tips for using a shavette include holding the razor at a 30-degree angle, applying light pressure, and using short, controlled strokes.
As with a straight razor, proper technique and caution are crucial for a successful and enjoyable shave.
Dry Shaving
It is an option for men who need a quick shave without the use of water or shaving cream.
It's not as gentle on the skin as wet shaving, but it can be useful in a pinch or for touch-ups.
Shaving head tips for dry shaving include using a razor with a sharp blade, stretching the skin taut, and shaving with the grain to reduce irritation.
It's important to note that this method may not provide the closest shave and may cause some discomfort, so it should be used sparingly or as a last resort.
Tips for a Smooth Shave
Exfoliating Before Shaving
I always emphasize the importance of exfoliating before shaving to my clients.
When you exfoliate, you remove dead skin cells, which in turn helps the razor glide more smoothly over the skin. This reduces the chances of irritation and ingrown hairs.
I personally recommend using a gentle scrub or an exfoliating brush to achieve the best results. Shaving head tips like this one will ensure a more comfortable and smoother shave.
The Importance of a Sharp, High-Quality Razor
Using a sharp, high-quality razor is essential for achieving a clean and precise shave. Dull razors can cause tugging and IRRITATION, leading to an uncomfortable experience.
As a hairstylist, I've seen clients come in with razor burn and ingrown hairs caused by using dull or low-quality razors.
When I give them shaving head tips, I always stress the importance of investing in a good-quality razor with multiple BLADES to ensure a smooth and close shave.
Pre-Shave Oil Application
I often advise my clients to apply a pre-shave oil before they start shaving.
Pre-shave oils create a barrier between the skin and the razor, allowing the razor to glide more smoothly and reducing the risk of CUTS and irritation.
When incorporating shaving head tips like this, I usually recommend a natural oil such as jojoba, argan, or sweet almond oil for the best results.
Lathering with Shaving Cream or Gel
Using a high-quality shaving cream or gel is crucial for a smooth shave.
The product should be applied generously to the area you're about to shave, creating a thick lather that will help the razor glide effortlessly.
I've found that using a shaving brush to apply the cream or gel can significantly improve the overall experience, as it helps lift the hair and ensures even coverage.
Shaving in the Direction of Hair Growth
One of the most important shaving head tips I share with my clients is to shave in the direction of hair growth.
This technique helps minimize irritation and the chance of developing ingrown hairs. While it might be tempting to go against the grain for a closer shave, doing so can cause more harm than good.
Rinsing the Razor Frequently
It's essential to rinse your razor frequently during the shaving process. A clogged razor won't provide a close shave and can lead to irritation or even nicks and cuts.
I always tell my clients to rinse their razors after every few strokes to keep the blades clean and sharp, allowing for a smoother shaving experience.
Moisturizing After Shaving
It's crucial to moisturize the skin after shaving. This step helps soothe any irritation and keeps the skin hydrated, reducing the risk of dryness and flaking.
I often recommend using a gentle, fragrance-free moisturizer or aftershave balm to avoid further irritation.
This is one of the shaving head tips that can make a significant difference in the overall comfort and appearance of your freshly shaved head.
Aftercare and Maintenance For Shaved Hair
Moisturize Regularly
I cannot stress enough the importance of moisturizing your scalp after shaving your head. A well-moisturized scalp is essential for maintaining healthy skin and promoting hair growth.
Make sure to use a good-quality moisturizer that suits your skin type, and apply it daily.
Shaving head tips often include this step because it helps to prevent dryness, irritation, and flakiness, which can be common issues after shaving.
Use a Gentle Shampoo
When it comes to aftercare for shaved hair, using a gentle shampoo is crucial. I always recommend my clients opt for a sulfate-free shampoo, as it is less harsh on the scalp and hair.
These shampoos help maintain the scalp's natural oils and keep the skin hydrated, which is essential for promoting healthy hair growth.
Remember, a healthy scalp is a foundation for great hair, and using a gentle shampoo is one of the best shaving head tips you can follow.
Exfoliate the Scalp
Exfoliating the scalp is another crucial step in maintaining a shaved head.
As a hairstylist, I have seen how this simple step can make a significant difference in the health and appearance of the scalp.
Exfoliating helps to remove dead skin cells, dirt, and excess oils, which can otherwise lead to clogged pores and impede hair growth.
Incorporating a gentle scalp scrub or using a soft-bristled brush once or twice a week can work wonders in keeping your shaved head looking and feeling great.
Protect from Sun Exposure
I always remind my clients that sun protection is essential, especially after shaving their heads.
The scalp is often overlooked when it comes to sun protection, but it's just as vulnerable to sunburn and UV damage as the rest of your skin.
Shaving head tips typically include this advice because it helps prevent sunburn, premature aging, and even skin cancer.
Make sure to apply broad-spectrum sunscreen with an SPF of at least 30 on your scalp whenever you're outdoors, and consider wearing a hat for added protection.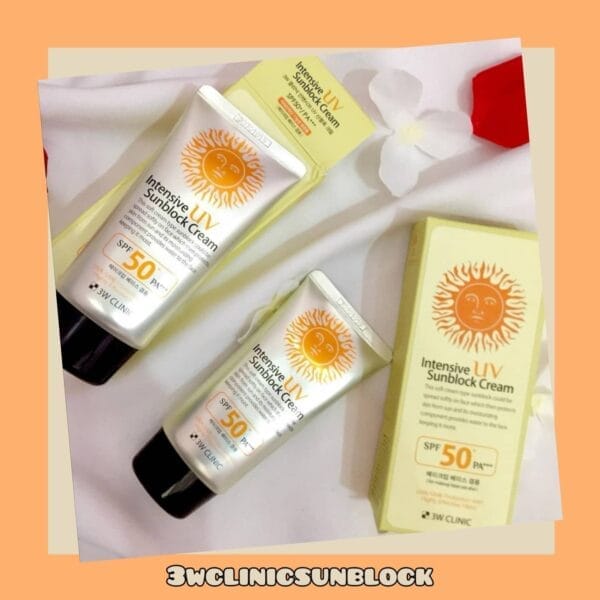 Apply Hair Growth Serum
While this step is optional, I have seen many clients benefit from using a hair growth serum after shaving their heads.
These serums are specially formulated to promote hair growth and can help you achieve a fuller, thicker look as your hair grows back.
When incorporating a hair growth serum into your routine, be sure to choose one that is free from harsh chemicals and contains nourishing ingredients, such as biotin and keratin.
Apply the serum according to the manufacturer's instructions, and you'll be well on your way to a healthy, strong head of hair.
Trim Regularly
One of the most important shaving head tips I share with my clients is the importance of regular trims.
Even though your hair is short, it still needs maintenance to keep it looking its best. Regular trims help to keep the hair even and maintain the desired length.
I recommend visiting your hairstylist every 4-6 weeks for a trim, depending on your desired STYLE and the rate at which your hair grows.
Regular TRIMS will not only keep your shaved head looking neat and polished but also promote healthy hair growth in the long run.
Conclusion
Shaving your head can be an empowering and liberating experience. By following the right techniques and taking proper precautions, you can achieve a smooth and clean-shaven look.
Remember to choose the correct TOOLS, prepare your scalp, shave in the right direction, and moisturize your scalp afterward.
By following these simple steps, you can enjoy a hassle-free and refreshing head shave experience while embracing your new style with confidence.
FAQs
Is shaving the head good for the scalp?
Shaving head tips are often sought after by guys considering taking the plunge and shaving their hair off.
As a professional hairstylist, I can say that shaving your head can be good for your scalp in many ways.
For instance, it can help remove dead skin cells and promote a healthier scalp environment.
It also allows your scalp to breathe, which can be beneficial in combating issues like dandruff and dryness. However, it's important to note that shaving your head isn't for everyone.
If you have a sensitive scalp or suffer from certain skin conditions, it's best to consult with a professional before making any decisions.
What are the benefits of shaving your head?
There are several benefits to shaving your head, both from an aesthetic and practical perspective. One of the most noticeable benefits is the ease of maintenance.
A shaved head requires minimal effort to keep clean and look good. This means you'll spend less time and money on hair care products and salon visits.
Additionally, shaving your head can be a bold and empowering choice that showcases your confidence and personal style.
From a health standpoint, a shaved head can reduce the risk of hair and scalp issues, such as dandruff, buildup, and hair breakage.
Plus, if you're experiencing hair loss, shaving your head can help create a more even appearance and take the focus away from thinning areas.
Should you shave your head wet or dry?
In my experience as a hairstylist, I recommend shaving your head wet rather than dry.
Shaving head tips often include wet shaving because it provides a smoother and more comfortable experience.
When you shave wet, the water helps to soften the hair, making it easier to cut. This reduces the risk of irritation, razor burn, and ingrown hair.
Before shaving your head, it's a good idea to take a warm shower or apply a warm towel to your scalp to further soften the hair and open up the hair follicles.
You should also use a high-quality shaving cream or gel to provide a protective barrier between your skin and the razor.
What to do after shaving your head?
Once you've finished shaving your head, there are several steps you can take to ensure your scalp remains healthy and comfortable.
First, rinse your scalp thoroughly to remove any remaining hair and shaving cream. Then, gently pat your scalp dry with a clean towel, avoiding rubbing, which can cause irritation.
I recommend applying an alcohol-free aftershave or moisturizer specifically designed for the scalp to soothe any irritation and keep the skin hydrated.
Additionally, it's essential to protect your newly exposed scalp from the sun by using a hat or applying sunscreen with an SPF of at least 30.
Does hair grow better after shaving your head?
A common myth is that hair grows back thicker and faster after shaving your head, but this is not entirely true.
Shaving your head does not affect the hair's growth rate, nor does it influence the thickness of individual hair strands.
However, when your hair begins to grow back after shaving, the blunt ends may make it appear thicker or coarser than before.
Khamis Maiouf is a professional barber who graduated from Hinckley College in England with a degree in hairdressing. He has also won several barbering contests and successfully operated a barbershop for the last two decades. As a skilled hair stylist for 20 years, his goal is to teach others how to achieve a beautiful appearance through their hairstyles.