How To Sharpen A Straight Razor: Master Razor Sharpness!
Ready to sharpen your skills in the world of How To Sharpen a Straight Razor?
A well-honed razor is key to achieving the PERFECT shave, and mastering the art of sharpening can take your grooming game to new heights.
In this guide, I'll reveal the secrets to keeping your straight razor in tip-top shape, ensuring peak performance for that smooth, precise cut every time.
Let's slice through the mystery and get your razor game razor-sharp!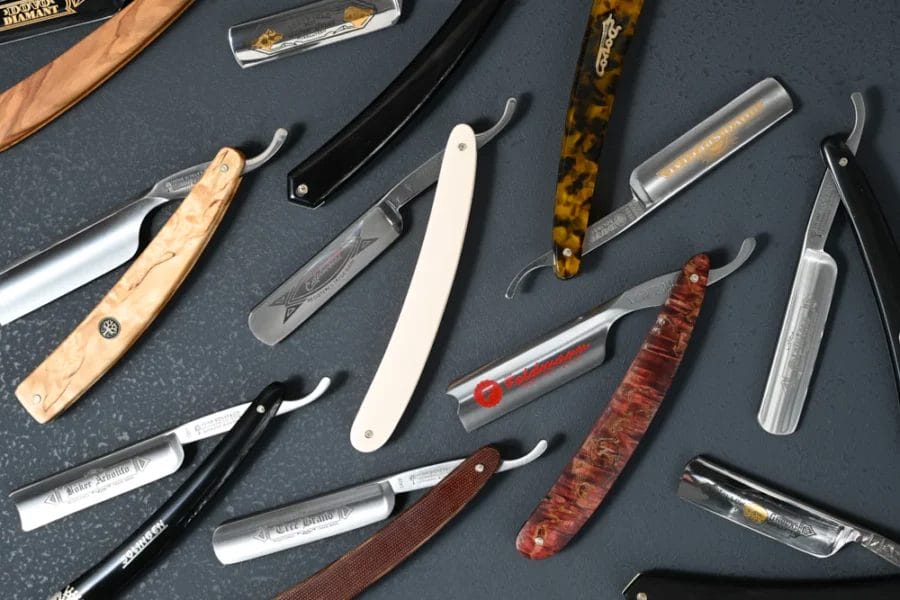 How To Sharpen A Straight Razor? A Step-By-Step Guide
Step 1: Assess the Razor's Sharpness – Know When It's Time
Before you start sharpening, it's crucial to assess the sharpness of your straight razor.
If it's tugging or pulling on your hair during a shave, it's time to sharpen it.
As a celebrity hairstylist, I always remind clients to pay attention to the performance of their razor and maintain its sharpness for a comfortable and efficient shave.
Step 2: Prepare the Strop – The Foundation for How to Sharpen a Straight Razor
A strop is a critical tool for sharpening straight razors, typically made of leather or canvas.
Before using it, ensure it's clean and free of debris.
Securely attach the strop to a fixed point, like a hook or doorknob, and hold the other end tightly with one hand, maintaining a taut, flat surface for the razor to glide on.
Step 3: Stropping Technique – The Key to a Sharp Razor
Hold the razor with your dominant hand, with the blade facing away from you and the spine touching the strop.
Apply light pressure and glide the razor in the direction of the spine, maintaining full contact between the blade and the strop.
When you reach the end of the strop, rotate the razor on its spine and pull it towards you, still with the spine touching the strop.
Repeat this process for about 30-60 passes on each side.
Step 4: Honing the Blade – When Stropping Isn't Enough
If stropping doesn't restore the razor's sharpness, you may need to hone it using a whetstone or a sharpening stone.
Start by wetting the stone with water or honing oil, then hold the razor at a 30-degree angle with the edge of the blade touching the stone.
Using a circular motion, move the razor across the stone, applying even pressure.
Repeat this process for both sides of the blade until it reaches the desired sharpness.
Step 5: Final Stropping – Ensuring a Smooth, Sharp Edge
After honing, it's essential to perform a final stropping to remove any burrs and polish the edge of the blade.
Repeat the stropping process mentioned in step 3 for about 20-30 passes on each side of the blade.
This final stropping will ensure a smooth, sharp edge, ready for a close and comfortable shave.
By following these steps, you can maintain the sharpness of your straight razor and enjoy a flawless shaving experience.
As a celebrity hairstylist, I know the importance of using well-maintained tools, and learning how to sharpen a straight razor is a valuable skill for any shaving enthusiast.
Conclusion
Learning How To Sharpen a Straight Razor is an essential skill for anyone passionate about their grooming routine.
I believe that with dedication, practice, and the RIGHT tools, you'll soon become a razor-sharpening pro.
Now go forth and enjoy the unparalleled satisfaction of a perfectly honed straight razor shave!
FAQs
Q1. Would you say sharpening a straight razor is a difficult task?
Sharpening a straight razor can be a challenging task for men who are new to using this grooming tool. However, with practice and patience, it is possible to master this skill. A good understanding of the equipment needed and proper technique is essential. One can find tutorials and instructional videos online covering different methods of sharpening. Mastering the art of sharpening a straight razor can greatly improve the shaving experience.
Q2. What are some steps I need to take in order to maintain the sharpness of my straight razor?
A straight razor user should take proper steps to maintain the sharpness of their blade. After every use, it's essential to ensure the blade is clean and oil-free, as well as properly stored in a dry room, as moisture can cause rusting. Moreover, honing the blade with a leather or strop can extend the razor blade's lifespan. Regular maintenance ensures that the razor blade maintains its sharpness, which works well for shaving. Proper care ensures that your straight razor stays in perfect working condition for longer.
Q3. How frequently should a straight razor be sharpened?
The frequency of sharpening a straight razor depends on how often the user shaves. If it's a daily occurrence, the blade should be sharpened approximately every 2 to 3 weeks. A heavier beard growth requires more frequent sharpening. Also, it's important to note that using a dull blade can lead to irritation or infection of the skin. So, it's best to pay attention to the signs that will prompt one to sharpen the blade.
Q4. How can I determine if my straight razor is at an adequate level of sharpness?
One way to determine if a straight razor is adequately sharp is through the "hair test." A properly sharpened straight razor should easily cut through the hair without pulling or tugging. Gently pulling your hair over the edge of the blade and observing how easily it cuts them can act as a test to determine the level of the blade's sharpness. However, if the blade tugs or drags hair, this is a sign that the razor needs sharpening.
Q5. Is it necessary to sharpen the blade of a straight razor?
Yes, it's necessary to sharpen the blade of a straight razor periodically. This is because the blade can get dull over time with constant use. A dull blade can cause skin irritation, nicks, and cuts, thus making shaving uncomfortable and even painful. Whenever a straight razor blade becomes dull, it's imperative to sharpen it again so that it remains effective for user's grooming needs. Sharpening a straight razor will not only provide a painless experience but also help increase its longevity.
Khamis Maiouf is a professional barber who graduated from Hinckley College in England with a degree in hairdressing. He has also won several barbering contests and successfully operated a barbershop for the last two decades. As a skilled hair stylist for 20 years, his goal is to teach others how to achieve a beautiful appearance through their hairstyles.