Ultimate Guide To Barber Shop Tools List For Every Stylist
Welcome to our in-depth guide to the world of barber shop tools, where I take you on a journey through the essentials required to build a fully-equipped barbershop.
Whether you are a seasoned professional or a newcomer to the trade, it is crucial to be well-versed in the wide array of TOOLS and accessories needed to cater to your clients' needs.
From the straight razor to the electric trimmer, every piece of equipment plays a significant role in shaping the perfect HAIRCUT and enhancing the overall barbering experience.
In this article, I will delve into the must-have tools and equipment, their functions, and tips on how to choose the best ones for your barbershop.
Stay ahead in the competitive world of grooming by ensuring you have the right tools at your disposal.
Also well-equipped and knowledgeable barbers are the key to satisfied customers and a thriving business.
So, without further ado, let's dive into the world of barber shop tools and discover everything you need to set up your professional workspace.
30 Essential Barber Shop Tools List
1. Barber scissors
Barber scissors are essential tools in the Barber Shop Tools List. They come in various sizes and designs for precise cutting and TRIMMING of hair.
High-quality barber scissors are made from stainless steel, ensuring longevity and sharpness.
I personally prefer using lightweight and ergonomically designed scissors for comfort and ease of use during long hours of work.
2. Thinning shears
Thinning shears are specialized scissors with one serrated blade, designed to remove bulk from hair without affecting the length.
These are perfect for blending and creating texture in hairstyles.
As a barber, I find thinning shears indispensable for achieving professional-looking results and preventing harsh lines in my clients' hair.
3. Straight razor
A straight razor is an iconic barber tool that provides a close and clean shave. It features a single, sharp blade that folds into a handle.
When using a straight razor, I always make sure to strop it properly, ensuring a smooth shave for my clients.
This timeless tool adds a classic touch to the barbering experience.
4. Safety razor
Safety razors are popular alternatives to straight razors, offering a more user-friendly shaving experience.
They feature a replaceable, double-edged blade held in a protective head, minimizing the risk of cuts.
In my experience, safety razors provide a close, irritation-free shave that clients appreciate.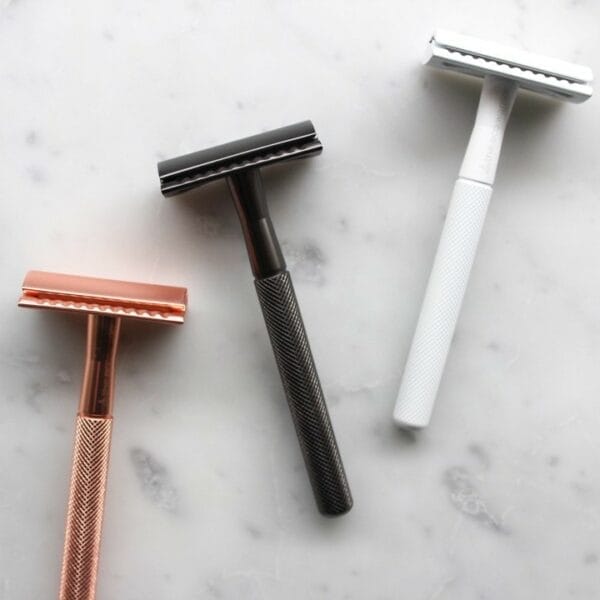 5. Electric hair clippers
Electric hair clippers are a must-have in any Barber Shop Tools List. They are powerful, versatile tools that enable efficient and precise cutting of hair.
Clippers come with various attachments and adjustable settings, allowing me to create a wide range of hairstyles.
I prefer cordless models for increased mobility and convenience.
6. Clipper guards
Clipper guards, also known as guide combs, are essential accessories for electric hair clippers.
They help control the cutting length and protect the scalp from the sharp blades.
Having a complete set of clipper guards allows me to cater to different clients' preferences and achieve consistent results.
7. Trimmer
A trimmer is a compact, lightweight tool used for precise detailing and finishing work. It is perfect for cleaning up necklines, sideburns, and facial hair.
As a barber, I rely on my trimmer to provide a polished, professional appearance to my clients' haircuts.
8. Shaving brush
A shaving brush is a traditional tool for applying shaving cream or soap. It helps create a rich lather, lifting and softening the facial hair for a smooth, comfortable shave.
Using a shaving brush in my daily routine adds an enjoyable, classic touch to the shaving experience.
9. Shaving cream
Shaving cream is an essential product for ensuring a smooth, comfortable shave. It provides lubrication and protection for the skin, preventing irritation and razor burn.
There are various types of shaving creams, but I prefer those with natural ingredients and a pleasant scent to enhance the overall shaving experience.
10. Shaving soap
Shaving soap is another option for creating a rich lather when shaving. It is typically harder than shaving cream and requires a shaving brush to generate the lather.
I find that using high-quality shaving soap can provide an enjoyable, classic shaving experience for my clients.
11. Styptic pencil
A styptic pencil is a valuable tool for quickly stopping minor bleeding caused by small nicks and cuts during shaving.
It contains astringent substances, such as alum, which constrict blood vessels and promote clotting.
I always keep a styptic pencil handy in my barber shop for any unexpected situations.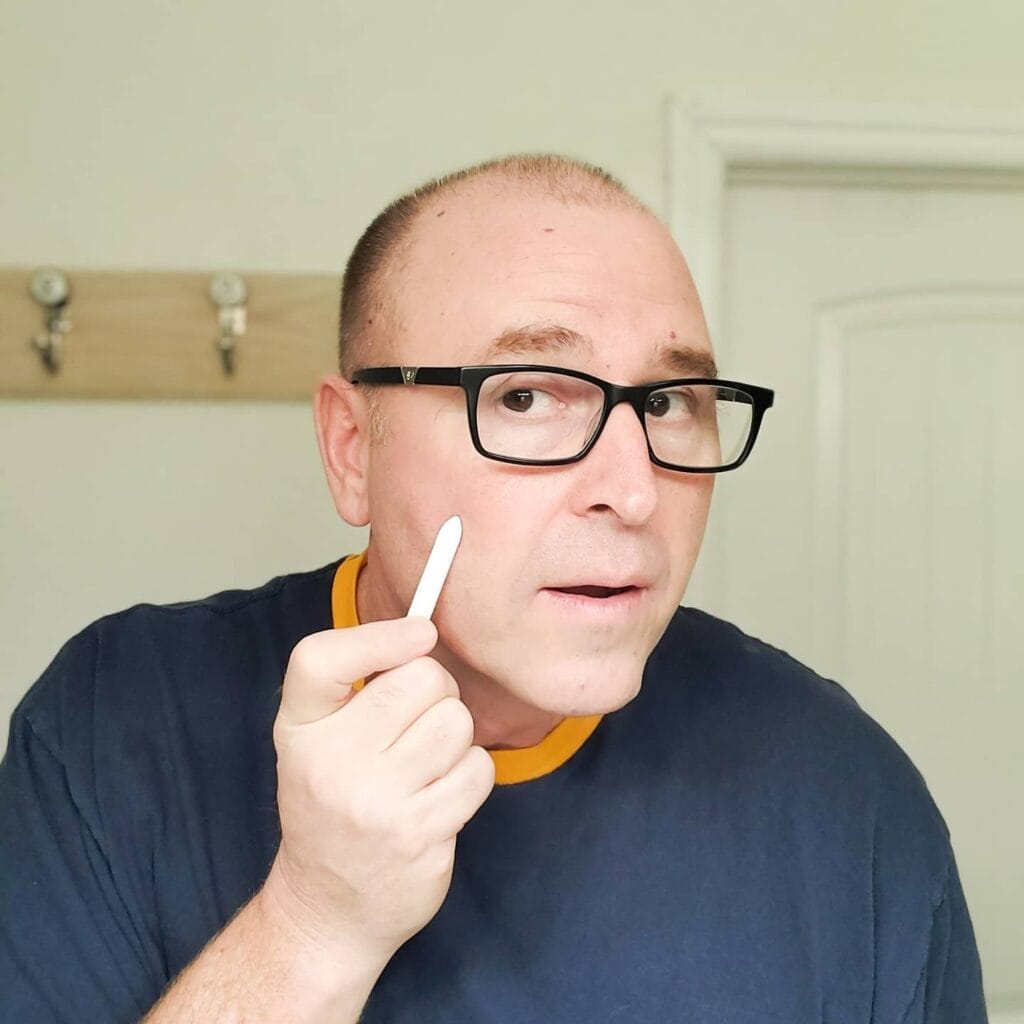 12. Aftershave lotion
Aftershave lotion is a post-shave product that helps soothe and moisturize the skin.
It often contains antiseptic and astringent ingredients to prevent infection and reduce inflammation.
As a barber, I choose aftershave lotions with natural, hydrating ingredients to provide a refreshing finish for my clients, leaving their skin feeling smooth and rejuvenated.
13. Hair combs
Hair combs are fundamental tools in a Barber Shop Tools List.
They come in various sizes, materials, and tooth spacing to accommodate different hair types and styling needs.
I keep a variety of combs in my arsenal to ensure precise and efficient hair manipulation during cutting, styling, and grooming.
14. Hairbrushes
Hairbrushes are another essential tool for managing and styling hair. They are available in various designs, bristle types, and sizes to suit different hair types and purposes.
I find that having a selection of high-quality hairbrushes helps me achieve a range of polished and professional-looking hairstyles for my clients.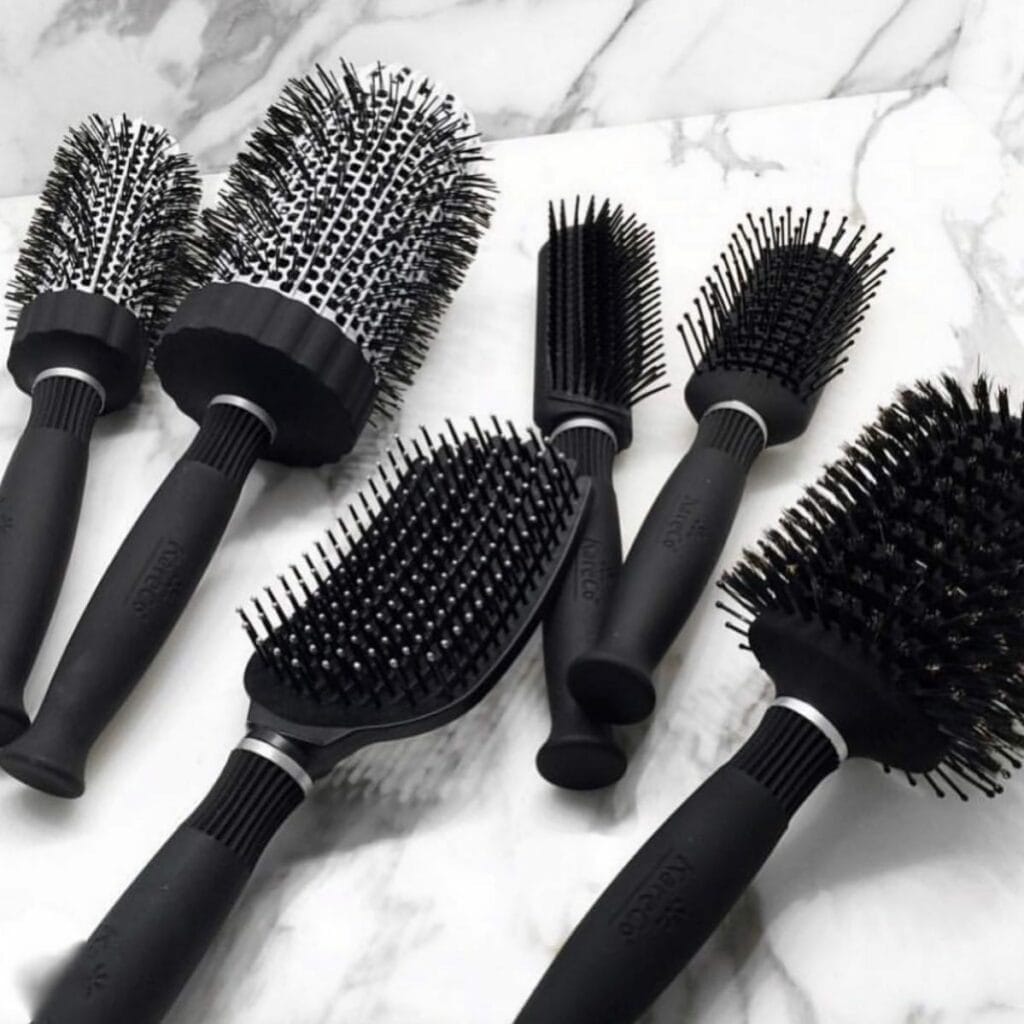 15. Neck duster
A neck duster is a soft-bristled brush used to remove loose hair from the client's neck and shoulders after a haircut.
It provides a comfortable, clean finish and enhances the overall grooming experience. I always ensure that my neck duster is clean and hygienic for each client.
16. Barber cape
A barber cape is a large, waterproof cloth that protects the client's clothing from hair clippings and grooming products during their visit.
It is fastened around the neck with a secure closure, ensuring a comfortable fit.
I choose barber capes made from easy-to-clean, durable materials to maintain a professional appearance in my shop.
17. Hair clips
Hair clips are handy tools for sectioning and holding hair in place during cutting and styling.
They come in various sizes and designs, offering versatility and ease of use. I find that using hair clips allows me to work more efficiently and achieve precise results.
18. Spray bottle
A spray bottle is an essential tool for dampening hair during cutting and styling. It evenly distributes water, making it easier to manipulate and control the hair.
I prefer using a spray bottle with a fine mist nozzle for a gentle, even application.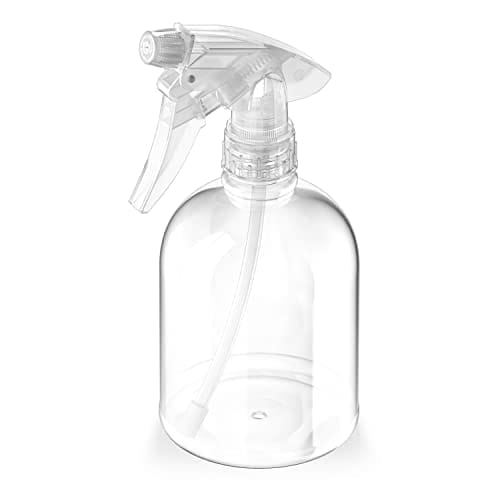 19. Talcum powder
Talcum powder is a useful product for absorbing excess moisture and providing a smooth, friction-free surface when shaving or trimming.
I apply talcum powder to my clients' neck and face areas to enhance their comfort and prevent irritation during the grooming process.
20. Hot towel cabinet
A hot towel cabinet is a specialized device used to heat and store damp towels for use during shaving and facial treatments.
The warm towels help to soften facial hair and open pores, ensuring a more comfortable and effective shave.
I find that offering hot towel services adds a touch of luxury to my clients' barber shop experience.
21. Razor strop
A razor strop is a leather or fabric strip used to maintain the sharpness of straight razors.
Regular stropping helps align the razor's edge, ensuring a smooth, close shave.
As a professional barber, I consider a razor strop an essential tool for maintaining my straight razors in top condition.
22. Razor stand
A razor stand is a convenient accessory for storing and displaying razors, keeping them organized and easily accessible.
Razor stands also help promote proper drying and hygiene. I use a razor stand in my barber shop to showcase my tools and maintain a clean, professional work area.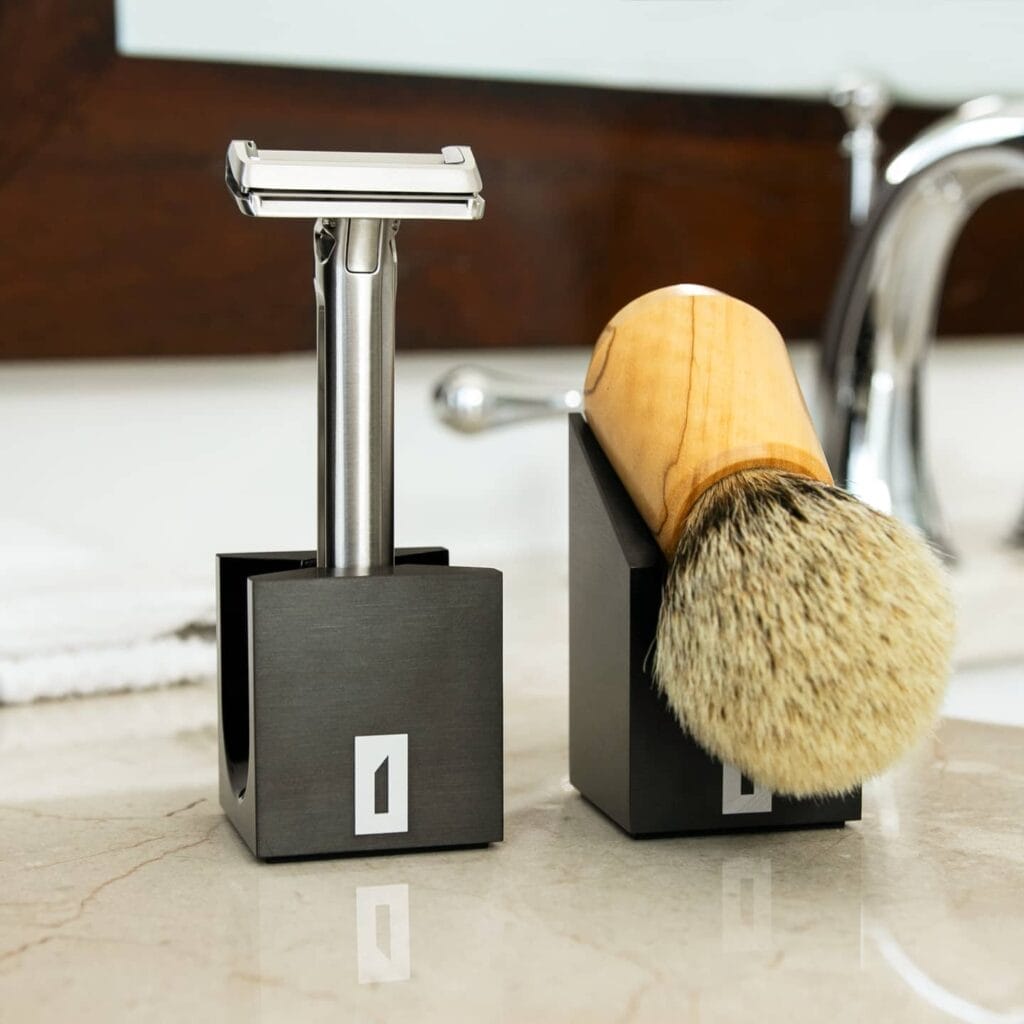 23. Blade bank
A blade bank is a safe, hygienic container for disposing of used razor blades. It prevents accidental injuries and contamination, ensuring a clean and safe working environment.
As a responsible barber, I use a blade bank to dispose of blades properly, prioritizing safety and hygiene in my shop.
24. Hair dryer
A hair dryer is a versatile tool for drying and styling hair after cutting or washing. It uses a combination of heat and airflow to remove moisture and set hairstyles in place.
I prefer using hair dryers with adjustable heat and speed settings, allowing me to cater to different hair types and styles in my barber shop.
25. Barber chair
A barber chair is a crucial piece of furniture in any barber shop.
It is designed for comfort, durability, and functionality, with adjustable height, reclining features, and a swivel base.
As a barber, I invest in high-quality chairs to ensure my clients have a relaxing and enjoyable experience during their visits.
26. Barber pole
A barber pole is a traditional symbol of barber shops, featuring red, white, and blue stripes spiraling around a cylindrical pole.
It serves as an eye-catching sign that helps customers identify my barber shop from a distance.
The barber pole adds a touch of nostalgia and authenticity to my establishment.
27. Sterilizer jar
A sterilizer jar is a container filled with a disinfectant solution, such as Barbicide, used for sanitizing barber tools like scissors, combs, and BRUSHES.
Proper STERILIZATION is crucial for maintaining a hygienic and safe working environment.
I always make sure to keep my sterilizer jar clean and filled with fresh solution to ensure optimal tool sanitation.
28. Barbicide solution
Barbicide solution is a powerful disinfectant used in the barber industry to sanitize tools and equipment.
It is effective against bacteria, fungi, and viruses, helping to prevent the spread of infections.
As a professional barber, I prioritize hygiene by regularly using Barbicide solutions to clean my tools and maintain a safe environment for my clients.
29. Towels
Towels are indispensable items in any Barber Shop Tools List.
They are used for various purposes, such as drying hair, wiping hands, and wrapping around clients' necks during hot towel treatments.
I choose high-quality, absorbent towels that are soft to the touch and easy to clean, ensuring a comfortable experience for my clients.
30. Barber mat
A barber mat is a cushioned, non-slip surface placed around the barber chair to provide comfort and support for the barber during long hours of standing.
It also helps protect the floor from hair clippings and spills. I find that using a barber mat reduces fatigue and helps me maintain a clean, professional work area.
How To Maintain Barber Shop Tools
Maintaining barber shop tools is essential for ensuring their longevity, optimal performance, and the safety and satisfaction of your clients.
Here are some steps to help you maintain your barber shop tools:
Cleaning: Clean your tools after each use to remove hair, product residue, and other debris.
For scissors, razors, and clippers, use a soft brush or cloth to wipe away any debris.
For combs and brushes, use warm water and gentle soap to clean the bristles.
Disinfection: Disinfect your tools regularly to prevent the spread of bacteria and viruses.
Soak scissors, razors, and clippers in a disinfectant solution, following the manufacturer's instructions.
Use a spray disinfectant on combs and brushes, allowing them to air-dry after each use.
Sharpening: Keep your cutting tools sharp by having them professionally sharpened or investing in a quality sharpening stone.
Dull tools can damage hair and make your job more difficult.
Lubrication: Lubricate your clippers and TRIMMERS regularly to ensure smooth operation and prevent friction damage.
Apply a few drops of clipper oil to the blades and moving parts, as per the manufacturer's instructions.
Adjustments: Check the tension of your scissors regularly and adjust as needed.
If the blades feel too loose or too tight, use the tension adjustment screw to achieve the desired tension.
Replacements: Replace worn or damaged parts, such as clipper blades and guards, promptly to maintain the performance of your tools. Regularly inspect your tools for signs of wear and tear.
Storage: Store your tools in a clean, dry, and organized manner. Use protective cases, pouches, or tool organizers to keep your tools safe and easily accessible.
Electrical maintenance: Inspect electrical cords and plugs for signs of wear, fraying, or damage.
Replace any damaged cords immediately to prevent accidents or electrical malfunctions.
Regular servicing: Schedule regular servicing and maintenance for your tools, especially electric clippers and trimmers, to ensure they remain in optimal working condition.
Education: Stay informed about the latest tools, techniques, and maintenance best practices by attending workshops, conferences.
By following these steps, you can keep your BARBER shop tools in top shape, ensuring the best possible experience for your clients and prolonging the life of your tools.
Conclusion
The comprehensive list of barber shop tools presented in this article highlights the essential equipment that every professional barber should have in their arsenal.
From cutting tools like SCISSORS, clippers, and trimmers, to styling tools like combs, brushes, and razors.
These tools are vital for creating a wide range of hairstyles and ensuring customer satisfaction.
FAQs
What are the top 10 essential tools for a professional barber shop?
Creating a comprehensive Barber Shop Tools List is crucial to provide top-notch services to your clients.
The top 10 essential tools are hair scissors, various types of razors, electric hair clippers, hairbrushes and combs, barber capes, neck dusters, hair thinning shears, a straight edge razor, a spray bottle for water, and a sanitizer for tools.
Having these essential items ensures that you are well-equipped to handle different hairstyles and preferences while maintaining a professional atmosphere.
How do I choose the best quality scissors for my barber shop?
Selecting the right scissors for your barber shop is essential for precise and efficient cutting.
To ensure the best quality, consider factors like the size, material, blade type, and ergonomics.
High-quality scissors are typically made of stainless steel or Japanese steel. When it comes to size, choose one that fits comfortably in your hand, allowing for better control.
Additionally, opt for scissors with an adjustable tension system for optimal performance.
I prefer using a combination of convex and bevel-edged blades to cater to various cutting techniques.
How do I ensure that my barber shop tools are safe and meet the required industry standards?
To guarantee the safety of your barber shop tools, it's essential to follow local and international industry standards.
Firstly, ensure that all electrical equipment is certified and complies with safety regulations.
Secondly, maintain proper hygiene by regularly sanitizing and sterilizing your tools, especially those in direct contact with clients.
Finally, invest in quality products from reputable manufacturers to guarantee their durability and adherence to safety standards.
Remember, the safety of your clients and the success of your business depend on the quality of your Barber Shop Tools List.
What are the different types of razors used in barber shops and how do they differ?
There are several types of razors used in barber shops, each designed for specific purposes.
The main types include straight razors, safety razors, and disposable razors. Straight razors, also known as cut-throat razors, offer a traditional and precise shaving experience.
They require a steady hand and skillful technique. Safety razors, on the other hand, feature a protective guard to minimize the risk of cuts and nicks.
Disposable razors are convenient for quick, single-use shaves, but may not offer the same level of precision as other types.
Understanding the differences between these razors allows you to choose the right tool for the job.
How do I maintain and clean my barber shop tools for maximum durability and hygiene?
Proper maintenance and cleaning of your barber shop tools are vital for ensuring durability and maintaining a hygienic environment.
Firstly, always clean your tools after each use, removing hair and debris. For scissors and razors, wipe them down with a soft cloth and apply a light layer of oil to prevent rust.
Secondly, regularly sanitize your tools using a professional-grade sanitizer or disinfectant.
This is especially important for tools that come in contact with skin.
Lastly, store your tools in a clean, dry place, away from moisture, to prolong their lifespan and keep them in optimal condition.
References:
There are plenty of reasons to make sure you have one of the best hair clippers on hand. source
Barbershop may refer to:
A place where barbers work
Barbershop music, an a cappella musical style
Barbershop quartet, a quartet of singers. source
Khamis Maiouf is a professional barber who graduated from Hinckley College in England with a degree in hairdressing. He has also won several barbering contests and successfully operated a barbershop for the last two decades. As a skilled hair stylist for 20 years, his goal is to teach others how to achieve a beautiful appearance through their hairstyles.