Men's Hair Myths and Facts: Unraveling & Embracing the Truth!
As a hair enthusiast, I've had my fair share of hair-raising experiences with men's grooming.
It's time to separate the truth from the tangled web of men's hair myths and facts. Armed with the right information, you can make informed decisions about your hair care routine and achieve the healthy, stylish locks you've always wanted.
In this guide, I'll share my insights and debunk common misconceptions, while revealing the genuine facts behind PROPER hair care.
Together, we'll embark on a journey to unravel the mysteries surrounding men's hair and empower ourselves with knowledge. Let's get ready to brush up on the truth!
10 Men's Hair Myths anf Facts
Myth 1: The More You Cut Your Hair, The Faster It Grows
Many people believe that frequent haircuts can accelerate hair growth.
The truth is, hair growth is determined by genetics and hormones, not by the frequency of haircuts.
While regular trims can make your hair look healthier by removing split ends, it won't affect the growth rate.
Myth 2: Wearing Hats Make You Go Bald
One common myth suggests that wearing hats can cause hair loss or baldness.
In reality, hat-wearing has no direct correlation with hair loss. However, if a hat is too tight, it may cause tension on the hair follicles, which can lead to temporary hair loss.
Always wear a comfortable, well-fitted hat to avoid any issues.
Myth 3: A Sudsy Wash Is A Better Wash
Many people believe that the more soap suds you have when washing your hair, the cleaner it is.
This is a misconception. Excessive lather can strip your hair of its natural oils, leaving it dry and prone to damage.
Instead, use a gentle, sulfate-free shampoo that cleanses without over-drying.
Myth 4: Plucking A Grey Hair Makes More Grow
The myth that plucking a grey hair will result in multiple grey hairs growing in its place is completely false.
Hair grows from individual follicles, and plucking one hair will not cause more to grow in its place.
However, plucking can damage the hair follicle and lead to hair thinning, so it's best to avoid this practice.
Myth 5: A Cheap Haircut Is Just As Good As An Expensive One
While it's true that an expensive haircut doesn't always guarantee quality, there's a reason why top hairstylists charge more.
They have the experience, skill, and knowledge to create a flattering and personalized hairstyle.
As a celebrity hairstylist, I can attest to the importance of investing in a quality haircut to achieve the best results.
Myth 6: Dandruff Is Just Dry Scalp
While it's true that both dandruff and dry scalp can cause flaking, they are not the same thing.
Dandruff is often caused by an overgrowth of yeast, while a dry scalp is caused by a lack of moisture.
Proper diagnosis is essential for effective treatment – consult a professional if you're unsure about your condition.
Myth 7: Your Mum Made You Go, Bald,
The belief that baldness is solely inherited from the mother's side of the family is a myth.
In reality, genetics from both parents can play a role in determining whether you'll experience hair loss.
Other factors like age, hormones, and lifestyle choices can also impact hair loss.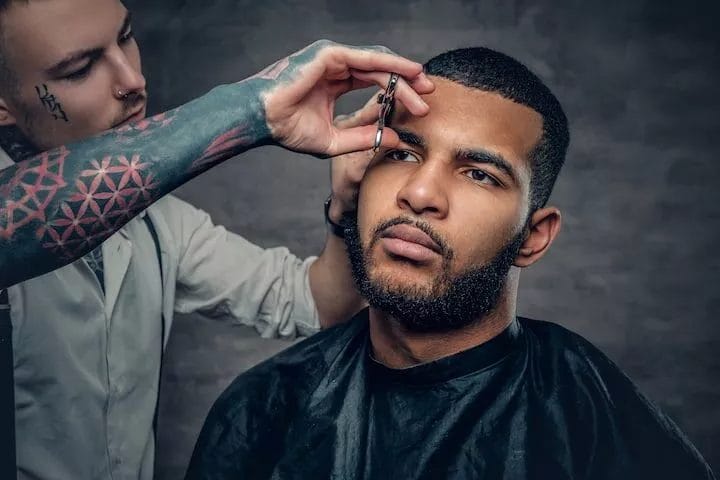 Myth 8: Hair Needs To Be Shampooed Daily To Keep It Clean
Daily shampooing can actually do more harm than good. Overwashing can strip the hair of its natural oils, leading to dryness and damage.
I recommend washing your hair every 2-3 days, adjusting the frequency based on your hair type and lifestyle.
Myth 9: Hair Grows Faster In The Sun
Although sunlight provides essential vitamin D, which supports healthy hair growth, excessive sun exposure can damage your hair.
Prolonged exposure to UV rays can weaken the hair shaft, leading to breakage and hair loss.
Protect your hair from sun damage by wearing a hat or using a UV-protective hair product.
Myth 10: You Can 'Train' Your Hair
The idea that you can "train" your hair to grow in a particular direction or change its natural texture is a myth.
Hair growth is determined by genetics and the shape of the hair follicle.
While you can use styling products and tools to temporarily change the appearance of your hair, it will always return to its natural state.
Conclusion
Understanding Men's Hair Myths and Facts is crucial for achieving healthy, stylish locks.
As I've explored, separating fact from fiction can help you make informed decisions about your grooming routine.
Embrace the TRUE knowledge and embark on your journey towards a confident, well-groomed appearance!
FAQs
Q1. What is the recommended way for men to style their hair?
When it comes to men's hair, the recommended way to style it is all about personal preference and finding a style that suits your face shape and lifestyle. However, it's important to use proper hair care to maintain healthy hair. Men's Hair Myths and Facts suggest that using a shampoo and conditioner that is suitable for your hair type can prevent damage and promote healthy growth. Additionally, using a styling product like wax, gel, or pomade can help create a polished and put-together look.
Q2. What role does men's hair play in their appearance or overall image?
Men's hair plays a significant role in their appearance and overall image. It can be the first thing people notice when they meet you and can affect how people perceive your overall image. The way men choose to style their hair can make them look more professional, creative, stylish, and even more approachable. Therefore, it's essential to choose a hairstyle that corresponds with the desired appearance and is consistent with one's lifestyle.
Q3. What norms or expectations exist for men's hairstyling?
There are several norms and expectations when it comes to men's hairstyling. For instance, many jobs require men to have shorter hair. Additionally, short hairstyles are seen as more professional than longer hairstyles. However, with changing social norms, longer hair is becoming more accepted in many workplaces. In some settings, it may be appropriate to have a more creative hairstyle while maintaining good grooming habits.
Q4. Is men's grooming, particularly hair care and styling, a priority for them?
Men's grooming, particularly hair care, and styling, has become more of a priority in recent years. Men's Hair Myths and Facts suggest that men have become more conscious of their appearance and have started investing in products and services that cater to their grooming needs. This is partly due to the shift in social norms and expectations that allow men to feel confident in taking pride in their hair and appearance.
Q5. Do women find men with fuller hair more attractive?
Yes, many women find men with fuller hair more attractive. Thick and voluminous hair is often associated with good health, youthfulness, and virility. However, this does not mean that men with thinning hair or baldness are not attractive. Many men choose to embrace their baldness or style their thinning hair in a way that complements their features. Ultimately, confidence and good grooming habits are far more important than the thickness of one's hair.
References:
Hair is a protein filament that grows from follicles found in the dermis. Hair is one of the defining characteristics of mammals. source
Khamis Maiouf is a professional barber who graduated from Hinckley College in England with a degree in hairdressing. He has also won several barbering contests and successfully operated a barbershop for the last two decades. As a skilled hair stylist for 20 years, his goal is to teach others how to achieve a beautiful appearance through their hairstyles.