Smooth Ways Of Shaving With A Cut Throat Razor
Shaving with a cut-throat razor, also known as a straight RAZOR, is a timeless art, steeped in tradition and requiring a certain finesse that modern shaving methods often overlook.
It's a ritual that conjures images of classic barbershops with their leather strops and hot towel treatments, a practice that harks back to a time when personal grooming was an art, rather than a rushed necessity.
The cut-throat razor itself is a beautifully simple tool: a single, sharp blade that folds into its handle.
Yet, mastering its use is anything but simple. It is a skill that demands respect, patience, and a steady hand.
The danger inherent in its name is no idle threat, but rather a reminder of the attention and care required to wield it effectively.
To shave with a cut-throat razor is to engage in a GROOMING practice that stretches back centuries. It's a task that requires time, precision, and a certain degree of bravery.
Yet men who master the technique often find it provides the closest, smoothest shave possible – a testament to the old saying that sometimes, the old ways really are the best.
In this article, I'll explore the ins and outs of shaving with a cut-throat razor. I'll discuss the preparation process, the shaving technique, and the necessary aftercare.
By the end, you'll understand why so many men have turned away from modern convenience to embrace this traditional approach to shaving.
Whether you're a shaving novice or a seasoned enthusiast looking to up your game, get ready to take a journey into the world of the cut-throat razor.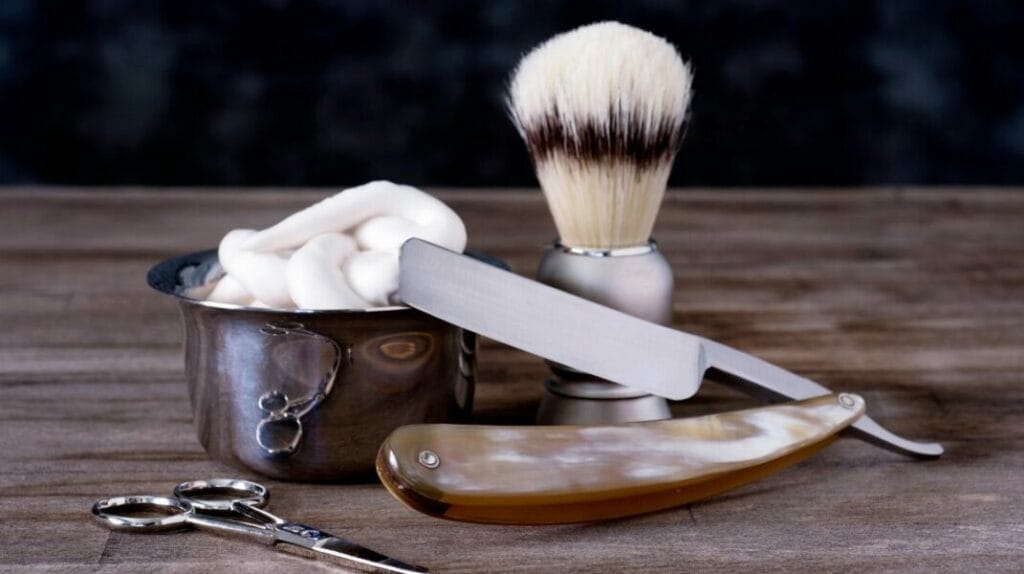 What Is A Cut Throat Razor
A cut-throat razor, also known as a straight razor, is a traditional form of razor that is composed of a blade that can fold into its HANDLE.
This type of razor is typically made from high-quality steel, and it requires regular maintenance, including stropping and honing, to keep the blade sharp.
The cut-throat razor is known for delivering a very close shave, arguably closer than most other razors.
Using it requires skill and precision due to the sharpness and lack of safety features that are present in modern razors, such as a safety bar in safety razors or multiple blades in cartridge razors.
Because of this, there is a learning curve when first starting to shave with a cut-throat razor, and extra care should be taken to avoid cuts.
Despite these challenges, many people appreciate the craft and ritual that comes with using a cut-throat razor.
Some find it a more sustainable option than disposable razors due to its long-lasting nature.
There is also a sense of tradition and nostalgia associated with this type of shaving, as it harkens back to a time before the advent of disposable razors and electric shavers.
In popular culture, the cut-throat razor has often been associated with barbershops, as barbers were traditionally trained to shave their clients with these tools.
It has also been romanticized in films and literature, sometimes even being used as a symbol of danger or menace due to its sharp, exposed blade.
Preparing Your Skin for a Cut Throat Razor Shave
1. Cleanse your face thoroughly
As a professional hairstylist, I cannot stress enough the importance of cleansing your face before shaving with a cut throat razor.
A clean face helps to remove dirt, oil, and other impurities that could interfere with the razor's ability to glide smoothly.
I recommend using a gentle facial cleanser to clean your skin, ensuring it's free from any debris. This will not only make for a more comfortable shave, but it will also reduce the chances of irritation or infection.
2. Exfoliate to remove dead skin cells
Exfoliating is an essential step in preparing your skin for shaving with a cut throat razor.
By gently scrubbing away dead skin cells, you'll create a smoother surface for the razor to glide over. This reduces the risk of nicks, cuts, and ingrown hairs.
I suggest using a mild facial scrub or an exfoliating brush to gently remove any dead skin cells, promoting a smoother and more comfortable shave.
3. Apply a pre-shave oil
One of the secrets to a smooth and comfortable cutthroat razor shave is using a pre-shave oil.
This product helps to soften the hair and create a protective barrier between your skin and the razor.
As a professional hairstylist, I've found that incorporating pre-shave oil into my clients' shaving routines significantly improves their overall shaving experience.
Simply massage a small amount of oil into your skin before lathering up, and you'll notice the difference.
4. Lather up with a high-quality shaving cream
Using a high-quality shaving cream is crucial when shaving with a cut throat razor. Good shaving cream provides the necessary cushion and lubrication to protect your skin from the sharp blade.
I recommend using a shaving cream that contains moisturizing and soothing ingredients, such as aloe vera and glycerin.
These ingredients will help to keep your skin hydrated and reduce irritation during the shave.
5. Use a hot towel to open up your pores
Before I start shaving with a cut throat razor, I always apply a hot towel to my client's faces.
This simple step helps to open up the pores and further soften the hair, making it easier for the razor to cut through. Simply soak a towel in hot water, wring it out, and place it on your face for a minute or two.
The warmth of the towel will also help to relax your facial muscles, contributing to a more enjoyable shaving experience.
6. Stretch your skin taut before shaving
When shaving with a cut-throat razor, it's essential to stretch your skin taut to achieve a close and even shave.
As a professional hairstylist, I make sure to gently pull the skin tight with one hand while holding the razor with the other.
This technique allows the razor to glide smoothly over the skin, minimizing the risk of nicks and cuts.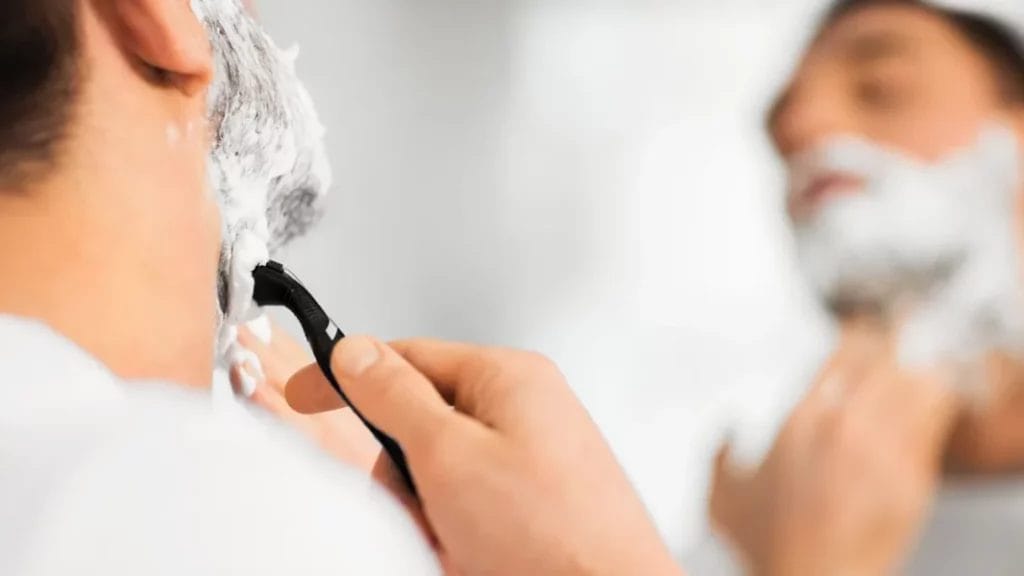 7. Go with the grain on the first pass
One of the keys to a successful cut-throat razor shave is to shave in the direction of hair growth, also known as "going with the grain."
This technique helps to reduce irritation and the likelihood of ingrown hairs.
I always advise my clients to follow the grain during the first pass, and then, if necessary, go against the grain for a closer shave during the second pass.
8. Apply a soothing aftershave balm
After completing your cut-throat razor shave, it's important to soothe and moisturize your skin to prevent irritation.
I recommend applying a high-quality aftershave balm that contains soothing ingredients like aloe vera and chamomile.
These products help to calm the skin and lock in moisture, ensuring that your skin stays soft and healthy after your shave.
Mastering the Cut Throat Razor Technique
Understanding the Correct Grip and Handling
As a hairstylist, I can't emphasize enough how crucial it is to have a firm, yet comfortable grip when shaving with a cut-throat razor.
A wrong grip can lead to injuries or an uneven shave. I personally advise holding the razor with your thumb and three fingers.
The pinky rest on the tang, the ring and middle fingers on the back, while the index finger goes on the side, and the thumb stays on the bottom side.
Your hold should be firm enough to control the movement yet flexible enough to glide the razor smoothly. Just like holding a paintbrush, the grip on your straight razor should be both an art and a skill.
Achieving the Right Blade Angle
What I've found over the years of professional shaving is that the angle of the blade makes a significant difference.
Typically, a 30-degree angle is a sweet spot for most shaves. But remember, everyone's facial contour is unique, and you might need to adjust the angle slightly for different areas of the face.
So, when you're shaving with a cut throat razor, pay close attention to the blade's angle and how it interacts with the skin. It's these little details that transform a good shave into a great one.
Implementing Proper Skin Stretching
Skin stretching is one technique I learned early in my career and it's been a game changer.
When shaving with a cut throat razor, stretching the skin ensures a SMOOTH surface for the razor to glide over.
It also allows for a closer shave, reducing the number of passes needed, and thus minimizing SKIN irritation.
I always use my free hand to stretch the skin just ahead of the area I'm about to shave. It might take some practice, but once mastered, the difference it makes is truly significant.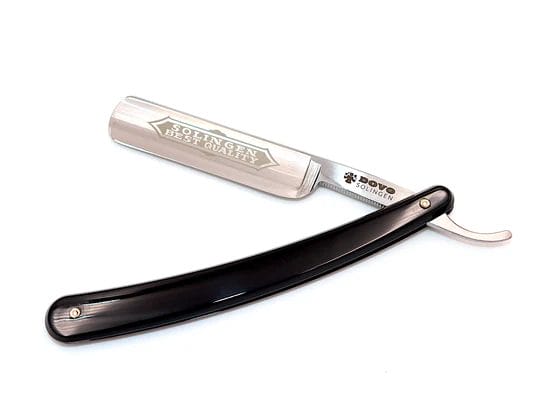 Mastering the Three-part Shaving Stroke
In my experience, the three-part shaving stroke is an essential technique for any professional. It involves the with-the-grain, across-the-grain, and against-the-grain strokes.
Starting with the GRAIN helps reduce the majority of the beard length, which makes the subsequent across and against-the-grain strokes easier and less irritating.
However, each individual's hair growth pattern is different, so it's important to tailor your approach.
Remember, shaving with a cut-throat razor isn't just about removing hair, it's about providing a comfortable and enjoyable experience for your clients.
Maintaining and Honing the Blade
Last but certainly not least, maintaining the sharpness of your blade is fundamental. As a professional, I always hone my cut-throat razors regularly to maintain their sharpness.
A dull blade can tug and pull at the hair, making the shave uncomfortable and potentially causing nicks and cuts. After every few shaves, I use a leather strop to align the blade's edge.
Every couple of months, depending on the frequency of use, I also use a honing stone to sharpen the blade.
It's a bit of extra effort, but it's worth it for the superior shave that a well-maintained cut-throat razor can provide.
Benefits of Using a Cut Throat Razor
Experience the Closest Possible Shave
Shaving with a cutthroat razor, I've discovered, gives the closest possible shave you can ever get. It's like a professional secret, but I'm sharing it with you today.
Its sharp, single blade glides across the skin, cutting the hair right at its base. No multiple blades, no gimmicks, just a smooth and clean shave.
Discover Reduced Skin Irritation
Skin irritation is a common complaint among my clients. I often recommend using a cut-throat razor as it causes significantly less irritation.
When you shave with this tool, you're making fewer passes over your skin. Less friction, less irritation – it's simple. My skin feels much better after a cut-throat shave, and yours could too.
The Cost-Effectiveness Over Time
Cut-throat razors might seem expensive at first, but they're actually an investment. No need for disposable razors or constantly replacing expensive cartridges.
Just a one-time purchase and periodic sharpening, and you have a shaving tool that can last a lifetime. Since I started using it, I've saved a considerable amount on shaving supplies.
Less Environmental Waste – A Conscious Choice
As a professional hairstylist, I care about the environment. Shaving with a cut-throat razor is an eco-friendly choice.
No plastic waste from disposable razors or cartridges, just a single, reusable razor. It's a small change in your routine that can make a big difference for our planet.
Enjoy Superior Control During Shaving
When it comes to shaving, control is key. A cut-throat razor, with its single blade and balanced design, provides unparalleled control.
You can adjust the angle and pressure to suit your needs. It's why I prefer it, and why I recommend it to clients who want to take their shaving skills to the next level.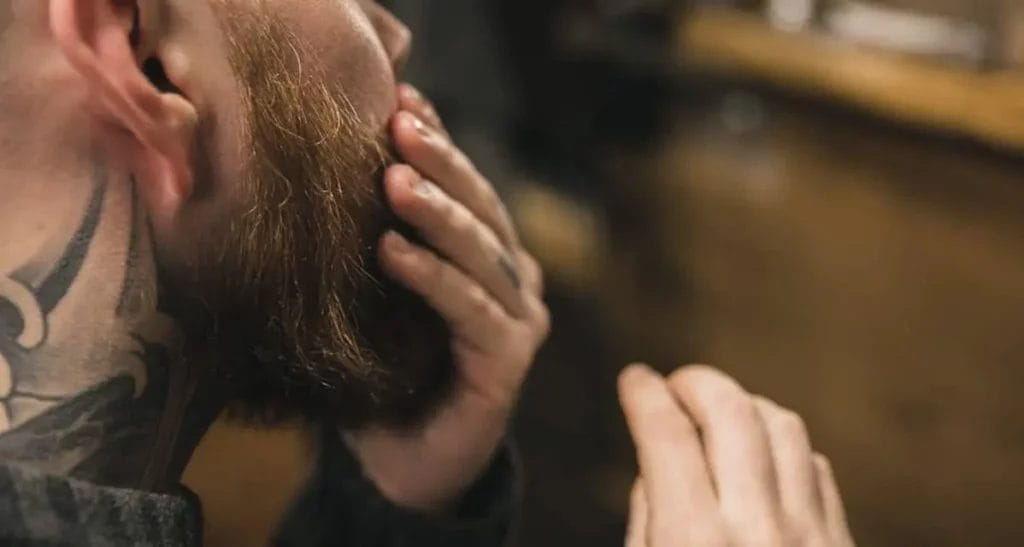 Appreciate the Long Lifespan of a Cut Throat Razor
In a world where so many things are disposable, there's something satisfying about owning a tool that lasts.
A well-maintained cut-throat razor can serve you for years, even decades. It's not just a tool; it becomes a part of your personal grooming tradition.
Enhance Your Skill and Precision
Shaving with a cut-throat razor is an art form, and like all arts, it takes practice. It enhances your skill and precision, turning a mundane task into an opportunity for mastery.
The process of learning to use it has made me more patient and precise in my work.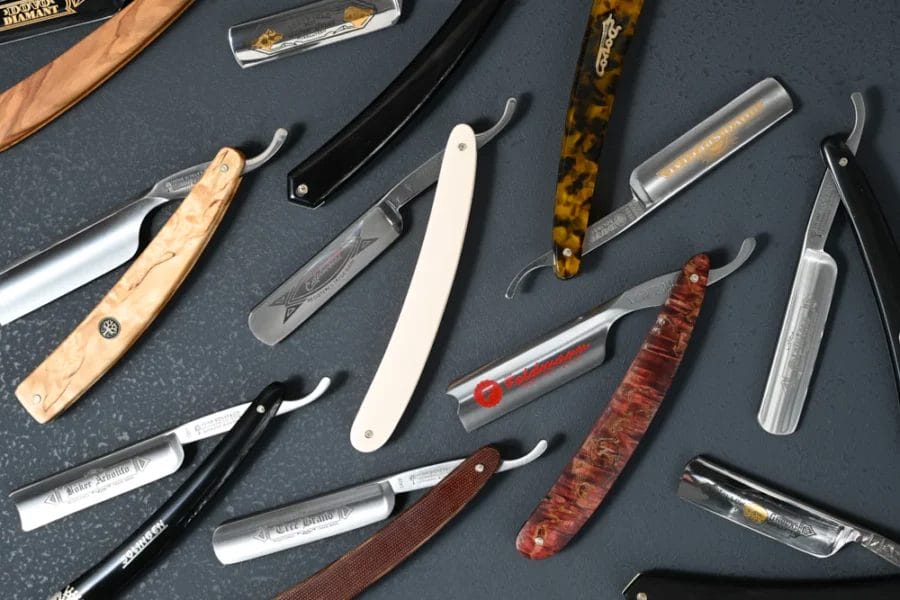 Experience a Unique and Traditional Shaving Method
There's an undeniable ALLURE to using a cutthroat razor. It's a nod to tradition, a way to experience the shaving methods of the past.
Each time I use it, I feel connected to the long history of BARBERS and hairstylists before me. It's not just a shave; it's a journey back in time.
Conclusion
The use of a cut-throat razor offers a unique shaving experience that combines tradition, skill, and precision.
The mastery of this tool is not just about achieving the closest shave possible, but also about embracing an age-old ritual that evokes a sense of nostalgia and respect for craftsmanship.
Shaving with a cut-throat razor is about more than just removing FACIAL hair; it's about engaging in a timeless tradition.
FAQs
Can you shave yourself with a cutthroat razor?
Yes, indeed, you can shave yourself with a cutthroat razor. In fact, I've found that many of my clients prefer it once they've mastered the technique.
It's crucial to remember, however, that shaving with a cutthroat razor requires a steady hand and a good deal of patience.
A slight tremor or rush can lead to nicks and cuts. I suggest starting slow, perhaps only shaving a small area at first. Over time, with practice and precision, you'll find that it becomes second nature.
It's an art form that is centuries old, and there is a certain sense of satisfaction in mastering such a skill.
How long does a cutthroat shave last?
From my extensive experience as a hairstylist, the longevity of a cutthroat shave can depend on several factors, including the thickness and speed of hair growth which vary from person to person.
However, one of the appealing aspects of a cutthroat razor shave is that it provides an incredibly close shave.
This means that you could experience smooth skin for anywhere from one to three days longer than with a regular cartridge razor.
It's also worth mentioning that over time, as your technique improves, the results of your shaves will likely improve as well.
What is the difference between a razor and a cutthroat razor?
In the world of grooming, there are numerous tools available, each with its own unique advantages.
Traditional razors and cutthroat razors fall into distinct categories. A traditional razor, whether it's a disposable or cartridge razor, generally comes with a handle attached to a head that holds the blades.
They are designed for convenience and safety, reducing the risk of cuts.
On the other hand, a cutthroat razor, also known as a straight razor, is a single blade that folds into its handle.
Its design hasn't changed much since the 17th century, and it requires a certain level of skill and practice to use effectively.
While the initial investment for a cutthroat razor might be higher, over time, it can be more cost-effective as you only need to sharpen the blade, not replace it.
How do you wet shave with a cutthroat?
Wet shaving with a cutthroat razor is an experience that is both traditional and rewarding.
As a seasoned professional, I recommend starting with a warm shower to soften your facial hair and open your pores.
Apply a quality shaving cream or soap with a shaving brush to further soften your beard and create a layer of protection between your skin and the blade.
When shaving, hold the razor at a 30-degree angle to your face and pull your skin taut. Shave with the grain of your hair on the first pass, and if necessary, you can make a second pass against the grain for a closer shave.
Remember to rinse the blade after each stroke and reapply lather as necessary. After shaving, rinse your face with cold water to close the pores and apply an after-shave lotion to soothe the skin.
What are the benefits of shaving with a cutthroat razor?
Shaving with a cutthroat razor might seem intimidating at first, but once you get the hang of it, the benefits are numerous.
Firstly, it can offer a closer shave than most modern razors. As a hairstylist, I've observed that my clients who use straight razors often report smoother skin and less irritation post-shave.
Secondly, it's environmentally friendly. Unlike disposable razors, a cutthroat razor can last a lifetime with proper care and occasional sharpening. This means fewer razors end up in landfills.
Lastly, shaving with a cutthroat razor can be a rewarding ritual.
The process of preparing the lather, applying it with a brush, and then mastering the technique of the straight razor shave is a form of self-care that many find relaxing and satisfying.
It can be a mindful moment in the morning where you focus on yourself and the task at hand, starting your day with a sense of accomplishment.
Khamis Maiouf is a professional barber who graduated from Hinckley College in England with a degree in hairdressing. He has also won several barbering contests and successfully operated a barbershop for the last two decades. As a skilled hair stylist for 20 years, his goal is to teach others how to achieve a beautiful appearance through their hairstyles.