Twist Hairstyles For Men: Stylish Twist Hairstyles You Must Try This Year
Twists are one of the most versatile and stylish hairstyles that men have embraced over the years.
Whether you want to make a statement, or keep it low-key, twists are a great way to show off your unique style without worrying about complicated styling techniques.
From highlights to long dreadlocks, the possibilities for twisting hairstyles for men are endless.
To kick up your style game this year, here is a comprehensive guide on some of the most sought-after twist hairstyles that will have heads turning!
Whether you want to add extra volume or switch up your style, twists have something for everyone.
In addition to being aesthetically pleasing, twist hairstyles can promote healthy hair growth by preventing breakage and protecting from the sun's harsh UV rays.
With so many options, you'll surely find a twist hairstyle that's perfect for you!
1. Men Short Twist Hairstyles
Psychologists and philosophers agree that men have been sporting short-twist hairstyles since the dawn of time, and it's still a hit today.
Whether you opt for the classic buzzer cut or a two-strand twist, keep your hair trimmed and neat to show off the intricate design of each twist.
Short twists are perfect for guys who have less time to style their hair daily but still want to look stylish.
As an added benefit, they look great when combined with facial hair!
2. Male 2-Strand Twist Hairstyle
Time for a throwback to the early nineties!
The two-strand twist hairstyle is making a strong comeback, and it's easy to see why.
This look is all about texture, where the hair is twisted twice in a single direction for an edgy and cool style.
You'll need a medium-hold styling product to hold onto your look without weighing it down.
Yet also, separating the hair into two strands allows you to create a textured, layered look that is perfect for any occasion.
3. Medium Hair Twist
Men with medium-length hair can rock longer and more voluminous twists than usual.
This style is perfect for men looking to switch up their looks without going too short.
Additionally, this twist hairstyle looks great paired with a fade or low taper. Thanks to its longer length, you can experiment with different products and styling techniques.
4. Men Long Twist Hairstyle
For men with longer hair, twists can be an excellent way to add texture and volume while keeping your hair looking healthy and shiny.
With this style, you can wear the twists all down or pull them up into a bun or ponytail, depending on the occasion.
This hairstyle looks great with various products, from wax to pomade, so you can create a look that is uniquely yours.
5. High Top Twist
The high-top twist was an iconic style from the 80s and 90s, but its popularity has returned recently.
This twist hairstyle creates volume and height on top of your hair for an eye-catching look.
You'll need to use a strong hold product such as wax or gel to ensure it stays in place all day.
6. Sponge Men's Twist
The sponge twist hairstyle can fulfil your speciality taste. This look is perfect for men who add texture and volume without sacrificing length.
It's a great way to switch up your style while keeping it simple.
Further, the twist hairstyle looks best with a strong hold product that will keep the twists in place all day.
7. Thick Twist Hairstyles
For those with thick hair, twists are a great way to add texture and definition.
Thick twists can easily be pulled into a bun or ponytail for an interesting look that turns heads!
Additionally, this style is easy to maintain and perfect for any occasion. With the right products, you'll be rocking since adapting this premium hairstyle!
8. Men Line Up Twist Hairstyles
Majestic for all occasions, the line-up twist hairstyle is an excellent choice for you guys to look your best.
The style combines a classic shortcut with twists for a modern, stylish look.
In this hairstyle, the hair at the front of your head is twisted and lined up for a cleaner, sharper look.
You'll need a strong hold styling product to ensure the lines are sharp and precise.
9. Half-Up Twist
Rock with this trending twist hairstyle!
The half-up twist is all about combining two looks into one.
In this style, the hair in front is twisted and pulled back while the sides are kept loose for a unique look that stands out from the crowd.
This style is perfect for medium to long hair and requires minimal upkeep.
10. Braids Men Brushed Back Twist
Try the braids men brushed back twist for a more intricate twist hairstyle.
This style combines traditional plaits with twists to create an edgy, unique look perfect for all occasions.
The top of your hair is twisted and pulled back while the sides are kept loose.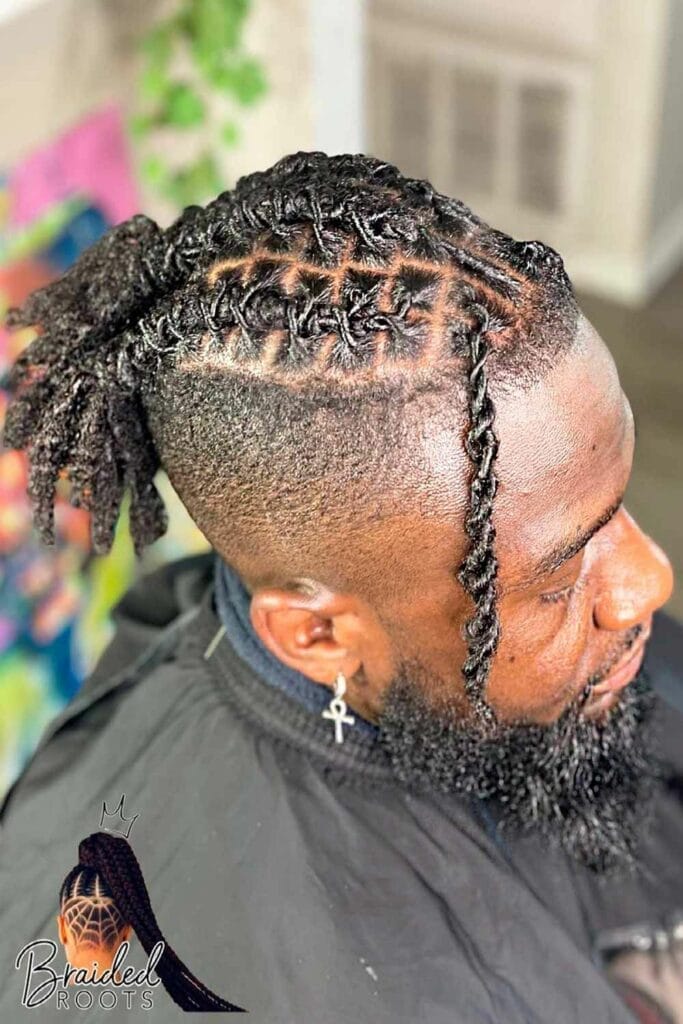 11. Short Boys Twist
Showcase your youthfulness with this short boys' twist. This hairstyle is perfect for young boys, regardless of their ages.
The hair is kept short and can be styled with a fade or taper on the sides. Fortunately, this twist hairstyle can be adapted for any face shape.
12. Ponytail Highlights Twist
Bring out your personality with the ponytail highlights twist.
Here, the hair is twisted, and a few strands are highlighted to add contrast and dimension to the look.
The sides of your head are kept short while the top is pulled into a tight ponytail for an eye-catching twist hairstyle.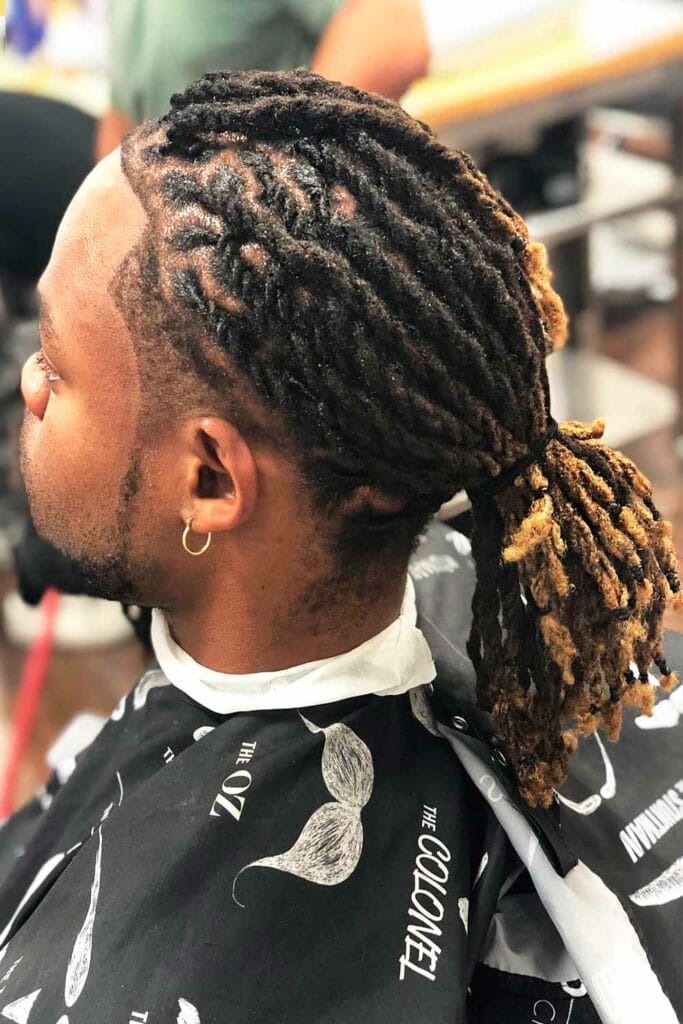 13. Twist Out
Create texture and volume with the twist-out hairstyle. You must start twisting your hair with a strong hold product such as wax or pomade.
Once you've finished twisting, add moisture and allow it to dry naturally for an authentic twist-out style.
14. Braided And Twisted Hairstyle
Make a statement with the braided and twisted hairstyle. This style combines intricate plaits with twists for a truly unique look. The hair is twisted, then braided at the nape of your neck, and left to hang freely.
15. Two Strand Dreadlocks Twist
For those looking for a more dramatic twist hairstyle, try the two-strand dreadlocks twist. This style is perfect for those with long hair looking for a bold new look.
The twists are kept loose and hang freely for an interesting, eye-catching style.
16. Thick Twist Hairstyles Men
communicate elegance with this thick twist hairstyle, men. It looks best on those with thicker hair and is perfect for special occasions such as weddings or events.
The twists are kept intact and can be embellished with accessories to take the style to the next level.
17. Flat Twists Men Hairstyle
Thinking of keeping it simple?
The flat twists men's hairstyle is a perfect choice. The hair is twisted and kept flat for a sleek and sophisticated look.
You can embellish the style with accessories like bands or beads for a unique look.
18. Bleached Men Twists
No matter the occasion, count on bleached men twists to bring out your personality.
In this style, the hair is twisted and then bleached for a striking two-tone appearance.
Moreover, the style works best for those with longer hair and less maintenance.
19.Men's Kinky Twist
Great celebrities and hip-hop stars have adopted the men's kinky twist, and you should, too! This style is perfect for those looking to make a statement.
The hair is twisted tightly and kept short, mimicking the appearance of dreadlocks. What's special here is the simplicity of maintaining and doesn't require any product.
20. Male Medium Hair Twist
The male medium hair twist is perfect for you whether you have straight or curly hair. The hair is twisted and kept medium length, making it easy to maintain.
Moreover, this style looks great with any outfit and can easily be dressed up or down, depending on the occasion.
21. Male Three Strand Twist Hairstyle
Make a fashion statement with the male three-strand twist hairstyle. While this style can take some time to perfect, the results are worth it. The hair is twisted into three strands and kept neat for a chic twist hairstyle.
22. Comb Twist Men
You'll be sure to get noticed with the comb twist men. Your hairdresser will start by combing your hair in different directions.
Once combed out, they twist the strands around each other and secure them with a band or clip.
23. Men Spongy Twist
For those who love to experiment, try the men spongy twist hairstyle! Besides looking great, this style is also easy to maintain.
The hair is twisted and then patted down, creating an everlasting spongy texture.
Conclusion
There you have it!
23 twist hairstyles for men perfect for any occasion and personality. From simple twists to elaborate braids, there's something here for everyone.
By Trying these styles, you'll be able to enjoy your twist hairstyle while also promoting healthy hair growth!
So, what are you waiting for?
Try one of these twist hairstyles today and show off your new look! Its time to grab your favorite twist hairstyle and rock it with confidence!
FAQ
Is Wet Hair Suitable For Twists?
Yes, wet hair is suitable for twists.
Ensure you use a strong hold product to ensure the twists stay in place. Allow the hair to dry naturally, or use a blow dryer on low heat to help set the style.
Is It Okay To Twist My Hair?
Yes, it is okay to twist your hair as long as you are using a styling product with a strong hold.
Use products specifically designed for braids and twists, such as a curl cream or mousse.
Further, detangle the hair before twisting it to make it easier and prevent breakage.
How Long Do Twists Last?
Twists can last anywhere from two weeks to several months, depending on how you maintain them.
To keep your twists looking fresh, avoid washing them too often and use a moisturizing spray or serum regularly.
Moreover, try not to comb the hair excessively, which may cause the style to loosen.
Do Twist Braids Grow Hair?
Twist braids can help promote hair growth as they protect the ends of your hair from environmental damage and breakage.
Moreover, use a deep conditioner on your hair regularly to keep it healthy and nourished.
Finally, avoid wearing twist braids for too long, as this can cause the hair to become dry and brittle.
Khamis Maiouf is a professional barber who graduated from Hinckley College in England with a degree in hairdressing. He has also won several barbering contests and successfully operated a barbershop for the last two decades. As a skilled hair stylist for 20 years, his goal is to teach others how to achieve a beautiful appearance through their hairstyles.