Want to Know My Secret for Keanu Reeves Beard Styles?
Keanu Reeves's Beard Style is one of the most iconic beards in Hollywood. It's been around for a decade, and it's still going strong today!
But what does his beard style say about him? And how can you get that same look? Let's find out!
You want to have an amazing-looking beard like Keanu Reeves. That's why we're here to help with our blog post on his famous facial hair. We'll show you all the different styles he's worn over the years, and give tips on how to grow your version of this classic look.
So go ahead and read up – because who doesn't love a good bearded man?
Below is a step-by-step guide to get Keanu Reeves beard styles
1. Keanu Reeves Patchy Beard Style
Keanu Reeves has been a Hollywood staple for a few years.
He's starred in some of the most iconic films of all time, and it seems that he never ages. One thing that we do notice is his beard styles have changed a lot over the years.
Below are steps on how to style your patchy beard if you're struggling with patchiness or thin facial hair growth.
1. Grow your beard Long [It's Patchy And Great ]

Grow your beard freely for 2 to 3 weeks can be a helpful way to find out how the hair grows and you can spot the patches.
And long facial hair as you know can sometimes help to cover any patches. But this is to make sure that the hair grows evenly if possible.
Trim your beard regularly because the appearance of a patchy beard can be reduced by trimming your facial hair.
Continue trimming the rest of your beard so short that the patches are hardly noticeable.
Start using a number 2 guard, and make your hair shorter if you like. Make sure you give yourself a neat and even trim, and check as you go.
Use some Hair Fibers Conceal Hair Loss Sprinkle Strand Maximizer on to thinning areas for instant coverage.
2. Clean Up the Lines
A patchy beard can often look weird and abnormal if you leave it without care.
So, you should always tidy your beard. Line up your beard will make your patchy beard look attractive.
Always Keep your sideburns neat and don't forget to blend them smoothly into your facial hair.
This will create a sharp border around the rest of your face giving you the desired look. Try as much as you can to keep the border of your beard clean, precisely beside your cheekbones, jawline, nose, and lips.
To Maintain clean lines, make it a habit to regularly trim your beard line it up, and style it often with beard oil and a comb.
2. Keanu Reeves's Clean-shaven Beard Style
Men all over have begun to notice how important it is to take care of oneself and how important it is to distinguish a well-thought-out shaving habit.
Sporting a clean-shaven look makes you look handsome and professional and it's one of the best ways to show off your facial features such as a strong jawline and other outstanding facial features.
Your face is one of the first things people quickly notice when they are beside you. A well-groomed man has more confidence in his abilities and composure among his counterparts.
Below are steps on how to achieve Keanu Reeves's clean-shaven Beard style
Start by using water to wet your skin and hair to soften them. It is best to shave it right after a shower, as your skin will be moist and clean.
Continue by, applying shaving cream or gel, and choose what's best for your face.
Now Shave in the direction that the hair grows naturally this helps to avoid complications. It helps you to prevent razor bumps and burns.
Do not forget to Rinse after each swipe of the razor.
change your blade after each shaving to reduce irritation.
It's advisable to Store your razor in a dry area and ensure that the razor dries completely to prevent bacteria from growing on it.
If you have acne should be careful while taking special care when shaving. Because it can make acne worse.
For those having acne on their faces, it's advisable that they use electric or disposable blade razors to see which works best for them this is very important.
3. Keanu Reeves Stubble Beard Style
Keanu Reeves's beard is a topic of discussion for many people.
Some are fans of the stubble beard, others prefer the full beard, and some just can't stand it! So what's better for you? Continue reading this article and you will find out exactly what suits you.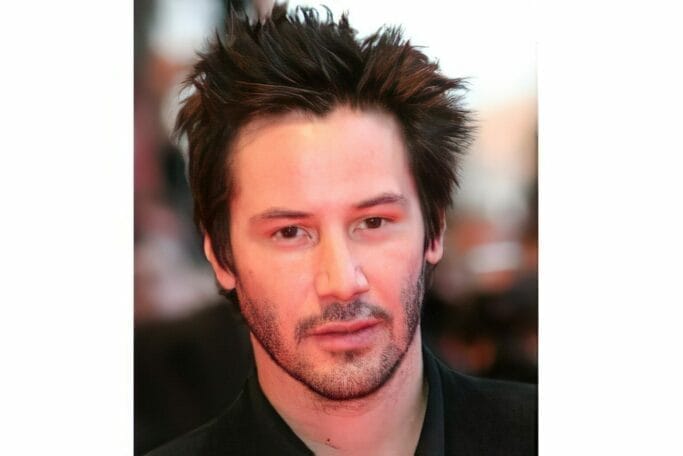 Below Is The Guide To Getting Keanu Reeves Beard Styles
1. Trim to a uniform length
Start by grooming your stubble beard by trimming your beard hair to a uniform length. For better results, we suggest a length of guard 1-2, it all depends on what length you prefer.
2. Outline your beard
This is one of the most important steps to achieve a shaped designer stubble beard.
You need to carefully outline the edges, cheeks, chin, and neckline. Continue by trimming away the hair which is unwanted or which doesn't contribute to the stubble beard.
3. Shave cheeks & neck Cleanly
This is the final step. cleanly shave the hair on the cheeks and neck that does not participate in the look with your shaver.
That's all and you are good to go with the awesome Keanu Reeves stubble beard style.
4. Keanu Reeves Full Beard Style
We all have our reasons for liking different beard styles. Some enjoy a goatee, while others may prefer the full beard look with no mustache.
If you're looking to grow out your beard but do not know which styles to pick. Continue reading this post will help guide you in the process!
How to get John Wick Full Beard style?
If you want to grow a full beard like John Wick you need to follow these steps. Achieving the length you want takes time so you need to be patient.
The average growth rate for hair is around half an inch per month. Leave your beard to grow for 1-2 months.
Use beard care products
One of the best ways of taking care of your beard is by using beard oil. If you want to grow your beard like Keanu Reeves and take care of it, use olive oil every day.
What is the best way to use the oil on the beard? To benefit from using the oil on your beard you need to warm that oil. second, you need to massage your beard with some warm oil.
Avoid pulling your beard hair
If you have a really thick beard hair use wide comb teeth to brush your beard.
If you have a patchy beard like Keanu Reeves you can brush your beard with any comb. Make sure to use some conditioner before brushing your beard. Brush frequently to check for stray hairs because stray hairs can change the style of the beard. Shape your beard while growing!
Do you have a meeting or date, and you want to look cool? If you have any important events you don't need to wait until you have a full beard. Line up your beard and leave the rest to grow up. Looking for the latest celebrity grooming tips? Check out this Johnny Depp Beard Style. This is a great beard style if you want to look like one of Hollywood's most famous actors!
Khamis Maiouf is a professional barber who graduated from Hinckley College in England with a degree in hairdressing. He has also won several barbering contests and successfully operated a barbershop for the last two decades. As a skilled hair stylist for 20 years, his goal is to teach others how to achieve a beautiful appearance through their hairstyles.