How To Maintain a Healthy Hair and Beard: Master the Art for a Dapper Look
Let's cut to the mane point – learning how to maintain a healthy hair and beard can transform your look from scruffy to suave in no time.
Whether you're sporting a luxurious mane or a dignified beard, the key to making heads turn lies in keeping your locks and whiskers in tip-top shape.
In this comprehensive guide, I'll share the essential secrets for maintaining radiant, well-groomed hair and facial hair.
From the basics of daily care to the art of styling, we've got you covered with EXPERT tips and tricks. Say goodbye to bad hair days and hello to a more confident, polished you.
So, gentlemen, let's embark on a grooming odyssey that will leave you feeling refreshed, revitalized, and ready to conquer the world with your luscious locks and perfectly sculpted beard.
Unlocking the Secrets to Maintaining Healthy Hair and Beard
Consistent care is the foundation for achieving the goal of having healthy hair and beard.
It's essential to follow a routine that promotes nourishment and growth.
In the following sections, I will unveil the secrets to keeping your locks and facial hair looking their best.
1. Choose the Right Products for Your Hair and Beard
Selecting the appropriate products for your hair and beard is crucial for maintaining their health.
I recommend using sulfate-free shampoos and conditioners, as well as beard oils and balms that are specifically formulated for facial hair.
These products will help to nourish, moisturize, and protect your hair and beard from damage.
2. Incorporate a Balanced Diet and Hydration
A well-balanced diet and adequate hydration play a significant role in promoting healthy hair and beard growth.
Consuming foods rich in vitamins, minerals, and proteins is essential, as these nutrients help to strengthen hair follicles and promote growth.
Drinking plenty of water throughout the day will also ensure your hair and beard remain hydrated and healthy.
3. Trim and Groom Regularly
Regular trimming and grooming of your hair and beard are vital for maintaining a polished and well-kept appearance.
I advise clients to trim their hair every 6-8 weeks and their beard every 2-4 weeks to keep them in optimal condition.
This will also help to eliminate split ends and encourage healthy growth.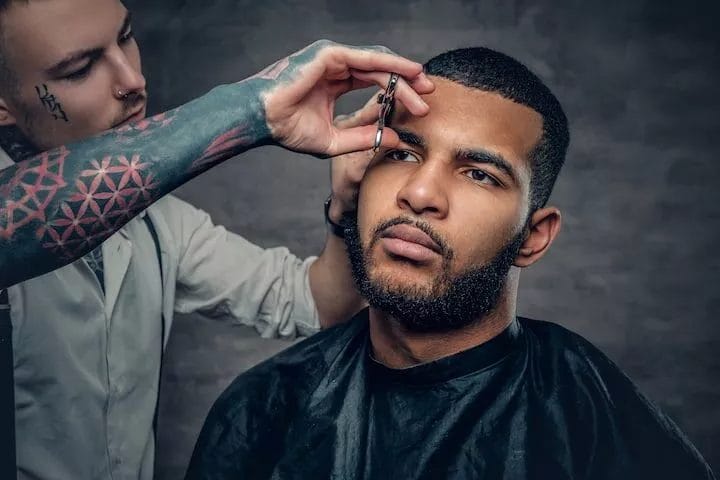 4. Develop a Hair and Beard Care Routine
Establishing a hair and beard care routine is essential for promoting their health and well-being.
This routine should include regular shampooing, conditioning, applying beard oil or balm, and brushing or combing.
By following these steps consistently, you'll be well on your way to learning How to Maintain Healthy Hair and Beard and achieving enviable locks and facial hair.
Mastering the Do's and Don'ts of Healthy Hair and Beard
As a celebrity hairstylist, I know the importance of maintaining healthy hair, and it all begins with understanding the essential do's and don'ts.
I will now share my expert insights on How to Maintain Healthy Hair and Beard by following these simple yet effective guidelines.
The Do's and Don'ts of Healthy Hair
By adhering to these do's and don'ts, you'll be on the path to achieving and maintaining the luscious locks you've always desired.
Do: Be Gentle with Wet Hair
Wet hair is more prone to breakage and damage, so it's crucial to handle it with care.
I recommend using a wide-tooth comb to detangle your hair gently and avoid aggressive brushing, which can cause breakage.
Don't: Overuse Heat Styling Tools
While heat styling tools can create stunning hairstyles, they can also cause severe damage to your hair.
To protect your locks, limit the use of these tools and always apply a heat protectant spray before styling.
Do: Protect Your Hair from the Sun
Excessive sun exposure can lead to dry, brittle hair.
Shield your tresses from harmful UV rays by wearing a hat or using hair products containing UV protection.
The Do's and Don'ts of a Healthy Beard
Taking care of your beard is just as important as looking after your hair.
Follow these guidelines to achieve a well-groomed and healthy beard.
Do: Keep Your Beard Clean
A clean beard is a healthy beard. Wash your facial hair regularly with a gentle beard shampoo to remove dirt, debris, and excess oil.
This will help to prevent irritation and promote healthy growth.
Don't: Neglect Beard Grooming
Proper grooming is essential for a well-maintained beard.
I suggest trimming your beard every 2-4 weeks and using a beard brush or comb daily to keep it tangle-free and neat.
Do: Moisturize Your Beard
A well-hydrated beard is less prone to breakage and damage.
Use a high-quality beard oil or balm daily to keep your facial hair soft, manageable, and healthy.
Conclusion
Learning how to maintain healthy hair and beard has been a game-changer for me and my clients.
By implementing the right care routines and mastering the ART of styling, my clients unlocked newfound confidence in their appearances.
Embrace the journey, and you too can enjoy the benefits of well-groomed hair and a perfectly sculpted beard.
FAQs
Q1. What is the most effective way to maintain a beard?
The most effective way to maintain a beard is to make sure it stays clean, well-groomed, and nourished. Regular trimming and shaping are essential to keep it in shape. Use a beard comb and brush to detangle it and keep it looking neat. Washing your beard regularly with a good shampoo and conditioner can help keep it clean and prevent itchiness. Avoid drying it out by using a deep conditioning treatment to keep it moisturized.
Q2. What are some basic beard maintenance tips for beginners?
For beginners, the basics of beard maintenance include washing and conditioning your beard regularly, as well as keeping it trimmed and groomed. Using a beard comb or brush to keep your beard free of tangles is important as well. You should also invest in good quality beard oil to help keep your beard moisturized and shiny. Practice patience, as growing a beard can take some time.
Q3. Is it recommended to apply beard oil daily?
Yes, it is recommended to apply beard oil daily for optimal beard health. Beard oil is designed to help keep your beard and skin moisturized and healthy. It can also help to prevent split ends and keep your beard looking and feeling soft. Apply a few drops of beard oil daily, making sure to distribute it evenly throughout your beard. Choose a beard oil that contains natural ingredients like jojoba oil or argan oil for best results.
Q4. What are some daily products that can be applied to a beard?
For daily beard maintenance, you can use a variety of products to keep it healthy and looking its best. Beard oil is essential for moisturizing the beard hair and skin underneath. A good beard balm or wax can help to shape and smooth the beard, while a beard comb or brush is useful for detangling and managing the beard. You can also use a beard shampoo and conditioner to keep your beard clean and well-nourished.
Q5. What are some methods to enhance the health of beard hair?
Some methods to enhance the health of beard hair include using a natural beard oil daily, eating a healthy diet rich in fruits and vegetables for optimal hair growth, and avoiding harsh chemicals and heat treatments. Regular trimming and shaping can help to prevent split ends and keep the beard looking its best. Getting enough sleep and avoiding stress can also help to promote healthy beard growth. Finally, keeping the beard clean and well-moisturized is essential for maintaining its health and appearance.
References:
Long or short, sparse or bushy — the length and thickness of your beard may not matter as much as you think, when it comes to maintenance. source
Long, luscious locks are a goal for many of us, but frizz and split ends can really put a damper on our style. source
Khamis Maiouf is a professional barber who graduated from Hinckley College in England with a degree in hairdressing. He has also won several barbering contests and successfully operated a barbershop for the last two decades. As a skilled hair stylist for 20 years, his goal is to teach others how to achieve a beautiful appearance through their hairstyles.