Beard Dandruff Demystified: Unraveling the Flaky Phenomenon
Flake it 'til you make it? Not when it comes to Beard Dandruff! It's time to dust off those pesky flakes and delve into the world of beard health.
While a well-groomed beard can enhance your appearance and make a statement, dandruff lurking beneath can throw a wrench into your grooming GOALS.
Fear not, fellow beardsmen! I am here to help you combat the flake and uncover the secrets to maintaining a healthy, itch-free beard.
So, let's part the hairs and reveal the truth about beard dandruff and how to keep it at bay for a flake-free, head-turning beard.
What is Beard Dandruff?
In simple terms, beard dandruff is the flaking and scaling of the skin underneath your facial hair.
It's similar to the dandruff you may experience on your scalp, but the presence of facial hair adds a unique twist.
Beard dandruff can be unsightly and uncomfortable, causing itchiness and even redness in severe cases.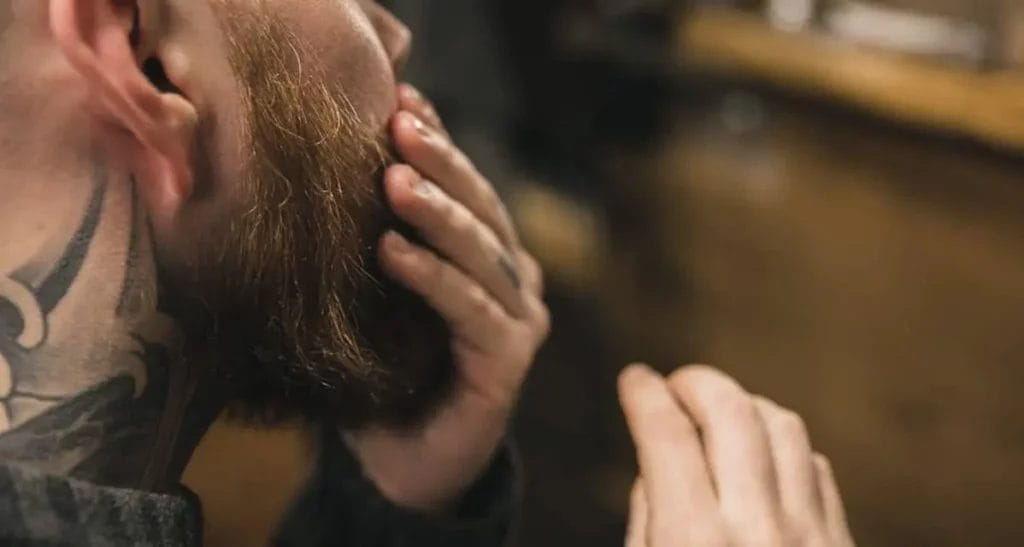 What Causes Beard Dandruff?
There are several factors that can contribute to the development of beard dandruff.
To effectively combat it, it's important to understand the underlying causes. Here are the three main culprits:
Dry Skin
Just like your scalp, your facial skin can become dry and start flaking.
This is especially common during cold weather or when using harsh facial products that strip away natural oils.
Seborrheic Dermatitis
This is a more severe form of dandruff caused by an overgrowth of yeast on the skin.
The result is red, itchy, and scaly patches that can be quite uncomfortable.
Poor Grooming Habits
Neglecting your beard can lead to a buildup of dead skin cells and debris, eventually causing dandruff.
Regularly washing and moisturizing your beard is crucial to keep dandruff at bay.
How To Get Rid of Beard Dandruff?
Eliminating beard dandruff requires a combination of targeted treatments and diligent grooming habits.
Here are my top three expert tips for banishing beard dandruff once and for all:
Wash with a Gentle Cleanser
Using a gentle, sulfate-free cleanser specifically designed for beards will help remove debris and dead skin cells without stripping away natural oils, keeping your skin hydrated and dandruff-free.
Moisturize and Nourish
Beard oils and balms can work wonders in providing essential moisture and nutrients to your skin and facial hair.
Look for products containing natural ingredients like jojoba oil, argan oil, and shea butter to help combat dryness and soothe irritation.
Exfoliate Regularly
Gently exfoliating the skin beneath your beard with a soft brush or exfoliating scrub can help remove dead skin cells, preventing the buildup that leads to dandruff.
To Avoid Recurrence of Beard Dandruff?
Preventing the recurrence of beard dandruff involves maintaining a consistent grooming routine and being mindful of your skin's needs.
Follow these three strategies to ensure your beard remains dandruff-free:
1. Stay Consistent
Stick to a regular grooming routine that includes washing, moisturizing, and exfoliating to keep your beard and the skin beneath it in optimal condition.
2. Choose Products Wisely
Opt for gentle, high-quality beard care products that are free of harsh chemicals or irritants.
Be mindful of your skin type and any allergies you may have when selecting products.
3. Monitor Environmental Factors
External factors such as weather, stress, and diet can affect your skin's health.
Be aware of these influences and make adjustments as needed to maintain a healthy, dandruff-free beard.
Conclusion
Managing Beard Dandruff can be a game-changer for your grooming routine.
I've witnessed firsthand how addressing this issue leads to a healthy, VIBRANT beard.
So, with the right knowledge and care, embrace your facial hair journey and enjoy the confidence that comes with a flawless, flake-free beard!
FAQs
Q1. What are some ways to eliminate beard dandruff?
Beard dandruff is a common problem and can be eliminated through proper grooming and hydration. Regularly washing and conditioning your beard will help to keep the skin underneath hydrated and prevent the buildup of dead skin cells. Avoid using hot water, harsh soaps, or shampoos with sulfates that can strip the moisture from your skin. Applying a beard oil or balm can also help to moisturize and soothe the skin.
Q2. Can beard dandruff be caused by a fungal infection?
Yes, beard dandruff can be caused by a fungal infection. A fungal infection called Malassezia can cause beard dandruff. This yeast-like fungus can live on the skin and scalp and overgrowth can cause irritation and flaking. If your beard dandruff persists even after trying to eliminate it with grooming and hygiene practices, it is best to consult a dermatologist for advice.
Q3. What could be the reason for the appearance of dandruff on my beard?
The appearance of dandruff in your beard can be due to a variety of reasons. Some common factors that can cause beard dandruff include dry skin, poor hygiene, harsh weather, stress, and dietary deficiencies. It can also be caused by an allergy or sensitivity to certain products or ingredients. Identifying the underlying cause of your beard dandruff can help you to address it effectively.
Q4. If I shave my beard, will the dandruff disappear?
Shaving your beard may not necessarily make the dandruff disappear. Beard dandruff is caused by the buildup of dead skin cells and can be present even on a freshly shaved face. Shaving may even worsen the condition as it can lead to ingrown hairs, razor bumps, and irritation. It is better to address beard dandruff with proper grooming and hygiene practices.
Q5. Is it safe to apply dandruff shampoo on your beard?
Yes, it is safe to apply dandruff shampoo on your beard, but it should be used sparingly. Dandruff shampoos may contain harsh ingredients that can dry out the skin and damage your beard. When using dandruff shampoo on your beard, look for gentle formulas that contain natural oils and avoid shampoos with sulfates. Apply the shampoo directly to your beard and not to your face and massage it gently. Rinse thoroughly and follow up with a beard conditioner or oil to keep your beard moisturized.
References:
Dandruff is a skin condition that mainly affects the scalp. source
You may experience flaking skin on your beard if your skin is dry or if you have a buildup of dead skin and oil. source
Khamis Maiouf is a professional barber who graduated from Hinckley College in England with a degree in hairdressing. He has also won several barbering contests and successfully operated a barbershop for the last two decades. As a skilled hair stylist for 20 years, his goal is to teach others how to achieve a beautiful appearance through their hairstyles.