13 Gareth Bale Haircuts That Will Leave You Shocked!
You can try any of his haircuts, and you won't miss any that will look good on you. If you know Gareth Bale, you must have heard a lot about his hairstyles.
Gareth bale is bold to try any hairstyle, from short to long, just to make him stand out. And the good thing is that his hairstyles never disappoint.
In this article, I have reviewed some of his best haircuts that are the talk of the town around the globe.
So whether you would love to don one of his hairstyles or just want to look at some bold style choices, this list comes in handy. So stick around to learn more about Gareth Bale's bold hairstyles that many admire.
Gareth Bale's Medium-Short-Cut Hairstyle
This is a classic haircut with enough long hair on the head that can be combed forward and upwards while others are brushed on the sides facing down.
He was first seen with this haircut in 2010.
So it's been over a decade, but the style has been the day's talk since then. It's a hairstyle you can try if you want to look fancy and bold. It's simple to maintain this hairstyle and keep it neat.
Comb Over Haircut
This hairstyle can be done differently. Some people shave the sides and the back part of the head, leaving some hair at the top, while others don't shave the hair but rather trim it to look shorter than the front hair.
You can comb the hair on one side away from a hard side part.
As for Gareth Bale, he prefers trimming his on the sides and brushing the long hair at the top on one side. This hairstyle will give you a cool look, and you can use it in a formal setting.
Gareth Bale's Casual Hairstyle
The hair at the top of the head is longer than at the sides. It's a simple casual hair to maintain if you have the basic hair products and some little time.
A casual hairstyle will make you confident and feel fashionable. If you don't like long hair, try this haircut.
Gareth Bale's Business Hairstyle
If looking trendy is your thing and you are a business person, this hairstyle will perfectly fit you.
You can also wear this haircut to any formal event. Have a part on the side, trim hair on the sides and back, and leave the top hair longer.
Brush the hair on the sides facing down while the top should face one side. You need this style for a sleek and fashionable look.
Gareth Bale's Headband Hairstyle
If you think hairbands are made only for women, you are wrong.
Being a man, you can also wear a hairband on your long hair. Gareth Bale has tried this; you can too. The hairband will help you greatly if your hair is not long enough for a ponytail. It's a style that will make you look neat and confident.
Raised Top Hairstyle
Gareth bale looks good in a semi-faux hawk haircut. It's a style you may admire and try. The hair on the sides is trimmed shorter than on the top.
Air on the sides is styled facing down while the top hair is combed, raised, and facing forward. You can be sure to look attractive and bold with a raised top haircut.
Man Bun And Beard
You can try this style if only your hair is long and can be tied at the middle of the head.
You may wonder whether it's cool to have long hair, but looking at Gareth Bale's ponytail can give you confidence. Just comb your hair, tie it in the middle, and complement it with a beard. This hairstyle will make you look bold but presentable.
Gareth Bale's Ponytail
This one is done just like a bun, but the hair doesn't have to be long for you to have it.
You can tie some hair at the nape and brush others backward. This will make you look fancy and bold.
Gareth Bale's Medium Haircut
Gareth Bale's medium haircut is achievable using some hair styling products. The hair is cut at medium length and then styled. You can style your hair this way for a cool appearance.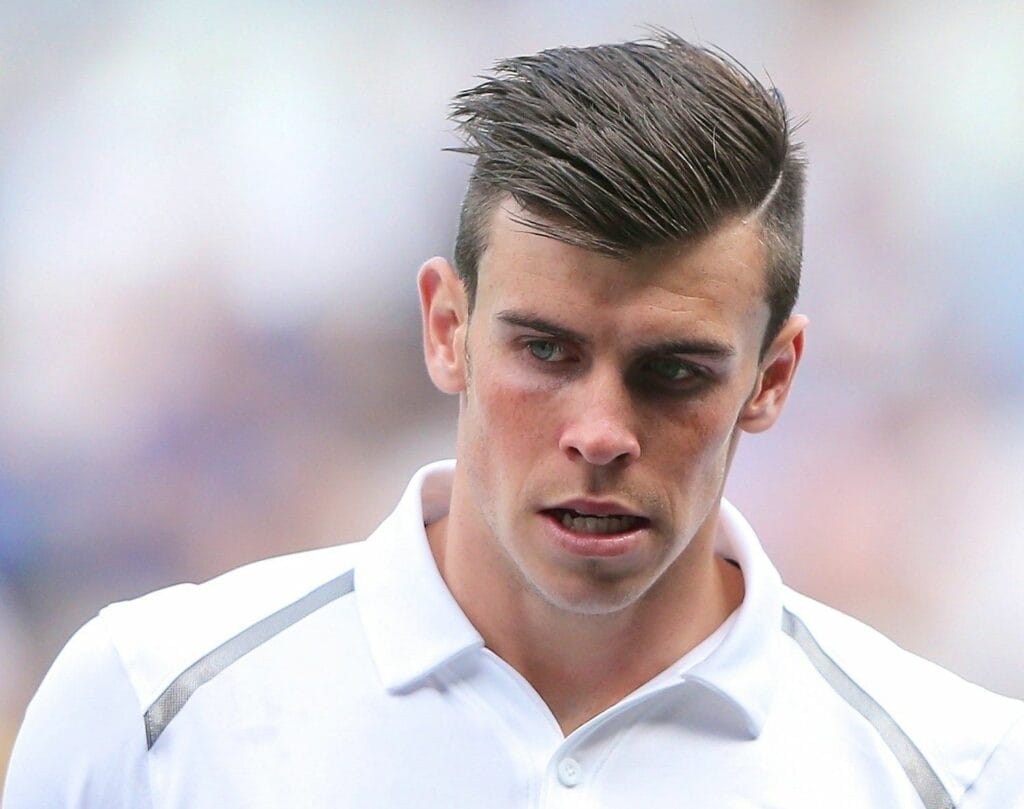 Gareth Bale's Spikes
The hair is long at the top and middle but short on the sides. However, it shouldn't be too long to the length of a pompadour.
You have different styling options for your hair when you have this cut. You can style the hair for a casual or official function.
Faux Hawk Hair
Faux hawk features longer hair than spike style.
Even though it's an old style, there are modern ways of styling your hair to look trendy and fashionable. You can style your long hair forward to have a bold and stylish look.
Some styling hair products can help you achieve the look you want.
Pompadour With Long Sides
Rather than shaving your hair on the sides, you can leave them and use styling hair products to style the hair at the top to form a pompadour with a unique look.
You can achieve many styles using a styling gel and creativity. This is one of the hairstyles that will show the world how creative you are.
The Afro Hair Bun
This is done with very long hair, and it should be too much on the head such that when you tie it to form a bun, much more hair will be left hanging.
After tying the bun, you can roll the hair around it or tuck it in the hairband to form an afro burn. This hairstyle will give you a unique and bold look.
FAQs
What Is Gareth Bale's Hairstyle Called?
Classic cut. This hairstyle can be styled to form a quaff or pomp, brushed on one side, or slicked back.
How Do You Do Gareth Bale's Hair?
Gareth bales hale has been styled differently. You can watch different tutorials to see how each hairstyle is made.
Why Does Gareth Bale Have A Bun?
Because he is going bald, and he is doing so to hide it.
These are some of Gareth Bale's haircuts you can try. When you try all of them or some of the ones you love, you will know what looks good in you.
Khamis Maiouf is a professional barber who graduated from Hinckley College in England with a degree in hairdressing. He has also won several barbering contests and successfully operated a barbershop for the last two decades. As a skilled hair stylist for 20 years, his goal is to teach others how to achieve a beautiful appearance through their hairstyles.