Top knot haircut can be worn as casually as for yoga and can also go with fancy parties. Top knot haircut has many types of variations and a list of styling ideas to follow. We have covered a lot of it in our different blogs, and even here we will be discussing some of the best features and styling tricks for top knot haircut.
Is Top Knot Haircut A Kind Of Symbol?
When you go back into the origin of top knot haircut, you will discover that top knot haircuts give us a symbol. In different cultures it meant differently, In japan, Male samurai styled their hair in a distinctive "top knot" style that became a symbol of their social position.
If a samurai were to renounce his societal function, either to enter the clergy or to chose this life as a labour (because samurai were forbidden to labour the fields in later times, and hence could starve to death if unemployed), He would shave his top knot and experience a drastic drop in social rank.
Brief Overview of Top Knot Haircut
When an Asian hairstyle begins with a top knot, it could signify one of the following:
Khokhol, oseledets — a traditional Ukrainian masculine cut;
Man bun – a modern take on an Asian hair knot that has been fashionable in the West.
After being married, Joseon Dynasty males wore Sangtu, a Korean haircut.
Sidelock of youth – an Egyptian kid hairdo used by children of pharaohs to show that they were related with Horus as child during the Mid Kingdom;
Sikha – a traditional hairstyle used by Hindu priests when completing temple rites;
Tikitiki — a Maori version of a top knot worn by high-ranking Maori males;
Touji — a male bun worn by Chinese males from ancient times till the end of the Ming Dynasty.
How To Define Top Knot Haircut?
Alternatively, men with short haircuts can wear a Top Knot form of the Man Bun. The customary Chonmage haircut adopted by Japanese males inspired the Top Knot. This hairstyle was used to keep a helmet in line during battle. In contrast to modern Top Knots, its top was chopped and the sides were left long before being oiled firmly into a knot.
Sumo wrestlers still use the ancient Chonmage style. Tokoyama, a type of hairstylist, is enlisted to produce this symbolic style. Undercuts are frequently coupled with Top Knots. This produces a stark contrast between the volume at the top and the volume at the temples.
To emphasise this, a tidy, shaved Side Part could be applied. A Fade can be added to the sides to tidy it up the finish anywhere along nape. Slick back the top and tie it into a knot at and just above the head. The bun itself might be messy, decorative, or just a basic ponytail.
Going for a Bjorn Lodbrok look by braided the top is also becoming popular. A Top Knot will be less accepted in official functions due to its odd appearance as a combination of two clashing haircuts. Those with a corporate experience should exercise caution.
How Can I Get Top Knot Haircut?
Make a decision on where you would like your top knot would go. It should be near the top of your head, in the centre. To add some diversity, you can place it slightly off-centre.
Collect all of your hairs as if you were making a man bun. When your sides of the head are clipped in an undercut, you can use all of your hair.
If not, a hair length of 6 to 10 inches should enough.
Once through a headband or a hair tie, pull hair back.
Make a second pull to tie the top knot.
Check to see if the knot is too tight. As a result, hair loss and headaches may occur.
All these steps are major and general steps, but as everyone's hair texture, length and thickness differ, there might be some steps not as important for different cases.
How Do I Know My Face Shape Is Ideal For Top Knot?
Whatever hairstyle, haircut or beard style you might choose for yourself, getting to know your face shape and styles specific to it is essential. Here we have a discussion over some popular face shapes and I hope you will find yours in here too.
Square Faces
What we have to say is that you're lucky if you have an oblong or square face. These forms look great with a top knot haircut. For an additional accent to their face images, guys having square faces must opt for an angled top knot complemented by bald sides. They can experiment with different bun styles, but they should avoid extremely contrasty looks.
Diamond Faces
Men with diamond face shapes should also keep in mind that their hairdo should not draw attention to their ears.
Triangular Faces
Your jawline will be fairly hefty if you've a triangle facial shape. As a result, a top knot haircut can help to balance things out.
Round Faces
For guys with round faces, a top knot that is angled or undercut is tough to imagine as a preferable option. This will lengthen the face and square up the sides. A simple top knot haircut, but at the other hand, would simply soften and round your features, so avoid it.
Heart Shaped Faces
Most man knot and pony tail styles are avoided by those with heart-shaped faces. Because they place an excessive amount of focus on their large brow. A sloppy knot with a fringes and loosened strands of hair around the face is one technique to get this look for them.
Oblong Faces
When not twisted high on top, a man knot can appear pretty attractive on people with rectangular faces. Choose a low bun to refrain from making your face appear more longer. A top knot, on the other hand, cannot be your preferred hairstyle because the shaved sides would offer extra height.
Types Of Top Knot Haircut
Now as we are half way through the guide, let us introduce some of the spicy types of top knot haircut. What are their specifications and what should be the order of getting them. You can also make your barber understand of the haircut you want by showing him the images on our blog, as visionary understanding is simpler.
Designed Top Knot Haircut
Hair design is one of the most effective ways to modernise a basic top knot haircut. It's up upon you to select where to purchase and also what design to go with. However, we recommend going with layout on the nape of the neck, because there is vast area to implement even the most imaginative ideas.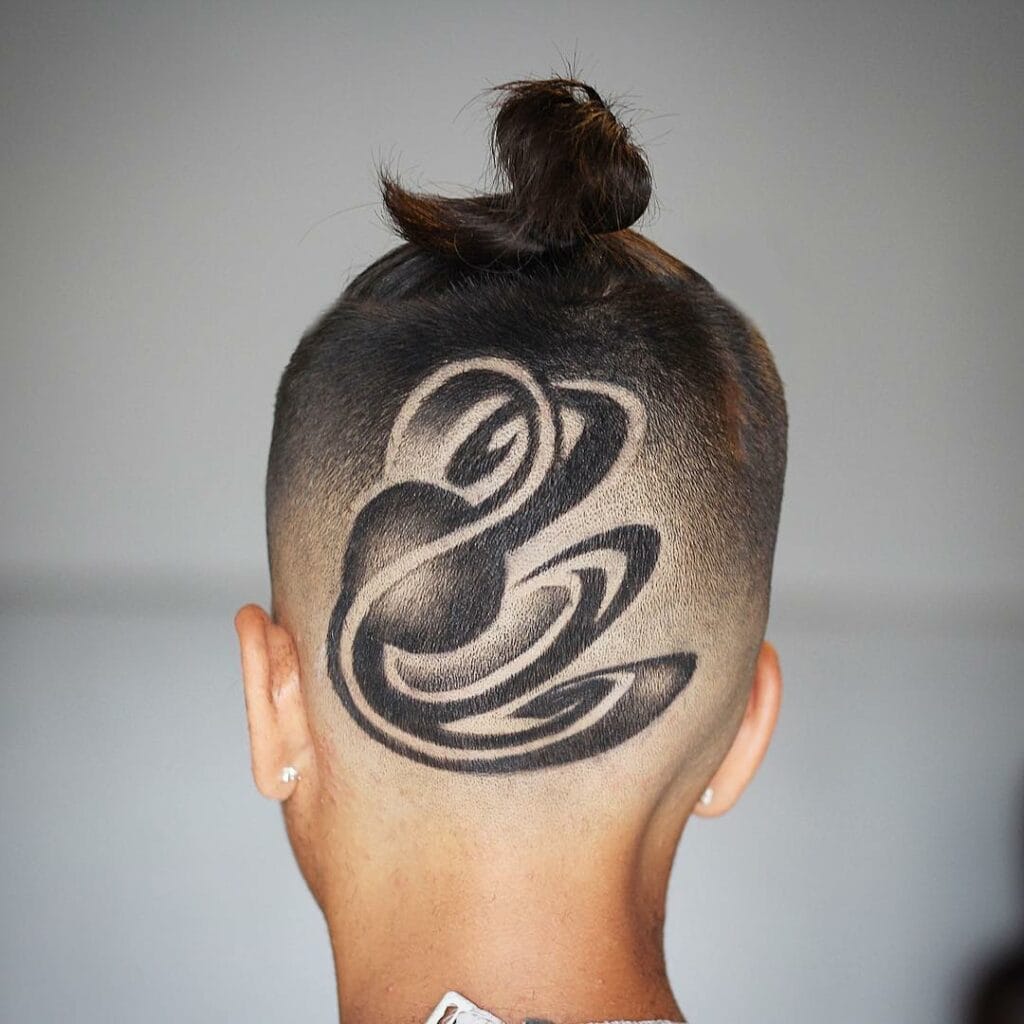 Slicked Top Knot With Undercut
Do you want to appear carefree and relaxed? If that's the case, a slick top knot is the way to go. Pull the locks all the way back using your fingertips. For a more casual look, tie your hair in a loose knot. Brush your hair before styling it to make it look more smoother.
Afro Top Knot Haircut
Make a top knot bun up near the crown of head if you wish to mix the top knot with black hair. Simply gather the whole of the hair like you would for a man bun, however shape it closer to your head's centre. To enhance volume, leave it free at the front. With a thick beard and a moustache cut close to your face, this look is perfect.
Long Hair Top Knot
You must have seen many men, especially from the ancient times or in television shows that carry this haircut like a pro. In this type of top knot haircut, you simply have long length of hair and there is a high sexy looking knot at the top of the head. Mostly men like to go with dyed hair when they get this hairstyle done, while some likes to do streaks into the long strands of hair.
Cornrow Top Knots
This is a very famous hairstyle among black men. This is usually worn by rap singers such as Omarion. Yes yours and everyone's favorite Omarion is usually seen with this hairstyle and no wonder that he owns this type of top knot haircut.
Another interesting thing about cornrow top knot is that first you will need cornrow braids and then you can make top knot. Although this hairstyle is very attractive, but it can be a lot of work to handle all alone.
Wavy Halfway Top Knot Haircut
Men who have beautifully wavy hair are admired by both men and women. Why don't show it if you have it? You might adopt a half knot instead of a complete top knot haircut to allow your wavy hair to flow freely.
Simply pull the necessary volume of hair in to half top knot, and spritz the remaining hair with sea salt spray to create volume and structure. This is also a good combo for messy top knots.
Curly Top Knot
For males with curly hair, up do curly hairstyles are great, and nothing beats a curly top knot. For hot days or breezy days, this style is ideal. When you want to keep your hair on the sides and off your shoulders but yet want to show off your curls.
Make a top knot with your hair as usual, but loosen the bun. To give texture to curly undo's, use a small amount of hairspray or mousse.
Top Knot Dreads
Dreads are so much cooler, especially with top knots. You can simply go for dreads hairstyle and then take the topped area of your hair, And tie them into a knot. The size of the knot depends on your choice, and also the position.
But what is ideal is a medium sized top knot at the top of your crown area, just like a high top knot. Also for adding more colours into the rainbow, don't forget to skin fade the sides of your head, because that is what adds the class into this hairstyle.
Top Knot With Short Hair
You've come to the right place if you're seeking for an office-friendly top knot hairdo. Your top knot appears stylish and elegant with short sides. To get rid of any frizz and add a little lustre, use your favourite hair styling product. Such a hairstyle is so neat that it pairs well with a big, clean-cut beard.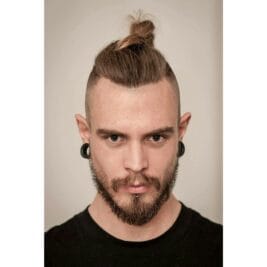 What Is The Ideal Length For Top Knot Haircut?
Although top knots can be done in several length meters, but the ideal length is between 6 to 10 inches. The other lengths depend on what type of top knot haircut you are going for.
To Sum Up
In this post, we have discussed from where the top knot haircut has originated and how it is a language of symbol, among many cultures. Top knot haircut is an amazing choice for the outgoing There are different variations in this style, and we love all of them. Most importantly this hairstyle is very easy going. Yes the difficulty might differ when it comes to its different types like undercut top knot or top knot with dreads. But even for that we have separate guides. So worry knot! We have tried to cover all the possible FAQs and face shapes so it will be convenient for you to choose the best type as your next hairstyle.