Top Tom Cruise Haircuts: Timeless Styles for the Modern Man
Ready for some hair-raising action? Brace yourself for the ultimate guide to "Tom Cruise Haircuts"!
Throughout his long and illustrious career, this legendary actor has showcased more than just his acting prowess – he's also rocked some truly iconic, versatile, and inspirational hairstyles. From the effortless cool of his 'Top Gun' days to the dapper looks of recent years,
Tom Cruise has proven that he's not just a Maverick on the big screen, but also in the world of hair fashion.
So sit back, relax, and let us take you on a high-flying adventure through the most memorable and STYLISH Tom Cruise Haircuts. Trust us, you'll be left saying, "Show me the hair!"
A Little Bio About Tom Cruise
As a celebrity hairstylist, I've always admired Tom Cruise for his exceptional acting skills and his ever-changing hairstyles.
Throughout his illustrious career, Tom Cruise has been the epitome of style and charisma.

Born on July 3, 1962, in Syracuse, New York, Tom Cruise has enjoyed a long-lasting career in Hollywood, starring in numerous box office hits.
In this blog post, I'll take you through 10 popular Tom Cruise haircuts that have left a lasting impression on fans and hairstylists alike.
10 Popular Tom Cruise's Hairstyles
1. Cool Spikes Tom Cruise Haircut
The cool spikes Tom Cruise haircut first made its appearance in the early 2000s.
This style exudes confidence and a laid-back attitude, perfect for anyone looking to make a statement.
I've recreated this look for many clients, making sure to use a strong hold hair product to achieve those well-defined spikes.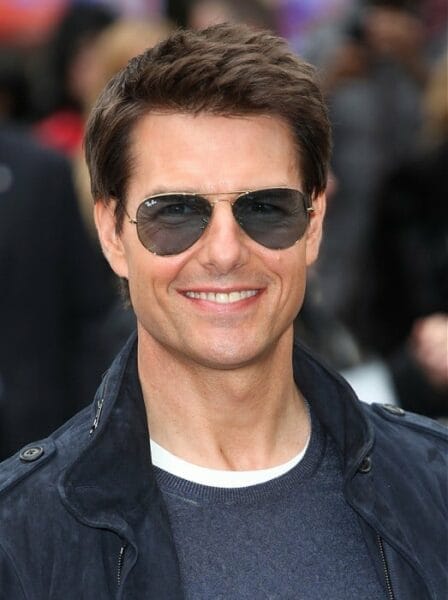 2. Simple and Short Tom Cruise Haircut
There's a certain charm to the simple and short Tom Cruise haircut.
This clean, timeless look is perfect for any occasion and can be easily maintained.
As a hairstylist, I've always appreciated the elegance and ease of this classic style.
3. Classic Tom Cruise Haircut
The classic Tom Cruise hairstyle is characterized by medium-length, wavy locks that showcase Tom's natural hair texture.
This style became iconic in the 90s, and I've had numerous clients request it over the years.
It's a versatile and effortless look that exudes a sense of casual sophistication.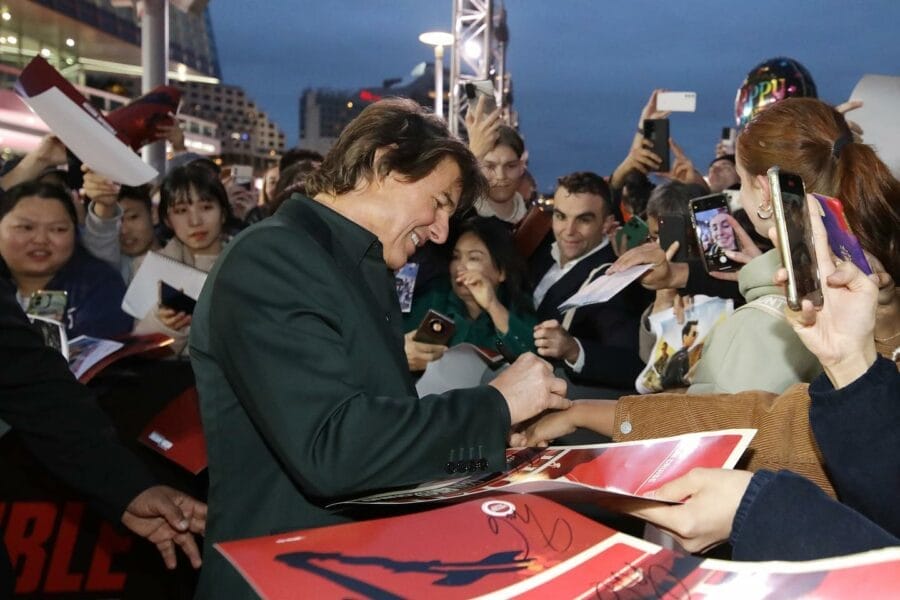 4. Elegant and Pulled Back
For a more polished and refined appearance, the elegant and pulled back Tom Cruise haircut is an excellent choice.
This style, which features slicked-back hair and a subtle part, radiates class and confidence.
As a celebrity hairstylist, I've often recommended this look to clients attending formal events or business meetings.
5. Slick and Casual Hairstyle
The slick and casual Tom Cruise haircut is perfect for men who want to look effortlessly stylish.
This laid-back look features slightly tousled hair with a touch of product to create a smooth yet carefree vibe.
I've found this hairstyle to be popular among clients seeking a modern, easy-to-maintain cut.
6. Sexy Bedhead Hairstyle
Embracing the messy, just-rolled-out-of-bed look, the sexy bedhead Tom Cruise haircut is all about embracing your hair's natural texture.
With minimal styling required, this hairstyle is a go-to choice for guys who prefer a relaxed, low-maintenance look.
As a hairstylist, I love helping clients achieve this effortlessly cool style.
7. Blonde Highlights
One of the most memorable Tom Cruise haircuts features blonde highlights.
This bold change added a fresh and youthful touch to his appearance, showcasing his willingness to experiment with his look.
As a colorist, I've had the pleasure of adding similar highlights to clients who want to brighten up their style.
8. Cruise's Shaggy Hair
Tom Cruise's shaggy hair became an iconic look in the 2000s, characterized by its layered and textured appearance.
This hairstyle is perfect for men seeking a more carefree, casual look.
As a hairstylist, I've enjoyed helping clients achieve this laid-back yet stylish cut.
9. Tom Cruises Buzz Cut
The buzz cut is one of the most daring Tom Cruise haircuts, showcasing his ability to pull off a wide range of styles.
This military-inspired look is both bold and practical, requiring minimal upkeep.
I've recommended this haircut to clients who desire a low-maintenance and clean-cut appearance.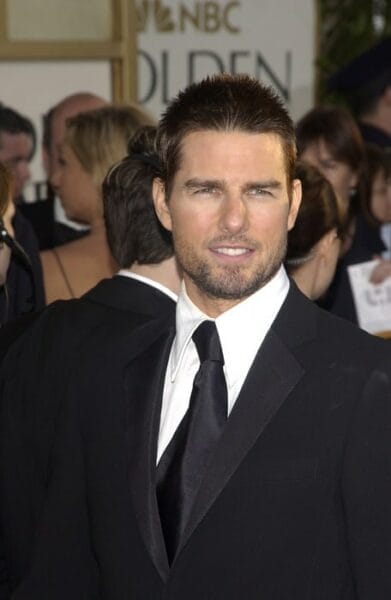 10. Tapered Hair
The tapered hair Tom Cruise haircut is a classic, versatile style that suits various face shapes and hair types.
This cut features shorter sides and back with longer hair on top, creating a clean, polished look.
As a celebrity hairstylist, I've found this hairstyle to be a popular choice among clients seeking a timeless, sophisticated cut.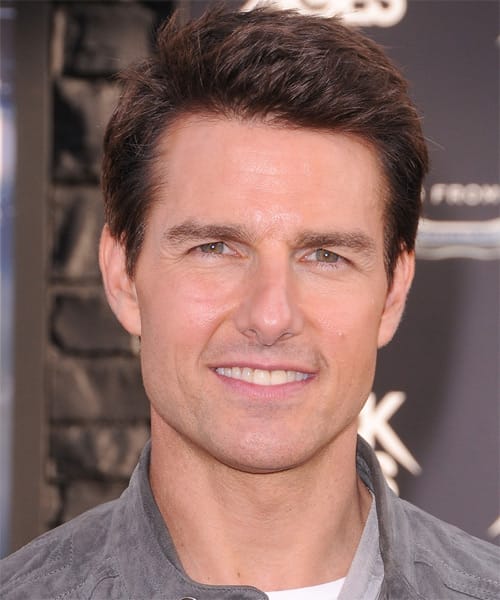 Conclusion
Exploring Tom Cruise Haircuts has been a thrilling and enlightening journey.
I hope you're inspired to embrace your inner action hero and experiment with these bold hairstyles.
As Tom Cruise continues to captivate audiences, his iconic haircuts will undoubtedly remain a BENCHMARK for style and flair.
FAQs
Q1. What hair care products does Tom Cruise use?
Tom Cruise is known for his iconic hairstyles, and he has been quite secretive about his hair care products. However, there are rumors that he uses high-end hair care products from renowned brands such as L'Oreal and Kérastase. These products are said to help maintain his famous Tom Cruise Haircuts while keeping his hair healthy and shiny.
Q2. Is the Tom Cruise haircut trend popular?
Yes, the Tom Cruise haircut trend is still quite popular today. His hairstyles have always been iconic, and his fans continue to emulate his looks. The Top Gun-inspired haircut is especially in demand, with many hairstylists adding their unique touch to create the perfect look. Tom Cruise Haircuts are known to take the world by storm, and there's no stopping the trend anytime soon.
Q3. What are the steps to styling hair like Tom Cruise in Top Gun?
Styling hair like Tom Cruise in Top Gun is easy if you have the right tools and products. First, apply a small amount of styling gel to damp hair, and blow-dry using a round brush to add volume. Next, trim the hair on the sides and back of the head, leaving the hair on top long. Finally, use a small amount of hair wax or pomade to create a sleek look, and you're good to go! Get your hands on the right products, and you'll be rocking Tom Cruise Haircuts in no time.
Q4. Can I request a Tom Cruise-inspired haircut?
Yes, you can definitely request a Tom Cruise-inspired haircut! Bring a picture to your hairstylist, and they will be able to recreate the look to suit your face shape and hair type. Tom Cruise Haircuts are versatile, and there's a style perfect for every age and gender. So, whether you want a classic look or something more daring, there's a style for you.
Q5. How easy is it to maintain a Tom Cruise-style haircut?
Maintaining a Tom Cruise-style haircut is relatively easy, but it does require some effort. Regular trims are needed to keep the hair looking neat and tidy, and styling products are essential for keeping the hair in place. If you want to achieve Tom Cruise Haircuts, have a basic understanding of hair care and style, and regularly maintain it, you'll be ready to rock the look!
References:
Movie star who only uses 2 facial expressions in every movie he's in: smiling and not smiling. source
Thomas Cruise Mapother IV (born July 3, 1962), known professionally as Tom Cruise, is an American actor. source
Khamis Maiouf is a professional barber who graduated from Hinckley College in England with a degree in hairdressing. He has also won several barbering contests and successfully operated a barbershop for the last two decades. As a skilled hair stylist for 20 years, his goal is to teach others how to achieve a beautiful appearance through their hairstyles.