Spiky haircuts are the most popular boy's hairstyles that never goes out of style. Spikes are always a good idea whether the boy has long hair or short hair. Spike haircuts have always been associated with males who wish to appear confident and handsome. This is also relevant regarding young boys.
Choosing one of these stylish spiky style boy hairstyles might be difficult with many fashionable spiky haircut boy to select from. Fortunately, all of these adorable short and long spiky hair for boys simply allow them to express themselves through their hairstyles.
Best Spiky Haircuts Boys
We've put up a list of the trendiest spiky boys hairstyles. These spiked boys haircuts range from short haircuts like spiky side parts, spiky comb-overs, and spiked fades to long haircuts like spiky mohawks, spiky faux hawks, and spiked curls. To save this article for your future barber visit and give these trendy spiked haircut boy styles a try!
Rocker Crop Spikes for Youngster
This trimmed side spiky hair has a strong undercut right below the hawk to create a dividing line. To nail this haircut, you must take help from a skilled barber.
Spiky Maximum Lift Haircut for Guys
The thick long hair gets spiked with a styling cream to create maximum lift in this spiky hairdo boy pixie cut, which is a trendy spiky hairdo. This is a very striking hairdo that may be held in place using shaping wax and a hairdryer.
Cool Short Spiked Hair for Teens
The stylish short spiked hair for teens is easy to pull off, with the new short haircut and lifted somewhat with a wax, keeping the shorter sides. This spiky hair for teens has a lot of possibilities.
Spiked Punk Hair for Child
Punk hair may be styled in a variety of ways. The first punk hairstyle for child was the Mohawk. Guys may still maintain a punk haircut by twisting their hair in spikes or just pulling it back into the variety of sloppy spikes. The appearance of spikes is a factor that marks the punk look.
Spiky Porcupine Haircut for Little Guy
Porcupine spikes for little guys get their name from the idea that they rise up across the head like a porcupine's quills. In this haircut, the hair is groomed into a jumble of spikes that grow from the top of the head.
Spiky Flat Top for Teenager
The spiky flat top is a haircut that many people do not consider to be spiky. The short crew cut is the foundation for this short hairdo. The sides and back are trimmed exceedingly short, while the top hair is left just a bit longer, with sides and front tapered to make the top look consistent. Because hair is shorter, it sticks up as spikes across the top of the head.
Spiky Emo Hair for Young Guys
Despite the fact that most emo and scene haircuts include extremely lengthy side-swept fringe, many of them also feature spikes. In the majority of the cases, the fringe will be kept, while the spikes will be reserved for the rear side of the hair.
Mid Faded Spiky Styles for Kids
If you do not want to attract a lot of attention yet still look modern and stylish. A mid faded spiky style for kids style will give you easy elegance without attracting uncomfortable attention. A mid fade or a gentle transition midway down can be used in your variation.
Spiky Rockabilly Hairstyles for Toddler
Rockabilly haircuts for toddler, like trendy pompadours, are stylish and sharp at the same time. A rockabilly haircut does not feature a traditional spike but instead a styling method that is influenced by spiky streaks.
Spiky French Crop kids Hair
The spiky French crop kids hairstyle is without a doubt one of the best spiky cuts for guys. You can have a simple spiky hairstyle in a variety of ways, which is fortunate for anyone. But you can also add a French section with spiky top hair.
Casual Spiky Hairstyle For Infant
When you're going to the bar or just hanging out with some friends, the spiky casual style is ideal. The spikes have no design and are maintained randomly, pointing in all directions. You can have highlights to match with this hairstyle if you wish, but it also looks wonderful on separate hair. The good news is that it compliments all face shapes.
Funky Spiky Cut for Pre Teens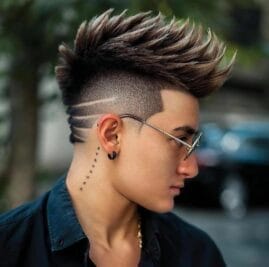 This spiky cut pre teens boy has a stylish and youthful look about it, which adds to its appeal. It's the perfect look for young guys and those who are still youthful at heart. Make a basic and traditional undercut on the back and sides with your haircut. Now, using styling products, screw up hair in spikes. Go with a white t-shirt to enhance your overall look.
Conclusion
With a spiked style, boys appear sporty, sleek, and charming. Who could possibly want anything more? This spiked cut boy is likely to impress the female. The appearance is simple. The only condition is that you should have enough top hair. For a spiky hairdo boy, side hair is often a bit shorter than top hair. To make long suitable spikes, the top hair should be no shorter than one-fourth of inches. The spike's tip can point in any way or flow together to form a unified peak.
If you prefer to ensure that the spiky hairdo does not seem too crazy for elegant parties, neatly trim the facial hair. Stylish stubbles, on the other hand, maybe the ideal complement to spikes haircuts. Similarly, there is no reason why a spiky hairstyle and stylish stubbles can't be worn with a suit and tie.
Hopefully, you get all information about the spiky haircut boy. If you still have doubts about a spiky hairstyle for young guys scroll below to look at FAQ.
Spiky Haircut Boy FAQ
How to Style a Spiky Haircut Boy?
Apply a small amount of gel, wax, or pomade, and sweep your hands over the front portion of hair, comb it back and up until you get spikes. Add a bit of hairspray if you are anxious about your hair falling out.
Is Spiky Hair Good for Boy?
A spiky haircut boy has always been a desirable appearance for guys. Although the rock-hard spikes of the past are no longer acceptable, this sharp spiky haircut boy is still a great choice for boys.
How Do You Maintain a Spiky Haircut Boy?
Ensure to get your hair trimmed every 4 weeks to maintain the spiky haircut look. Before getting a spiky haircut, get expert assistance and style according to your preferences.