Boys want the correct haircuts to feel and look good, whether it's for school or vacation.
There are numerous boys' hairstyles to select, ranging from classic short hairstyles to modern long hairstyles.
It's essential to select an adaptable haircut that will go well with both formal and casual clothes for your small baby or young boy.
It can be difficult to find the finest appearance for boys, regardless of their hair type, with so many attractive haircuts for boys available these days.
The high fade haircut for boys are the most stylish boys' hairstyles .
Kids can also combine a design hard part or hairline designs (like zig-zags, shaved lines, or stars) into their high fades, giving them a variety of options to match their style and personality.
Finally, the high fade haircut for boys is easy to achieve and style with proper hair products, with shaved sides and long top hair.
A high fade looks great with long or short hair and maybe styled in a faux hawk, mohawk, comb over, high top, pompadour, or side part.
5 Best High Fade Haircut for Boys
We've created a list of the best high fade haircut for boys to get right now. These stylish and trendy haircuts for young boys can take a boy's hairstyle to another level.
High Fade Comb Over Haircut for Boys
The high fade comb over is a trendy boy's haircut that everyone adores.
You simply need to comb all your hairs to one side to get this style.
The high fade comb over haircut is charming and appealing for boys of all ages.
A High fade Comb over haircut for boys is a flexible haircut because they are simple to style and look beautiful.
It's a terrific option for a boy who wishes to understand how to manage hair, especially when matched with a high fade or hard part.
This hairstyle will be ideal for wearing to school and college.
High Fade Mohawk for Boys
Are you trying to figure out which option best fits your personality?
If you are not scared of being the center of attraction, a high fade Mohawk is a good choice for boys.
The high fade mohawk haircut is a fashionable haircut that may be cool and edgy.
The mohawk hairstyle combines short sides and back hair with longer hair on top to produce a dynamic, stylish look for boys who wish to look attractive.
​If you're a boy who wishes to represent himself, this is a nice style to adopt.
A stylish touch to this style is a high drop fade that parallels the hairline, which helps this haircut look spiked up and worn down.
High Fade Slicked Back Hairstyle for Boys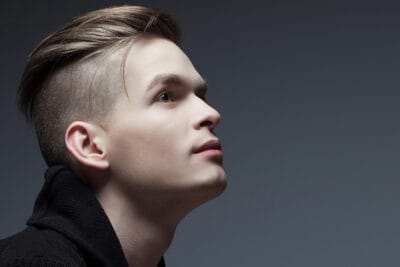 slicked back haircut is among the very attractive haircuts for boys.
Guys can make a smart and cool haircut by combining a high fade with long hair on the top and a stylish slicked back hairstyle.
A high fade slicked back haircut is a version of the hairstyle that gives even greater contrast and is popular among boys.
A boy with slicked-back hair is definitely aware of his own personality. All you need to do is apply a high fade haircut to any slicked-back haircut to take it to the next level. The end result will surely go well with an adventurous personality.
High Fade Pompadour for Boys
The high fade pompadour is a stylish hairstyle that combines classic and contemporary elements.
The pomp fade demands shaved sides with long hair, which must be groomed and kept together using a strong pomade product.
The high fade pompadour is a long top featuring a dramatic form that has been a fashionable hairstyle for years. It takes less effort and time to maintain; that's the reason why pomp is great for teenagers and high school boys.
High Fade With Modern French Crop for Boys
The high fade modern French crop is currently one of the finest short hairstyle for boys.
This classic haircut, also called a crop top hairstyle, features a short fringe, short sides, and short hair on top.
To achieve this fashionable and effortless appearance, all you need is a variation on the traditional Caesar cut.
With a number of small layers and a high fade haircut, this modern French crop top creates a simple texture that you can wear anywhere without styling your hair.
It's trendy because it looks good on boys with all types of hair. It's also fashionable since it complements any sense of character, whether it's aggressive and punk or smart and professional.
Tips to Care a Boys Hair
When it comes to boys' hair styling, minimal style and products are preferable.
For a fresh-from-the-shower appearance, use a light-hold product and a comb or brush.
For a natural and sleek look, use any clay products on your wet hair.
Remove any strands with the help of a wide-tooth comb.
Conclusion
Being fashionable and well-dressed isn't just for men. Even young boys must represent themselves in a professional manner.
Learning to Groom at a young age might benefit them later in life. The most crucial element of a boy's routine is selecting a haircut. Obviously, everyone wishes to appear fashionable, cute, and attractive.
However, with so many high fade haircuts for boys to select from, it can be difficult to choose one that matches your face and personality while also being fashionable.
Whether you generally wear a Mohawk, Pompadour, or other traditional hairstyles, a high fade haircut for boys is nearly always appropriate for any face shape.
The best thing about these hairstyles is that anyone can keep them for weeks at a time, and they do not look awful even when they're overgrown, so give them a shot!
Hence, you must be careful and have the necessary knowledge to select the ideal high fade haircut for you among the variety of boys' hairstyles available.
So, look at the listed high fade haircut for boys and choose one for yourself or your kid. All styles can be attractively worn; just choose the appropriate one for yourself.