Unraveling the Charm: Box Braids For Men
Hey there, fellas! Are you tired of the same old hairstyles and seeking a fresh, unique look? Well, you've come to the right place.
In this article, I'll be diving deep into the captivating world of box braids for men. I'll uncover their history, explore their numerous benefits, and provide you with tips on how to maintain them.
Plus, I'll be giving you a rundown of the most fashionable styles that'll make heads turn.
History of Box Braids
Box braids can be traced back thousands of years to ancient African civilizations.
They gained popularity in the 90s, thanks to the rise of hip-hop and R&B culture. Today, they're embraced by people of all backgrounds as fashionable and functional hairstyle.
Why Choose Box Braids for Men
Box braids offer several benefits for men, including:
Protecting the natural hair from damage and breakage
Promoting healthy hair growth
Low-maintenance and easy to style
Suitable for various hair types and lengths
A wide range of stylish options
Getting Started with Box Braids
Before diving into the world of box braids, it's important to consider a few factors to ensure the best results.
Choosing the Right Hair Length
Box braids can be done on hair as short as two inches, but longer hair is typically easier to work with.
The longer your hair, the more versatile your styling options will be.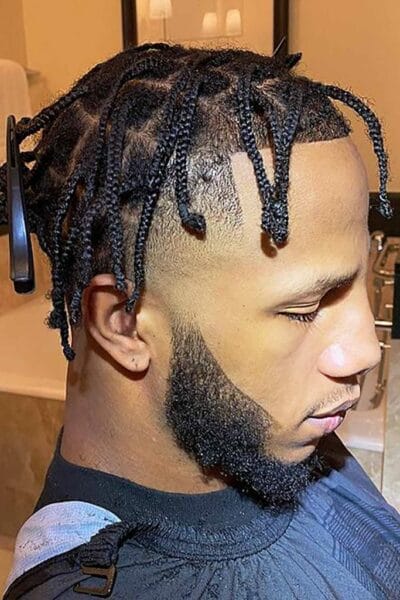 Selecting the Appropriate Hair Type
Synthetic vs. Natural Hair
When choosing hair for your braids, you have two main options: synthetic or natural.
Synthetic hair is more affordable and comes in a variety of colors, while natural hair is more expensive but offers a more realistic look and feel.
Braid Size and Shape
The size and shape of your box braids are essential for achieving the desired look.
Smaller braids offer a more intricate appearance, while larger braids provide a bolder look.
Consider your hair type, face shape, and personal style when deciding on the perfect braid size and shape.
Box Braid Styles for Men
There are countless ways to style box braids. Here are some popular options:
Classic Box Braids
Classic box braids are simple, timeless, and versatile. They can be worn long or short, thick or thin, and can be styled in various ways,
such as ponytails, half-up, half-down styles, or simply left hanging loose.
Box Braids with Fade
Box braids with a fade combine the best of both worlds: the clean, modern look of a fade with the texture and versatility of box braids.
This style works well for men who want a trendy, edgy appearance.
Braids with Beads and Accessories
Adding beads and other accessories to your box braids can create a unique, personalized look that reflects your individual style.
Beads can be made from various materials, such as wood, metal, or glass, and can be found in an array of colors and shapes.
You can also experiment with hair cuffs, strings, or wraps to make your braids truly stand out.
When incorporating accessories into your hairstyle, be mindful not to overdo it, as too many additions can weigh down your braids and cause tension on your scalp.
Braided Top Knot or Bun
For those looking for a sophisticated and trendy look, a braided top knot or bun is an excellent choice.
This style involves gathering your box braids on top of your head and securing them in a bun or top knot.
It's a versatile look that works well for both casual and formal occasions. Depending on your preferences, you can opt for a tight, polished bun or a more relaxed, messy top knot.
Box Braids with Undercut
Box braids with an undercut create a bold, contemporary look that exudes confidence.
This style features box braids on the top portion of your head and shaved or closely buzzed sides, adding a contrast that emphasizes the texture and length of your braids.
The undercut can be designed with various patterns or lines for added visual interest.
Maintaining Your Box Braids
Proper care is essential for keeping your box braids looking fresh and preventing damage to your natural hair. Here are some maintenance tips:
Washing and Conditioning
While it's important to keep your scalp and hair clean, washing box braids too frequently can cause frizz and loosen the braids.
Aim to wash your hair every 1-2 weeks using a gentle shampoo and conditioner.
You can also use a spray bottle to dilute the shampoo and target your scalp directly, minimizing potential braid disturbance.
Nighttime Care
Protecting your box braids while you sleep is crucial to maintaining their appearance and reducing frizz.
Wrap your hair in a silk or satin scarf or use a silk or satin pillowcase to prevent friction that can lead to frizz and breakage.
When to Remove Your Braids
Box braids can generally be worn for 6-8 weeks,
but it's important to listen to your hair and scalp. If you notice excessive itchiness, tension, or hair breakage, it may be time to remove your braids and give your hair a break.
Medium Box Braids for Men
Medium box braids are a popular choice for men who want a balanced look that's not too thick or too thin.
These braids offer versatility in styling and are suitable for both casual and professional settings. To achieve medium box braids, aim for a width of about a quarter-inch to half an inch.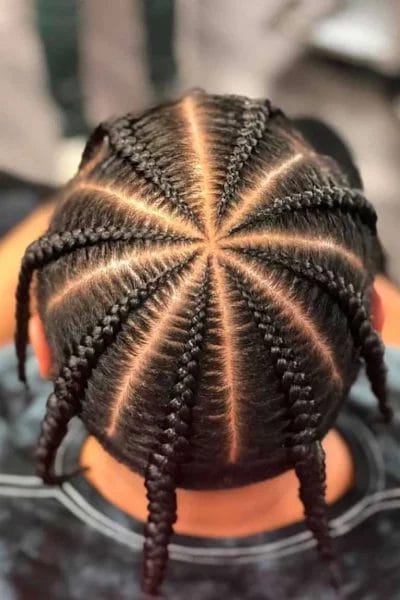 4 Box Braids for Men
4 box braids, also known as jumbo braids, are an edgy and bold hairstyle that features four large braids, typically divided into quadrants on the head.
This style is perfect for those who want to make a statement and stand out from the crowd.
Keep in mind that larger braids may feel heavier and put more tension on the scalp, so be sure to monitor your hair for any signs of discomfort.
Short Box Braids for Men
Short box braids are ideal for men who prefer a low-maintenance, neat, and tidy look.
These braids are typically shoulder-length or shorter and can be styled in various ways, such as swept back, parted to one side, or even combined with a fade.
Short box braids are also a great option for those with shorter hair who want to try out the box braid style.
Braids for Men with Long Hair
Men with long hair have the advantage of being able to experiment with a wide range of braid styles and sizes.
From classic box braids to more intricate patterns, the possibilities are endless.
Long-haired men can also try out different updos, such as braided buns or ponytails, for a more polished look.
Big Box Braids for Men
Big box braids, also known as jumbo braids, are a statement-making hairstyle that features thick, large braids.
This style is perfect for those who want to showcase their hair's volume and texture.
While big box braids can be heavier than their smaller counterparts, they offer a striking and unique appearance that is sure to turn heads.
Remember to care for your scalp and avoid excessive tension when choosing this style.
Conclusion
Box braids for men are a stylish, low-maintenance, and protective hairstyle that offers numerous benefits and versatility.
By considering factors such as hair length, type, braid size, and shape, you can achieve a personalized look that suits your unique style.
With proper care and maintenance, your box braids will stay fresh and healthy for weeks to come.
FAQs
Do box braids look good on men?
Absolutely! Box braids are a versatile and stylish hairstyle that can look great on men of all hair types and lengths. With numerous style options and the ability to customize braid size and shape, there's a box braid look to suit every individual.
How much do men's box braids cost?
The cost of men's box braids varies depending on the salon, the expertise of the braider, and the size and length of the braids. Prices can range from $100 to $300 or more, with additional costs for extensions or special requests.
Do box braids damage hair?
Box braids, when installed and maintained correctly, can actually protect your natural hair from damage and promote healthy growth. However, if the braids are too tight or not cared for properly, they can cause tension and stress on the hair and scalp, leading to breakage and potential hair loss.
Can you wash your hair with box braids?
Yes, you can and should wash your hair while wearing box braids. Aim to wash your hair every 1-2 weeks using a gentle shampoo and conditioner. To minimize disturbance to the braids, use a diluted shampoo in a spray bottle to target the scalp directly.
How should men sleep with braided hair?
To protect your box braids and prevent frizz and breakage while sleeping, men should wrap their hair in a silk or satin scarf or use a silk or satin pillowcase. This reduces friction on the braids and helps maintain their appearance for a longer period of time.
Khamis Maiouf is a professional barber who graduated from Hinckley College in England with a degree in hairdressing. He has also won several barbering contests and successfully operated a barbershop for the last two decades. As a skilled hair stylist for 20 years, his goal is to teach others how to achieve a beautiful appearance through their hairstyles.