Ginger beard style is funky and stylish for you and anybody who wants to look great. So many people often wonder how come some persons have a ginger beard without having red hair; this and many more questions will be answered in this article as you read on.
The biological make-up of some persons gives them the leverage of having ginger beards without having natural red hairs. Still, they are mostly artificially engineered because less than 2% of the world's population has natural red hairs. Ginger beards can be extremely attractive when properly maintained. There are different shades of ginger beards, like red pigments, light blondes, and pheomelanin red.
Whichever one you have, all you need is the perfect beard style to suit your facial shape and your hair. Since those with natural red beards are very few, you will get a lot of attention from people. Observing and admiring your beard from afar, while some will even come to have a feel of it. Get used to it because that's how cool ginger beards are.
What is Ginger Beard Style all About?
Ginger beard style is any beard style or pattern that is naturally red, whether the person is naturally black-haired, brown-haired, or redheaded. So, if you have black or brown hair and are confused that you have a red beard, know now that you are perfectly normal.
So, ginger beard style is arranging your red beard into a particular style, and you could style it to full ginger beard, faded beard.
What are the Benefits of Ginger Beard Style?
Aside from making you look good, it has other benefits though few but still important. Let's see some of them;
Keeps Your Skin Protected
The ultraviolet rays from the sun are not very skin-friendly, because it causes dryness of skin, wrinkles, and sunburn. The more areas of your body exposed to the rays, the more damage that you will experience. Having your ginger beard will offer you some protection, even though small, but it will minimize the exposed area to sun rays.
Keeps Your Body Warm
Your body generally reacts to hot and cold weather, so keeping warm becomes a priority during winter. Generally, beards are good insulators to keep yourself warm during winter, most especially thick beards. This is why the Vikings were heavily bearded men, to keep them warm during extreme cold times.
Keeps Your Skin Moisturized
Naturally, your skin secrets oil through the sebaceous gland to prevent your skin from drying out. Thick ginger beards will help you to trap these oils and keep your skin moisturized. You normally wipe these oils from your face, but your beards will protect the oils underneath them.
Keeps You Confident Level High
There has always been an archaic line between masculinity and beard since it comes with aging. Some will argue that you are not yet a man till your beards come out, as archaic as it sounds, yet it holds some elements of truth. Why? Because beards generally improve your confidence level. And, adding the compliments you constantly get for your ginger beard will always boost your confidence.
6 Steps to Grow Your Ginger Beard Style?
Step1: Avoid shaving
This is the first test of your desire for a ginger beard because there will be a lot of itchy feeling, and you might get frustrated. But, if you can push through, then you will be ready for step 2.
Step 2: Consume more essential vitamins and protein
You have to eat healthy to boost the growth of your beard. Vitamins such as vitamin c will not just increase the speed of growth, and it will make your beard stronger and less likely to break.
Step 3: More exercise
You might wonder, how will exercise influence my beard growth?
You might wonder, how will exercise influence my beard growth? But it sure does because when you exercise, your body releases testosterone, a growth-inducing hormone to boost your beard growth.
Step 4: Make use of beard balms and oils.
This is an essential part of the growth stage of your beard. It would help if you nourished your beard early to make it softer as it grows. Aside from the softening effect, it helps minimize the itchy effect by keeping your skin moist.
Step 5: Use a quality beard brush
This helps you keep the beard growing in the direction you want it to grow. But you must use a good brush so you do not start pulling off strands of your newly grown beards.
Step 6: Keep your beard trimmed.
The frequency and pattern of trimming depend on your styling choice of beard. You should select one from the types of ginger beards available before determining how the trimming will go. Sometimes, you might not even need to trim at this early stage, especially when you want a full beard style of ginger beard.
How to Maintain and Improve Your Ginger Beard?
The following guides are necessary for beard management and not growth, making your beard softer and healthier while keeping your skin safe.
Beard routine care
Routine care is a prime way of keeping your beard healthier and softer. But, when carrying out this routine care, please use a sulfate-free wash or a mild product that is safe for your skin.
After washing your beard, do not forget to apply beard oil or balm to avoid itchiness and flakes, making styling easier. After applying oil or balm, comb your hair for about 60 seconds to keep your beard untangled and healthy, especially for those keeping fuller ginger beards.
Apply color shampoo
Just like you might need to dye your hair sometimes to improve the color and make it look sharper, you can do the same for your ginger beard to keep it redder. But instead of dyes, you use color depositing shampoo like pure blend color depositing shampoo. It will brighten and temporarily make your beard shine, and you can choose between red shampoo for a darker tone or copper shampoo for a lighter tone.
Treat with Argan oil.
While maintaining your ginger beard, you should notice new growth with healthy coloration. But, if your beard is not growing healthy, then use Argan oil, and it will help with the curly, unruly strands and mend and add more shine.
Important Facts About Ginger Beard Style
Though not so consequential in your quest to grow and nurture your ginger beard, it is important to know this information about your beard. Also, considering that people might walk up to you and ask you a thing or two about ginger beards, then you will have a knowledgeable answer to give them.
Ginger beards do not turn grey. This should be great news if you do not like grey hair because ginger beards will turn blonde or copper, but not white or grey.
Ginger beards are not exclusive to red headed persons. As I have earlier stated, it is possible to have a ginger beard while your hair is black or brown due to your gene. If you have a recessive gene for ginger beard, you will be able to have them, irrespective of your hair color.
Persons with ginger beards are very temperature sensitive. This is true because the gene that makes them have red color beards and hairs makes them sensitive to changes in temperature.
The Top 5 Ginger Beard Styles
Long Ginger Beard Style
The long ginger beard style is very popular due to its wide range of sub-styles. This beard style gives you the leverage to tweak it to form other unique styles, like the rebel, the boss, and the hipster. But, if not well-groomed, it can make you look messy. You will need a lot of confidence to adorn the beard style.
Full Ginger Beard Style
The full ginger beard is another unique style that brings a lot of leverage in styling. It covers the entire chin, sideburns, mustache, and cheek region. Some of the styles you can coin from this are classic, long thick, thick short, bushy gibaraldi, etc.
5 o'clock ginger beard style
This style is not unique in its name, and it also belongs to the family of stubble beards. It is usually not too long and neat, and it is great for a bearded and clean shaven person to get.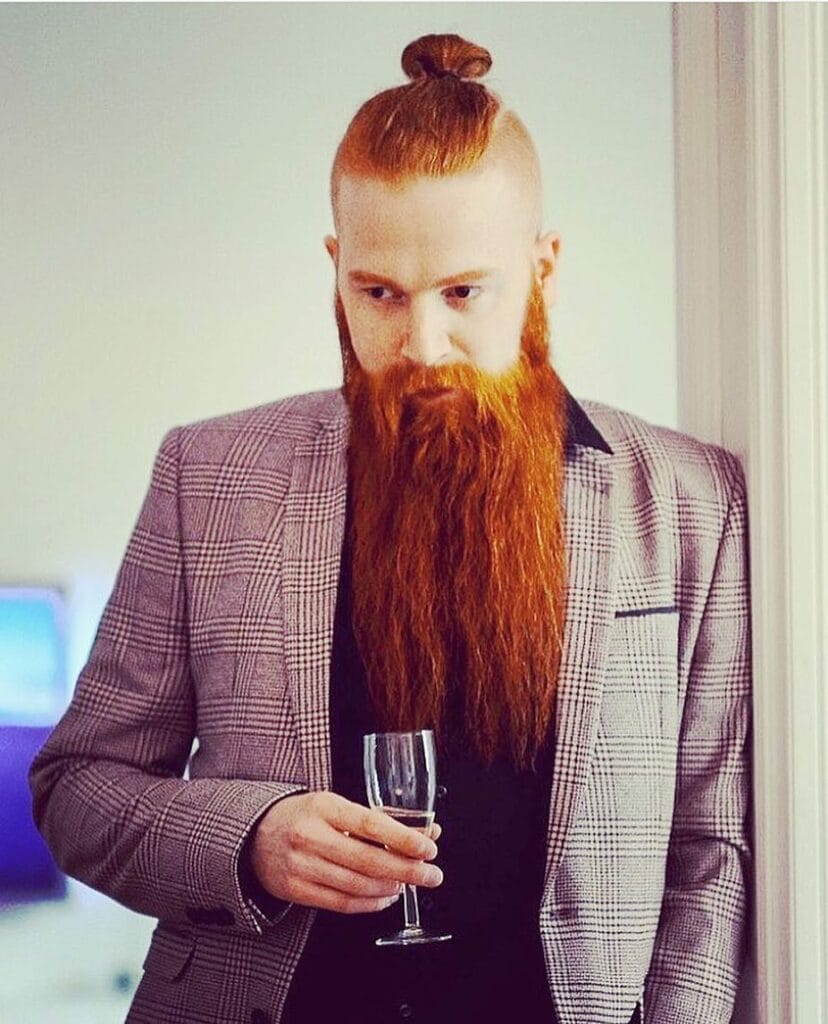 A clean-shaven man will wait for a few weeks, while an already bearded man will have to trim to get this style.
Chin Strap Ginger Beard Style
The chinstrap ginger beard is one of the most popular ginger beards because it suits most facial shapes and hairstyles. It covers the chin and jawline from one end of your face to the other. It has been in demand since the 18th century, and it is still popular among people today.
Royal Ginger Beard Style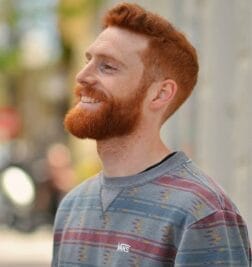 The royal beard style is often called the royal goatee because it comprises a goatee, mustache, and a chin strip. It is a very attractive look, but you are not advised to try this by yourself and engage a stylist's services.
Conclusion
For those who want to dye their beard to get a red beard, I will advise them against it because it will not look natural. And, It is the natural nature that brings beauty to the ginger beard. I will suggest you try other awesome beard styles that will suit you. And, for those who are genetically blessed with the ginger gene, you can select from the shortlist of styles above or check out some styles on this blog.