Jawline Beard vs Neckline Beard: Choose Your Style Champion!
When it comes to beard battles, the great face-off between the jawline beard vs neckline beard is surely a hair-raising duel!
Choosing the right beard style is a grooming game-changer that can transform your appearance, highlight your best features, and even boost your confidence.
In this whisker war, I'll compare and contrast the two contenders, taking a closer look at their advantages and disadvantages.
So, whether you're a bearded beginner or a seasoned facial hair aficionado, prepare to be enthralled as I delve into the bold, striking, and stylish world of jawline and neckline beards. Let the battle of the beards commence!
The Ultimate Guide to Beard Styles: Jawline Beard vs Neckline Beard
As a celebrity hairstylist, I've had the pleasure of working with some of the most iconic and stylish personalities in the industry.
One question that often comes up is the age-old debate of Jawline Beard vs Neckline Beard.
In this blog post, I'll share my insights and expertise to help you understand the differences and decide which style suits you best.
Jawline Beard: A Statement of Confidence
The Jawline Beard is characterized by its sharp and defined edges, following the natural contour of your jawline.
This style is perfect for men who want to accentuate their facial features and create a more chiseled appearance.
As a celebrity hairstylist, I've found that the Jawline Beard works best on individuals with square or rectangular face shapes.
If you're looking to make a bold statement with your facial hair, this might be the perfect style for you.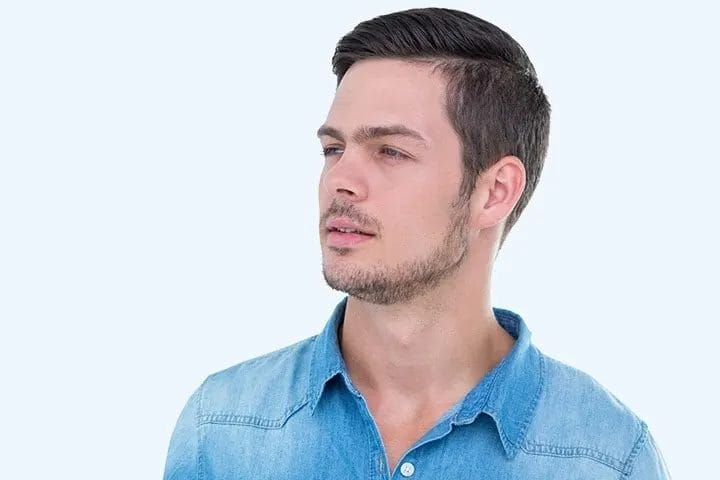 Neckline Beard: Effortless Elegance
On the other hand, the Neckline Beard is a more relaxed and casual style, where the beard follows the natural curve of your neck.
This beard style offers a more laid-back and approachable look, perfect for men who prefer a low-maintenance grooming routine.
In my experience, the Neckline Beard works well for individuals with round or oval face shapes, as it helps to create a sense of balance and proportion.
Jawline Beard vs Neckline Beard: The Ultimate Showdown
Ultimately, the choice between a Jawline Beard and a Neckline Beard comes down to personal preference and the image you want to project.
If you're aiming for a powerful and sophisticated look, the Jawline Beard is your go-to style. However, if you're after an easygoing and approachable vibe, the Neckline Beard might be the better choice.
How to Get a Jawline Beard: A Sculpted Masterpiece
Creating a Jawline Beard can be a precise and satisfying process. Just follow these simple steps to achieve that chiseled look:
Step 1 – Get a trimming comb
Invest in a high-quality trimming comb to ensure a consistent and even trim. This essential tool will help you create a sharp and well-defined Jawline Beard.
Step 2 – Trim beneath the jawline
Begin by trimming your facial hair beneath the jawline, following the natural contour of your face. Pay close attention to detail, as this step is crucial in creating that bold and sculpted appearance.
Step 3 – Touch-ups
Finally, clean up any stray hairs and make necessary touch-ups to achieve a flawless finish. Remember, practice makes perfect, so don't be afraid to revisit these steps as you continue to refine your Jawline Beard.
How to Get a Neckline Beard: The Art of Effortless Style
The Neckline Beard is all about balance and proportion. Follow these steps to achieve a casual yet polished look:
Step 1 – Find the natural pointer
Locate the point where your neck meets your jaw – this is your natural pointer. As a celebrity hairstylist, I recommend using this point as a guide to create a harmonious Neckline Beard.
Step 2 – Choose the sweet spot to trim
Determine the ideal spot to trim by placing two fingers above your Adam's apple. This is the sweet spot for most individuals, and it helps to create a symmetrical and well-balanced Neckline Beard.
Remember, the key to mastering the Jawline Beard vs Neckline Beard debate is to understand your personal preferences and facial structure.
Experiment with both styles to discover which one best complements your unique features. With practice and the right tools, you'll be well on your way to achieving your ideal beard style.
Conclusion
Exploring the differences between Jawline Beard vs Neckline Beard has been an enlightening experience. I've gained insight into these distinct, appealing, and unique beard styles.
As me and my clients always contemplate which style to adopt, I'm eager to see how our choices will complement the facial features and enhance the overall appearance, while expressing their individuality.
FAQs
Q1. Does jawline matter with a beard?
Yes, the jawline does matter with a beard. A well-groomed beard can accentuate and enhance the natural definition of your jawline, while an unkempt beard can obscure it. A beard that is styled to complement your facial features can also help to balance your facial shape and make your jawline appear more prominent.
Q2. What beard is best for the jawline?
The best beard for the jawline is one that follows the natural contours of your face and jawline. A well-groomed Jawline Beard is often the most sought beard style, as it emphasizes the jawline and creates a sharp, defined look. However, a Neckline Beard can also be an excellent option for men who have a less defined jawline, as it can add fullness and shape to the chin area.
Q3. How far below the jawline should a beard be?
The ideal length of your beard below your jawline will depend on the shape of your face and the look you wish to achieve. As a general rule, though, you don't want your beard to go too far below your jaw, as this can make your face look rounder and fuller. Instead, aim to keep your beard neatly trimmed and tapered just below your jawline.
Q4. Should the neckline be shorter than the beard?
Yes, the neckline should be shorter than the beard. This helps to create a clean and defined appearance, enhancing the natural lines of your face. A neckline that is too long or left ungroomed can create an unkempt and disheveled look. Always be sure to shave or trim your neckline regularly to maintain a polished look.
Q5. Does jawline shape matter to have an attractive beard?
Yes, the shape of your jawline matters when it comes to having an attractive beard. Some men are blessed with a strong, chiseled jawline, which can make any beard style look good. However, even if your jawline is less defined, a well-groomed beard can still help to balance your facial features and create a more attractive appearance. With the right grooming routine, any man can rock a stylish jawline or neckline beard.
Khamis Maiouf is a professional barber who graduated from Hinckley College in England with a degree in hairdressing. He has also won several barbering contests and successfully operated a barbershop for the last two decades. As a skilled hair stylist for 20 years, his goal is to teach others how to achieve a beautiful appearance through their hairstyles.