Those men are full of attitude and want to carry a daring look, they must try blonde buzz cut. According to a hair expert, hair plays a major role for look. It gifts you an amazing personality if the barber cut your hair appropriately. Before discussing several buzz cut blondes, we need to understand what the meaning of buzz cut is. This hairstyle is the name of a very short hair cut that is cut in even length all over the head.
There are several types of buzz cut in the barber shop. You can choose any among many like a crew cut, burr cut, induction cut, etc. But not all types of buzz cuts are cut in similar proportion. Crew cut, marine cut, and flat top do not have similar hair length. If this buzz cut is paired with blonde, it gives men a bold look on their face. But make sure that you choose any haircut based on your shape and face.
Now it is time to talk about several hairstyles of buzz cut blonde which helps males to carry a charming personality on their face.
Faded Buzz Cut Blonde
Those men like to cut crew or burr cut, they should fade their hair for a better look. The fade is a technique where the barber cut the hair on the side area of the head and is steadily faded to short in length as you move lower to the area of the neck.
High blonde fade
The transformation from the long hair to shorter hair on the side is steep and sharp. This indicates that your fade is very near to your temples level.
Low blonde buzz cut faded
In this hairstyle, the transition from the long hair to the shorter hair on the side occurs low on your sideburns level.
Mid buzz cut blonde faded
The transformation of this type of fade occurs between the long hair to the shorter hair between the low blonde fade and high blonde fade. There is no hard and fast rule for selecting fade. You have to understand which style suits you most. Most importantly your liking is a big factor in choosing your fade.
Blonde Buzz Cut and skin tone
The most appreciating buzz cuts are when men pair up their skin tone mainly with blonde hair. This occurs because the contrast between blonde hair and darker skin is quite bold and edgy. To have this look, bleaching is required on your hair. At first, you have to choose the light blonde colour and after that, you can wear the buzz style.
You can choose this style even if you have a light skin tone. In this case, no contrast is visible between skin tone and hair colour.
How to select the right blonde buzz cut for men?
Choosing the right blonde buzz cut is very important for having the best look.
If you cannot choose the right blonde along with buzz hair cut, it will be a mess with your style. So to have an impressive look, you have to choose wisely.
Induction blonde buzz cut
This classic hairstyle is one of the popular style statements for men. In this hair cutting, the hair is cut in even length on the head. To attain this look trimming is highly required with a hair clipper. No guard is applicable here. This hairstyle is very short. This hairstyle can easily be managed with a short time due to low maintenance. It does not demand a lot of grooming.
On the other hand, those men who have a receding hairline also can try induction blonde buzz cut. All you can do here is just disguise with a buzz blonde cut. It is quite satisfactory for those who have light skin tone. Because the contrast between your skin tone and blonde short hair helps to show less your receding hairline. This receding hairline is more visible for dark-skinned people.
Burr blonde buzz cut
This is another variation of induction cut but with a longer length. To achieve this look, let your hair grow for seven days. After that trimming is needed with a clipper and one or two guard is required.
The blonde butch cut
This is quite similar to blur blonde buzz cut. The only difference lies here in terms of length. Trimming is required along with a number 3 guard and with a clipper for attaining this contemporary look.
Those men who want to keep their hair short must go for this style. This hairstyle gives you a neutral look. You just need to use a clipper with number 3 guard for maintaining this look. This hairstyle variation is suitable for all types of shapes of the face. Skin tone never becomes a barrier to wearing this style.
Blonde brush buzz cut
This is another variation of the blonde buzz cut. But length differs in this style from than earlier two styles. Using a clipper along with a number 4 guard and trimming is very much needed to have this envious look. Those men who like short hair can experiment with this style. If someone has a scar, they can easily hide it wearing this style. Since this hair cut looks your hair thicker, thin-haired people can try this style without thinking twice.
Trimming is necessary every week.
The blonde crew cut
In this style, hair is evenly cut all over the head. But the long hair lies on the top of the head. Those who have thick hair must try this style. But before trying your hand at this style, you should keep in mind that you need to take help from a professional barber for its complexity.
Your head needs to be trimmed with a clipper professionally.
Blonde ivy league
This is a longer edition of the crew cut. Those men who want to bring a funny look to their hair must try it. Short hair is not suitable for this style. Those men who want a sharper look must try this style. So those men who have chubby faces can try it for getting angular shape and sharpness on their appearance. Your hair needs to be cut with a number 8 guard.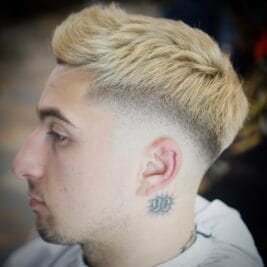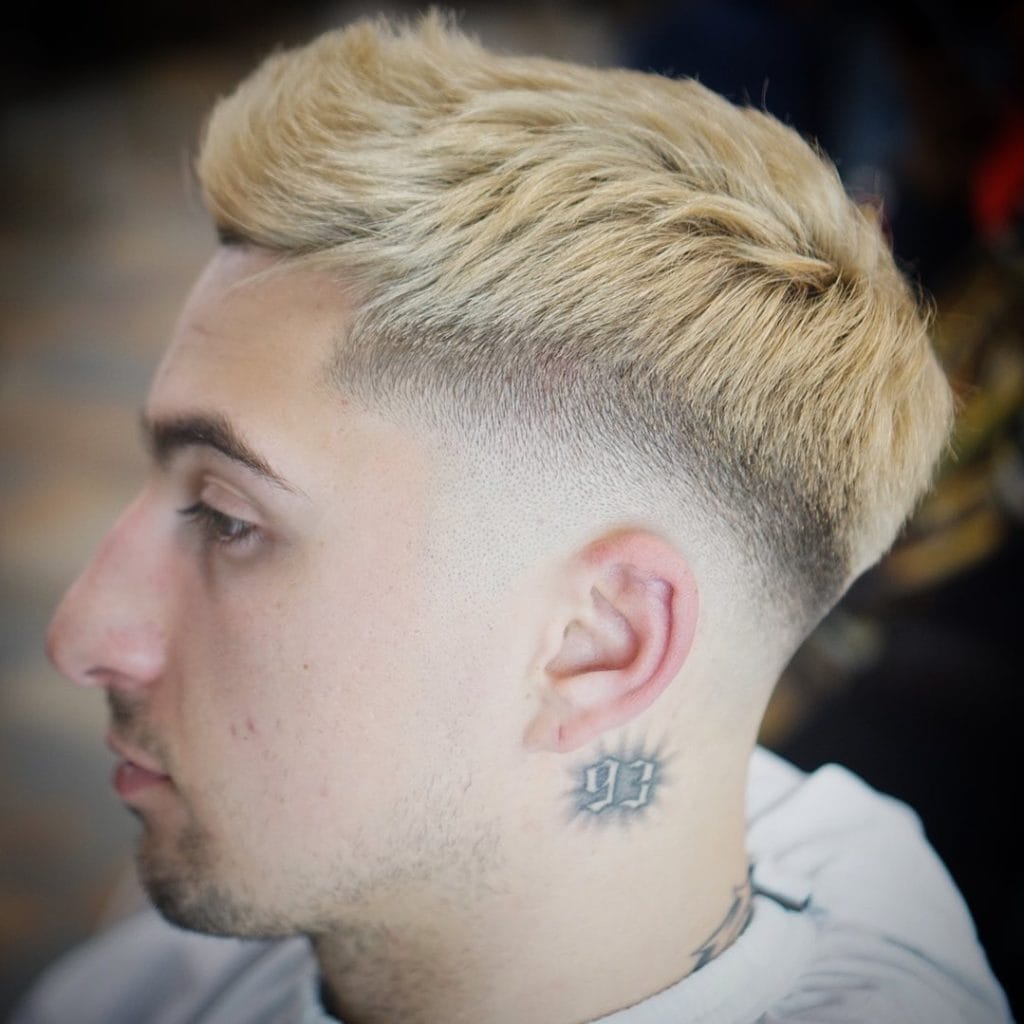 Do not try this hairstyle at your home. You need to visit a barbershop for this hairstyle variation.
Blonde high and tight
This is a great version of the cool blonde buzz cut. It is a variation of the crew cut. Those men who want a fashionable haircut with heads turning must experiment with this style. You can try this style at home also. You do not require fading at all. You just need a hair clipper for this style.
The distinctive part of this hairstyle is that the hair of the top area of the head is a minimum of 2 guards longer than the side parts hair.
The blonde flat-top buzz cut
Those men who want to be the centre of attraction of any crowd must try this style without thinking too much. In this hairstyle, cut flat appears like a deck and the top area of the head is standing straight upward.
The high fade makes an amazing contrast between the sides and top. But before going to a barbershop make sure that you have enough time for maintaining this style. Those people have dark skin, they are appropriate for carrying this style.
Shades of blonde buzz cut
If you have decided to go for blonde, you must have knowledge about which blond suits you most. Now we will talk about three shades that you can try of them.
Platinum blonde
This is the most popular and eye-catching blonde in this haircut. Middle-aged people must try it. As it brings back your younger look.
This blonde is comparatively darker than the previous blonde. This blonde gives you a mature look. Dark-skinned people must try it.
Bleached blonde
This is one of the most popular blondes among men. This is not a natural shade. The hue of this hair is white. The pale skin people must try it.
Those men have light eyes and can experiment with them also. Those people who have dark skin tone, are suggested to avoid this style. To bring out the best and want to have a modern, stylish look, you must take help from professionals.
Blonde buzz cut and beards
Those men like their beard, they do not need to compromise their beardroom for wearing this style. This blond buzz cut compliments your beard also.
Stubble goatee
Blonde buzz cut goes well along with a simple beard. Those men who like cleanliness and want to keep their hair short must try this style.
The light stubble
This style can be easily maintained and gives you a stylish look. People can try this style along with any type of buzz cut.
The faded Ducktail beard
This popular and stylish bear style suits almost every shape of the face. But long-shaped men should say no to this style.