The buzz cut is a tried-and-true way to get a simple, stylish haircut that looks like it came from the military. The buzz cut design cut is stylish and masculine, and it's great for men who aren't afraid to show off their facial features. We've put together a list of awesome terse hairstyles that you're sure to rock for your next trip to the barber.
1. Military Buzz Cut Design
New army recruits had to get a haircut before they could join. With its sharp edges and big, manly sizes, this haircut wasn't just an excellent way to look good. It was also an intelligent way to stop lice from spreading through the army camps. This hairstyle is one of the shortest buzz cuts. It looks excellent on oval faces, but it also looks good on rectangle faces. It's also an extreme version of the buzz cut, not for easily scared people.
2. Buzz Cut Design Fade
If you don't like how extreme the military haircut is, you might like the buzz cut to fade better. The fade is about depth, so you'll need to tell your barber how you want him to carve your hair with his razor. This buzz cut is pretty clean and neat and will grow well. But remember that with a faded buzz cut, there's nowhere to hide, so make sure your face is free of scars and bumps since your skin may be visible.
3. Buzz cut high and tight
The high and tight have proportions similar to an undercut, but the lengths are very short with this cut. Your hair won't be the same length everywhere for a natural high and tight amount. Instead, it should be longer on top. This version of the buzz cut is a bit more versatile for people who don't have long faces because it will make your face look longer.
4. Crew Cut and Buzz Cut Design
Yes, this version combines two famous cuts, giving you a unique and well-balanced look. It is also a more versatile way to get a buzz cut since the crew cut has a face that looks good on everyone and is balanced and straight. The buzz cut that looks like a crew cut is also great for men with longer foreheads because it lets you keep a little more length in front of your head, like a fringe.
5. Caesar Buzz Cut
If you like how an extended buzz cut looks but don't know how to style it, try a Caesar. Ask your barber to buzz your hair with a higher guard, like a number 5 or higher, to get this look. You'll have the correct length for this look if you do this. Then, tell the barber to cut a little horizontal perimeter at your front side hair. Even though this fringe isn't very long, it will give you an accurate Casaer cut.
6. Designed Buzz Cut with Beard
Most men know that a buzz cut and a beard look good together. For brave men to shave their whole heads, a beard is a great way to keep a little bit of texture to their look. Most of the time, the top should look even and be on the shorter side. By asking your barber to take a little bit off at first and then gradually lowering the size of the razor, you'll get a sense of what will look best with your beard and face.
7. Buzz Cut for Hairline That's Going Down
A buzzed haircut can be an excellent choice for men with a receding hairline or widow's peak. Due to its short length, this cut makes the difference between your head and hair less noticeable. So, it doesn't draw attention to your thinning hairline or widow's peak the way a more extended style can. So, this is the cut for you if you don't want people to notice where you're going bald.
8. Buzz Cut Inspired by the Mohawk
Our faux-hawk guide talked about cuts that were like mohawks, and the buzz cut that is like the well-known cut is the same. A mohawk-style buzz cut is short, yet a lengthy strip of hair reaches the back of the neck.
9. Asian Buzz Cut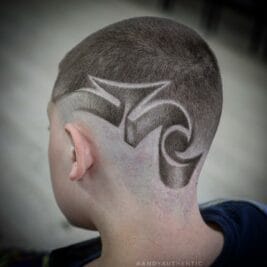 Most Asian men have thick, straight hair that looks good and can be styled differently. Choose a buzz cut if you want a look that is easy to style, looks manly, and can be worn in various situations, including more professional ones. It is a great way to change your look and draw attention to your features, especially your cheekbones and jawline.
10. Buzz Cut Bleached
The buzz cut works with diverse hair lengths, styles, and textures. By far, the bleached buzz cut is one of the most noticeable styles because bleaching makes a statement like nothing else. It's been worn by famous people and fashion icons, and it's a great way to change your look quickly and draw attention to your face. Also, it looks great on people with darker skin.
Conclusion
It is a short hairstyle for boys that works well with many different, hair lengths, hair textures, and face shapes. It looks best on people with solid features, and oval faces look great with this style. It could be a good look for you if you have strong cheekbones and jaws or beautiful eyes.