Sergio Aguero is one of the most famous footballers in the world. He is known for his amazing skills on the field and his unique hairstyles. He has also been known to experiment with his hairstyles over the years. Aguero has always had a unique sense of style, from his classic slicked-back look to more daring mohawk styles. He had many different haircuts over the years, and each one seems to be more stylish than the last currently, he is sporting a platinum blonde look.
The Argentine striker has been a force to be reckoned with on the pitch, scoring goals for fun throughout his career. One thing that has always stood out about Aguero is his hairstyle. So, if you are looking for a new hairstyle and want to try something different? Take inspiration from Sergio Aguero. He is always ahead of the trends and always looks fantastic.
Top 10 Sergio Aguero Haircuts
Here we have mentioned several most popular Sergio Aguero haircuts to attempt.
Side Part with Two Slits
To achieve Sergio Aguero's signature side part haircut with two slits, start by shampooing and conditioning your hair as usual. Towel dry your hair until it is slightly damp, then comb it straight back away from your face. If you have a natural wave or curl to your hair, you may want to use a blow dryer and a round brush to smooth it out before proceeding.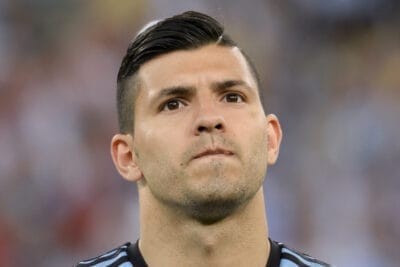 Once your hair is completely dry, use a fine-toothed comb to create a deep side part on the right side of your head. The further back you place the part, the more dramatic will be the overall look. Next, take small sections of hair and use scissors or a razor blade to create thin slits all along the length of each section.
Start with just a few slits in each section and gradually increase the number until you are happy with the result. Finally, style your hair as desired and enjoy your new look!
Middle Mohawk Style
If you're looking for a way to stand out from the crowd, the Middle Mohawk Haircut is a style to consider. This unique hairstyle was made famous by Argentinean soccer player Sergio Aguero, and it's characterized by a strip of hair in the middle of the head that's left longer than the rest of the hair on the sides.
To achieve this look, you'll need to use clippers to shave the sides of your head down short. The length of the Mohawk stripe can vary, but it's typically about 2-3 inches long. You can style your hair however you like, but many people prefer to spike it up or wear it slicked back.
Short Quiff Haircut
Sergio Aguero's short quiff haircut is a modern and stylish way to wear your hair. The key to achieving this look is to use the right products and have some patience while styling them. Here are a few tips on getting short quiff Sergio Aguero haircut. Start by washing your hair with a volumizing shampoo and conditioner to give it some lift. Next, apply a generous amount of mousse or gel to damp hair and comb it back into a Quiff shape.
Use a hairdryer to blow dry your hair in the desired direction, and then finish off with some hairspray for hold. Once your hair is completely dry, use a small amount of pomade or wax on your fingers to tame any flyaway and add shine.
Ceaser cut
Sergio Aguero's Caesar cut is a classic hairstyle that can be achieved with a few simple steps. First, the hair should be cut short in the front and slightly longer in the back. Next, the sides should be trimmed to create a clean look. Finally, a small amount of product can be used to style the hair into place.
Bowl cut
Sergio Aguero is known for his signature bowl haircut. The hairstyle is achieved by shaving the sides of the head and leaving the hair on top long enough to comb into a bowl shape. To get Aguero's exact look, ask your barber for a short back and sides with about two inches of length on top.
Aguero's Side fringe Hairdo
A Sergio Aguero side fringe haircut is a classic look that can be achieved with a few simple steps. To get the look, start by combing your hair to the side and creating a deep side part. Next, use a small amount of gel or pomade to slick down the sides of your hair. Be sure to avoid using too much product, as this can make the hair look greasy. Once you have the sides slicked down, use a brush to sweep the top portion of your hair back.
If you want more volume, you can use a blow dryer to lightly comb the hair before brushing it back. Finish off the look by spraying a light-hold hairspray.
Spiky Hairstyle
Sergio Aguero's spiky hairstyle is a popular choice for men who want to add a bit of edge to their look. The best way to achieve this hairstyle is to use a strong gel or pomade to create the spikes.
First, start with clean, dry hair and apply the product evenly from root to tip. Next, use your fingers or a comb to style the hair into spikes. Be sure to style each spike in the same direction for a uniform look. Finally, mist your hair with hairspray to keep the spikes in place all day long.
Sergio Aguero's Clean Cut
Sergio Aguero's top hairstyle is a clean cut with a slight upward sweep at the front. It's a classic look that can be achieved with different hair lengths, but it looks best when kept relatively short. To style, your hair like Sergio Aguero, use a good quality shampoo and conditioner to get your hair clean and healthy. Then, use a styling product to add texture and hold to your hair. Finally, use a brush or comb to sweep your hair up and back into place.
Side Fade
Sergio Aguero's one of their best haircut is side fade haircuts. The style is achieved by shaving the hair on the sides of the head very short while leaving the hair on top longer. Start by shampooing and conditioning your hair as usual to get the look. Then, use a clipper to buzz the sides of your head down to a very short length. Be sure to blend the line between the long hair on top and the short sides so that it looks natural. Finally, apply a small amount of pomade or wax to the top of your head and style it into place.
Fauxhawk
Sergio Aguero's Fauxhawk hairstyle is a great way to add some personality and style to your look. Start by asking your barber for a short back and sides with a longer top to get this haircut. The length on the top should be long enough to allow you to style it into a faux hawk. To style your hair into a faux hawk, start by applying some product to the front section of your hair and combing it up into a point.
Then, use your fingers to push the rest of your hair back and up towards the center of your head. Once everything is in place, use a strong hold gel or pomade to keep everything in place.
Tips for maintaining Sergio Aguero haircuts
Aguero's hairstyles are always clean and well-groomed. If you want to achieve the same look, make sure to visit a professional stylist regularly.
Use high-quality hair products to style your hair at home. Avoid using too much heat on your hair, as this can damage your hair over time.
Get regular trims to keep your hair looking its best. This will also help prevent split ends and other damage.
Conclusion
The bottom line is that there are many different types of Sergio Aguero haircuts that you can get. The important thing is to find a haircut that suits your face shape and personality. With so many options out there, it's possible to find the perfect cut for you. So, don't be afraid to experiment until you find something you love! Hopefully, you have enjoyed the post about Sergio Aguero Haircuts. It is time now to improve this hairstyling trend. Are you going to wear any of these Sergio Aguero Haircuts?
Let us know in the comment section. If you still have some doubts if they will look good on your head, take a moment to check some quick answers by scrolling down below at our FAQ Section.
FAQ Section for Sergio Aguero Haircut
What inspired Sergio Aguero to start growing his hair out?
Aguero has said that he was inspired by the hairstyles of some of his favorite players, including Lionel Messi and Cristiano Ronaldo. He started growing his hair out in 2012 and has since become known for his long signature locks.
How does Aguero style his hair?
Aguero typically styles his hair in a slicked-back look, using gel or pomade to keep it in place.
He sometimes wears it with a middle part but often opts for a more classic side part style. On occasion, he will also wear his hair down in a loose, natural style.
How often does Aguero get his haircut?
Given the length of his hair, Aguero probably gets a trim every few weeks to help maintain its healthy appearance and prevent split ends. He likely gets a more significant cut every few months to keep it looking its best.