If you are searching for a manly and macho haircut with the lowest fuss rate, then a military haircut high and tight is for you. To get military haircuts, it is not obvious that you are from the military but the only thing required is interest. If you are interested in getting military haircuts then there is no other law.
Hairstyling is a man's personal choice and apart from some occupations, you can have free will for that. Military haircut high and tight is obviously inspired by army officers. It features skin and bald or faded sides which are followed by a longer (but still shorter than the general version) top. This haircut is neat, clean, and requires less styling. The only thing you need to worry about is a good barber and a guide.
Variations Of Military Haircut High And Tight
As the world is growing and new generations are coming, there have been more styling options in the industry than ever. For military haircuts high and tight, there have been some surprising and hot looking variations. Let's get into them one by one, and till the end, you can easily choose the most suitable for yourself.
1. Classic Of All High And Tight
This classic military haircut high and tight is a simple yet attractive look. It has tapered sides and back, as well as a significantly longer top length. Military personnel are known as "jarheads" for their use of this classic cut, which has a lid-like structure on the top of their heads.
This haircut is also very simple and requires minimal work. So you can also get it at home if you are perfectly capable of deep trimming because as much as it is easy, it requires a lot of cutting.
2. High And Tight With Fade
High and tight is a well-recognized military haircut, and the same goes for fade haircuts. So when you combine both of them, it shows the most unique type of haircut. When discussing fades, there are plenty of types to it, for instant, there is taper fade, high, low, and medium fade and skin fade, etc.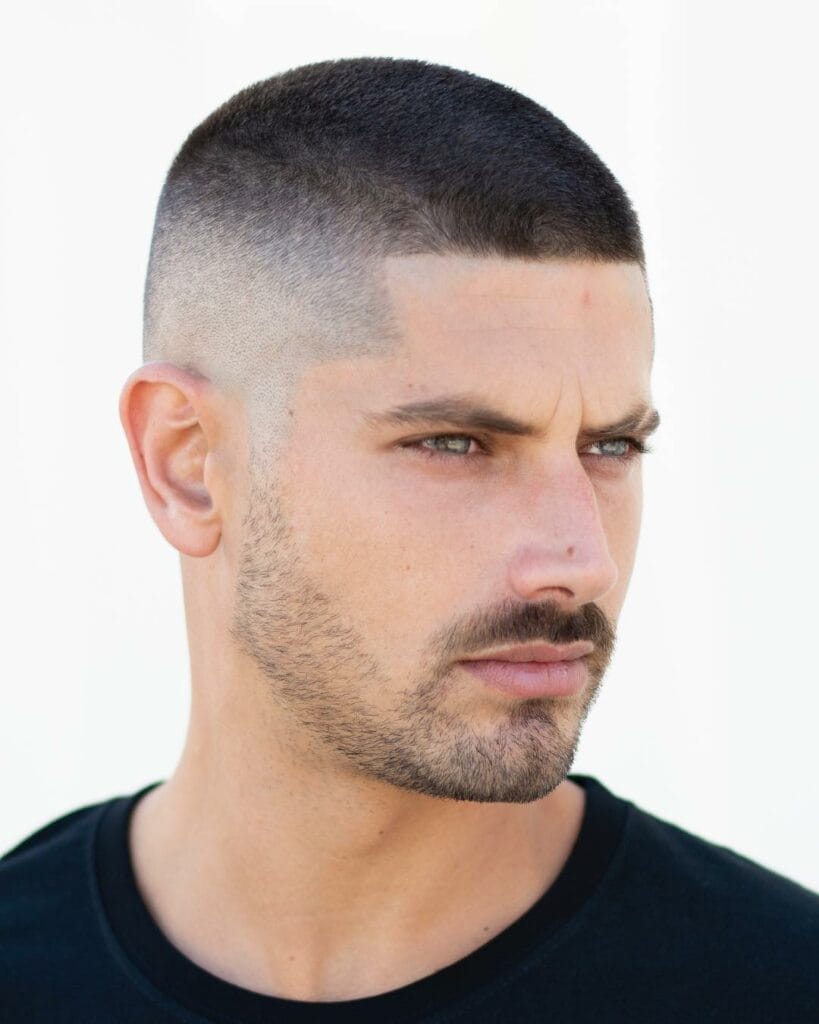 Any of these fades can go with high and tight haircut, so there is no rule for that, But if you need advice then we would suggest high fade for high and tight. Because it will add more outline to this haircut, and even burst fade is a good option to go for.
3.Forwardly Styled High And Tight
You must select how you want to keep your hair on crown of the head if you choose the high and tight haircut. You might go for a forward-swept appearance for a quick and uncomplicated look.
Simply brush moistened hair forward after shampooing to achieve this. Let it air dry but, if your hair is particularly unmanageable, blow-dry forward as well as style with gel.
4.Afro High And Tight Military Haircut
This haircut can be a great choice when you have afro-textured hair. This haircut is sleek, fashionable, and easy to manage, With just enough length on top to showcase off your textured look and practical short sides.
5.Hard Parted Military Haircut High And Tight
If a short cut with the high fade isn't nearly as unusual as you'd want, don't worry. You may immediately add passion and curiosity to your corresponding results by including a hard part into your haircut. Additionally, even if your hairline isn't long enough to produce a clever side part, the line up will create the impression of one.
6. Shortly Trimmed High And Tight
A high and tight may be unexpectedly adaptable, with a style to fit every gentleman's preferences. If you prefer a very short length, the shorter high and tight seems to be for you.
The style is simple without being boring, with cleanly bold edges and a woefully short length on top. It's also functional and requires practically less style. You will, however, need to schedule regular cuts to keep the trimmed length.
What Are Length Measures For Military Haircut High And Tight?
Military haircuts have this specific requirement of limited length measures, so for that, you need to keep in mind the exact length. For military high and tight, the length is around 1 to 3. If you choose to give the back side of your hair a length of 1, then the top of your head should be around 2 or 3.
The sides of the head can follow the same figure aa back or they can be faded or bald in accordance to the type of high and tight you go for.
How Does One Ask For A High And Tight Military Haircut?
To ask for this cut, simply explain the length and measures to your barber. Make sure you go to a barber that is experienced enough to know about the haircuts you want. And to avoid any fuss, you can simply show him the images of the haircut you want to get. You can use images as they show the exact and clear trimming details.
What Length Is Too Short For High And Tight?
Length measures are already explained but the sides and back of your head does not create any problem while going for a shorter length. It is the top of your head that needs the length of at least 1, to show the high and tight variation.
Conclusion
Military haircut high and tight is one of the most worn haircuts by military men. This haircut shows the manly qualities of one and gives them confidence. As a man, you need to keep up with your manly confidence, and haircuts and beard styles really play a role in that.
There has been some discussion over 6 of the best military haircut high and tight and we hope that you will find at least one of them your favorite. Length is a crucial element, when discussing military haircuts and so questions related to that have been answered.