Mid-fade undercut is gaining more and more popularity in the fashion industry with time.
Men who like to have a modern touch, and are fond of unique hairstyles, love the idea of getting a mid-fade undercut.
Men can combine the mid-fade undercut with different types of fades to create, the mid bald fade, mid zero fade and many other types.
Mid-fade undercut can be done with any length of your hair, and that is one of the best things about this haircut.
This haircut can go with professional meetings or casual gatherings as no matter which one of these you choose, all of them give out decent vibe,
And will work perfectly for you. Just make sire to follow up the right steps.
Undercuts give you different, unique and sexy look. If you want to know about the 10 best mid-fade undercut ideas then, keep on reading!
1. Undercut Mid-Fade
This haircut is a unique and fresh way to cut your sides.
Sleek faded haircuts are easy to go with and they look good regardless of the hair length.
2. Short Hair Mid-Fade Undercut
This undercut is low maintenance haircut, and is a neat haircut to go with.
If you want a haircut that is in style and is neat, then this is the one for you.
3. Taper Fade Undercut
This haircut is flattering for all men, either they are fond of long hair or short. This one makes an exception for them.
As one of the best professional haircuts, taper fade undercut has nearly bald sides with shorter back but not bald. It is stylish and modern styling choice.
Taper is a different haircut itself, but when you add it with undercut fade, it slays even more.
Not every haircut can go with another haircut, but taper fade undercut is the one for you.
This haircut is a little edgy and totally trendy.
This undercut looks good with all choices of length. Either you get the taper sides or bald, it is a good choice to go with.
5. Long Hair Undercut Fade
Sides short and mid-fade long, sounds good no? This is one of the most macho haircut you can go for.
6. Low Fade Undercut
Low fade undercut is another cool haircut idea for men who want a cool and to go with everything hair look.
The low fade starts above the ear and stays near to neckline. The undercut in this haircut is edgy.
7. Skin Mid-Fade Undercut
Side skin of your head has tiny hair or you can say is nearly bald. This is a high-contrast undercut and looks good with different length of fades.
8. Drop Fade Undercut
Drop fade undercut is the most unique cut. It also adds flair to any look. It gives a very modern and edgy vibe, and that is one of its best features.
9. Bald Fade
As indicated from its name, this type of mid-fade undercut has bald sides and is the coolest of all undercuts.
Especially for men daring to look bald cool (if that's even a real term).
10. Comb Over (Mid Fade With An Undercut)
This undercut has made the possibility for classic and modern haircuts to meet, and be co-dominant.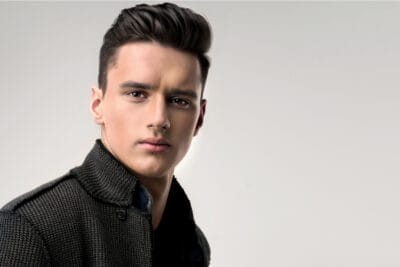 This is a mixture of classy and cool haircut, and men are crazy about this undercut.
11. Slicked Back Mid Fade
Mostly sexy villains wear this haircut and truth to be told, in such cases we are more attracted towards the villain than the hero,
This mid-fade undercut is the baddest, this one is usually seen in the movies.
All thanks to this undercut!
Can Mid-Fade Undercuts Slay In Thin Textured Hair?
This haircut specifically is for thin textured hair, and to solve such hairstyling problems for you.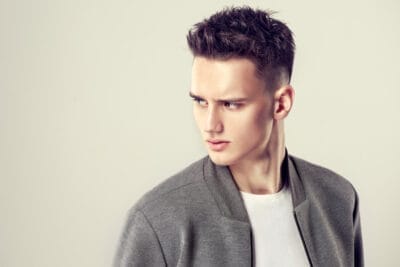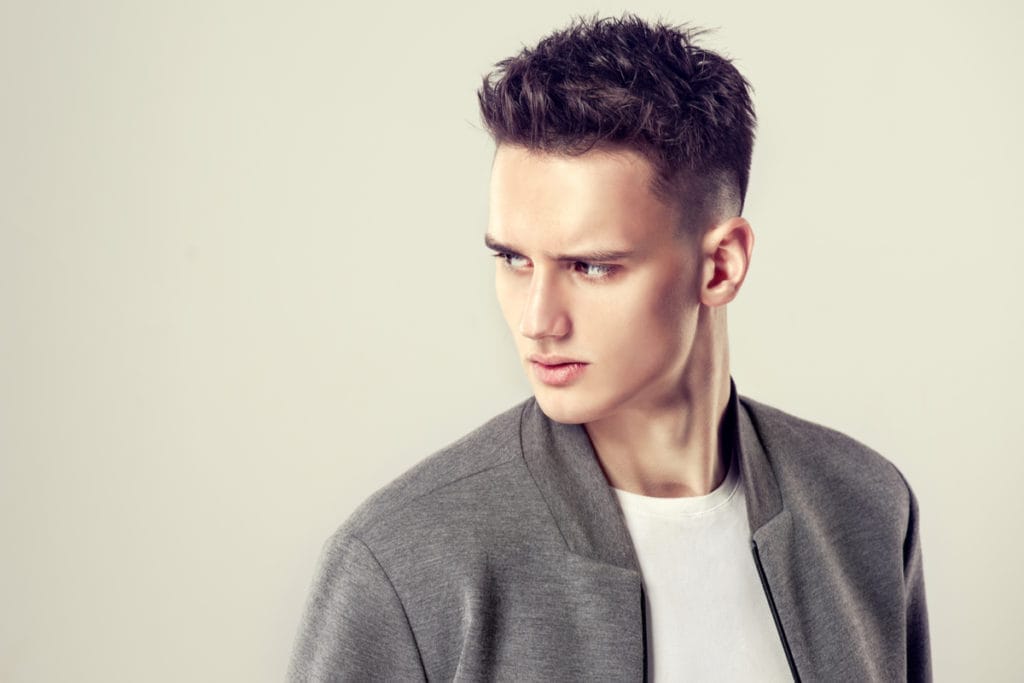 A fade undercut will give a stunning contrast if your hair is thin in texture.
Hair that has been shaved or faded will draw attention to the rest of your hair, making it appear thicker.
An undercut slims down the look and makes it easier to style for men with thick hair.
If you are used to having all of your hair spiked then,
You can keep the texture you want, but a fade undercut will draw attention to your top.
With an undercut fade, you can tame everything from dreadlocks and afro hair to shaggy or surfer haircuts!
If you hear people giving their opinions about how your face shape may not be a good choice for undercuts, then hear them no more!
Because mid-fade undercut is one of the blessed haircuts that go with all types of face shapes and literally anyone can slay in them with the right guide and wise steps.
All types of undercuts, that we have mentioned in this blog can go with all types of face shapes.
Also your facial shape is usually dependent on the beard style you choose to go with, so be wise in making that decision.
What Is The Exact Difference Between A Taper And An Undercut?
There is not much of a difference between a taper and an undercut, but they both are different haircuts.
To easily define, an undercut is smaller version of taper.
An undercut is a taper, but with usually small hair length or bald fade.
Conclusion
In this article we have made a list for you, of different types of mid-fade undercut. We have also tried to clear out some questions you may have in your mind while knowing about undercuts.
All you have to do is that choose the best of haircut from this list, and ask your barber to do it so.
Usually barbers confuse one haircut with another, but if you show him images from our site, he will know what exactly you want.
As some haircuts have minor differences, but they play major role, so you don't want to confuse your hair stylist.
Do share with us, which one if these haircuts did you like the most and why!