For men, the low bald taper fade is one of the most fashionable hairstyles. It creates a sleek, smart, and fashionable appearance, which boasts perfect layering.
So, if you're looking for something that will turn heads, the low bald taper fade is the thing to try.
Of course, choosing the proper version might be difficult, So we've compiled a list of numerous ways to wear this contemporary cut.
Whether you prefer subtlety, boldness, or complexity, we have a style for you.
Unlike some other skin fade haircuts, a low bald taper fade does not depend entirely on a trimmer to create its fashionable look.Instead, scissors make a seamless transition from no hair to long hair all around the temple and on top. The low fade is ideal for men who want to keep their hair at a reasonable length on top.
What Is a Low Bald Fade?
A low bald fade begins at the skin layer and gradually develops in length just above the ears as it progresses towards the top.
Men's bald fade hairstyles have short clipped sides and longer hairs on top. For males, low bald fade is a very adaptable hairstyle.
It is an incredibly accurate transition that results in a clean and tidy hairstyle that can be fashioned differently.
This fade form is also used on celebrities like Channing Tatum and Ryan Reynold's hairstyle that appears sleek and elegant.
If you need a low-maintenance haircut, this is the fade to try.
When the hair comes back from the bald faded edges, it mixes in seamlessly with the long hairs, creating an appearance as new as the one you started with.
How to Get a Low Bald Taper Fade?
The procedure of achieving a flawless low bald taper fade is simple, but it does require some practice.
The only tools needed for this hairstyle are a trimmer, scissors, and a comb. The hairs on the top of the head are normally cut to the person's chosen lengths, while the side hair is often trimmed exceedingly short.
The side hairs are cut to a smaller size until the skin can be seen plainly. This low bald taper fade haircut displays a gentle fading of hair from short strands to the sides, where the skin can be seen.
This style creates a slope fading appearance in the hair, which looks great on all hair types.
Bald Fade vs. Skin Fade
The words' bald fade' and 'skin fade' are used interchangeably, which can be misleading. However, the purpose they are mixed is because they both signify the very same thing.
It basically means that a skin fade and a bald fade are actually the same thing. Which, unfortunately, loses some of its importance when written rather than spoken.
Simply told, you'll get the same hairstylist with the same cut, so it doesn't matter whichever you choose.
Best Low Bald Taper Fade
Here are the top and most popular low bald taper fades to get you started!
Curly Low Bald Taper Fade Mohawk
Among the fashionable hairstyles for guys is the low bald taper fade Mohawk, which looks especially good on black hair.
The top of the head is left long, while the edges are shaved short and tight.
The back of the low bald taper fade is thicker, creating an angular appearance.
Because they are naturally curly, you'll need a good hair conditioner to manage them.
You'll look stunning if you trim your edges with the professional low bald taper fade as in the above picture.
Low Bald Taper Fade and Top Slicked Back Hair With Beard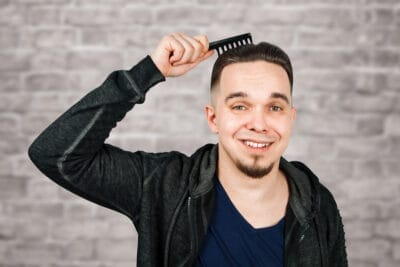 The low bald taper fade looks amazing with both medium and short lengths of hair on the top.
If you decide to go with medium-length hair, a slicked-back haircut will complete your appearance.
A simple yet elegant tiny bald taper fade complements the look, which is professional without appearing excessively serious.
To try and balance out all the long hair on top, try to add a beard to enhance your appearance.
Low Bald Taper Fade Blowout
A low bald taper fade looks excellent with a blowout haircut.
It keeps sufficient top hair to produce the defined shape while removing it from the sides and back to maintain it tidy.
Short Brown Hair With Low Bald Taper Fade
This low bald taper fade haircut exposes the area around the temples and gathers volume as you move towards the top.
The hair on top is combed downward, as well as the color of the hair is set in a gorgeous golden brown. This hairdo adds style and elegance to one's appearance.
Spiky Texture With Low Bald Taper Fade
With the correct product and hair length, spiky textured hair is very easy to achieve.
The volume of long hair hinders hair from holding up in this hairstyle; therefore, it works best on short hairs.
Hair will stay spiky if you apply the gel to it. Apply wax to the front of the hair and move in a backward direction for a much more maintainable look.
This will split the portions and encourage them to stand. The low bald taper fade creates a disappearing neckline which creates a sleek and professional look.
Conclusion
A low bald taper fade is a great choice for every man seeking a fashionable and modern hairstyle.
It is a stylish hairstyle that separates itself from the traditional hairdo and allows a guy to stay up in the modern era.
The contrast between the fading sides and the smooth hairs on the top is striking, and it defines what a fashionable and modern guy should look like.
So, suppose you're seeking something to make you seem attractive. In that case, you can try any of the given collections of low bald taper fade styles with various of the classic bald fade.
Hopefully, you get all the information about low bald taper fade and find the best option for a low bald taper fade haircut. If you still have any questions, look at the FAQ given below.
FAQ
Is Zero Fade the Same as a Bald Fade?
Zero is not the same as bald fade. A bald fade and skin fade are similar, but zero fades are different.
A bald fade, also known as a skin fade, requires shaving to blend hair down until the skin is visible, while zero fades merely leave a little bit of stubble.
Zero fades aren't shaved since they don't go the whole way down to the surface of the skin.
Is a Bald Taper Fade Attractive?
Yes, bald taper fade is attractive. Women like fade hairstyles as they make you look young, active, edgy, and versatile.
If you wish to impress your partner with your fresh adorable hairstyle, the bald taper fade haircuts will do the best work for you.