In this modern era, people get thrilled by a classy look that is appealing to many. It is a matter of fact that people spend a huge amount of money to buy latest shoes and clothes, so they can attain a catchy look. And on top of it all, a classy hairstyle like Kim Taehyung hairstyle crowns it all.
Did you know that a good hairstyle can have a positive impact on your livelihood? Yes, you heard that right. A good hairstyle creates that appealing look that makes you stand out among others. It makes you strikingly attractive even to those who do not know you. Imagine someone you hardly know coming to approach you because of how appealing you are. That's incredible.
One of the best looks that sweep me off is the Kim Taehyung hairstyle. It is simple but unique and makes you excited right when you see it. However, the most exciting thing about this haircut is the ability to dye it and still get that attractive look. Well, let's look at KimTaehyung Hairstyle for more detailed information on what it entails.
What is Kim Hairstyle?
Kim Taehyung hairstyle is a two-block cut where some idols and Kpop stars dye it. For instance, the BTS crew, including Kim Taehyung himself. He styled it like a mullet during the 'Dynamit' era. The Army's were so excited while at the same time surprised at the rich golden brown dye color. Fans were swooning over him from the retro style he had on.
Almost everyone was in shock from Kim's hair transformation after Rm's. Many idols generate a more heartthrob vibe through curling the fringe or even dying in different colors. For instance, Kim Taehyung hairstyle attracted many people to the fandom after the'DN' era due to his enthusiastic qualities. He had his hair dyed gray, and the bangs had a sea-green shade. It became one of the best hair colors since the gray color suited him well.
Black is the natural hair color that many people wear. Nonetheless, other colors also look good on the Kim Taehyung hairstyle as well. The length of the hair can range from almost shoulder-length at the crown or even a shorter clean-cut look that is perfect for daily activities. Suppose you are in for a more professional and gentleman-like hairdo; the shorter haircut version is the best option for you.
Alternatively, you can try out different options of the Kim Taehyung hairstyle if you don't have any limitations on the appealing standards. People with elongated oval-shaped faces will look incredible if they try out the slicked-to-back style of the Kim Taehyung hairstyle. It creates a chic and clean look as it is renowned for elongating the facial features in men.
Nevertheless, it is suitable for various shapes of faces and can be effortlessly maintained. You can constantly refresh it and shorten the lower part using a trimmer, a s it looks good on both males and females, whether young or old.Let us now look at its popularity in the present day to unveil more about KimTaehyung's haircut.
Is Kim Taehyun Hairstyle in Fashion these days?
The Kim Taehyung hairstyle is every day, especially in its Korean origin.
It gained its popularity from Kpop celebrities and idols who use it for a unique look. Many girls have also seen its appeal and resorted to trying it, but initially, it was mainly for men. Also, many people are convinced to give it a try from its flattering haircut and the two-square pattern. Kim Taehyung's hairstyle is iconic, unlike many male hairstyles.
Try this phenomenal Kpop two-block haircut for a trendy change in appearance. It is an alternative go to especially for teenagers looking for a fashionable and appealing look.
How can I get kim taehyung haircut done?
You can get Kim Taehyung Haircut and create versatile hairdos simply through the following simple steps:
Steps:
Use hairspray to wet your hair or wet it with your hands.
Part the hair using clippers to separate the bottom from the top part
Cut the sides and the back using clipper number 4/13MM. Don't be in a rush. Please take your time.
Cut the sides and the lower part of the back using clipper number 2/6MM
Clean up the hairline from the sides and the back using the Andis T-Outliner
Adjust the mirrors to see the back of your hair and use the Self Cut System
Remove the clippers after the sides and the back
Slowly cut the ends of your hair using a pair of scissors
Tips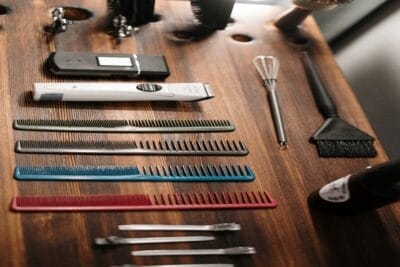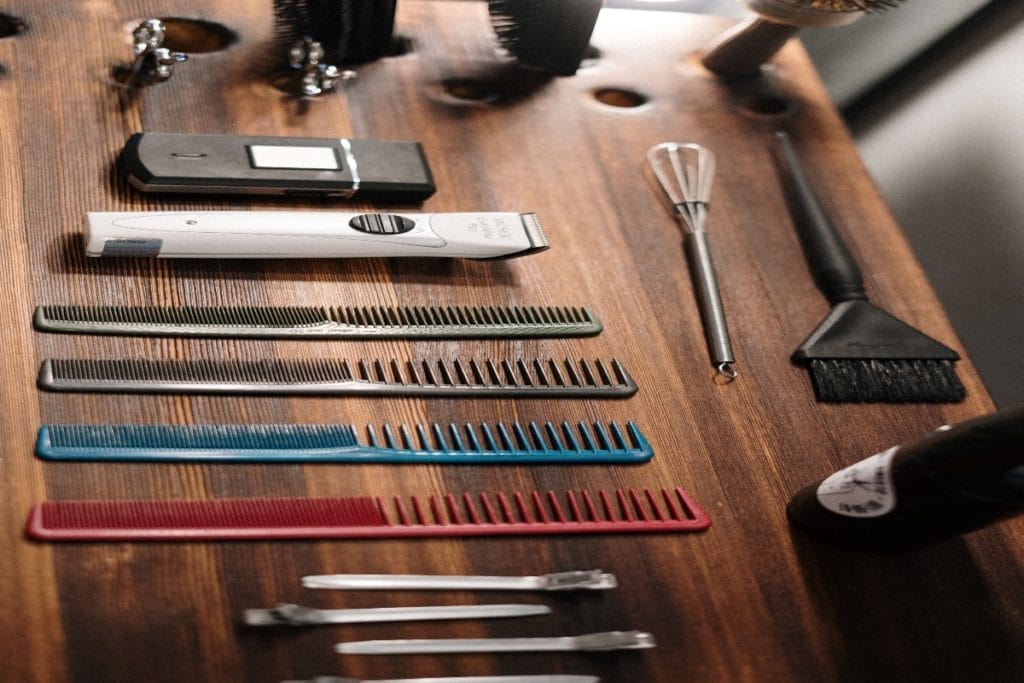 You now have your two-block cut but be sure to note the following:
Blow-dry after washing if you don't wish to style it
For the short or medium length of hair:
You can sleek it back for a sharper look, or you can leave it as it is.
Will Kim Taehyung Hairstyle suit me?
The Kim Taehyung hairstyle is not as complex as it might look, provided you get it done by a professional barber like us. You will get that unique, striking look you have been looking forward to for a long time. Besides, you will get that appealing look that will stun everyone who has been used to that one look on you since you knew each other.
It suits all types of faces, and you can style it in very many ways. However, you can leave it as it is or play with it in different styles to enjoy its attractiveness. Don't hesitate to try it out because who knows; you might be the second Kim Taehyung in your current locality in this modern world. You will give the world that surprising look of, "Who just walked past me?"
Conclusion
You can try out the Kim Taehyung haircut to experience its exciting look and attraction. Please feel free to visit us and get the transformed look to rock the world. Go ahead and make a booking for your new haircut appointment. See you soon! Please visit our blog for more updates.