The faux hawk fade haircut, also known as the Fauxhawk, has been one of the most popular hairstyles in recent years, and for good reason. With the 'wave' riding through the top, this hairstyle resembles a Mohawk — hence the name "faux hawk" or "false hawk" — but provides you a lot more leeway with the sides (and, of course, how extreme the actual 'hawk' is).
Getting Faux Hawk Fade Haircut
This appearance is unusual in that it is more of a 'hairstyle' than a 'haircut. A faux hawk fade haircut can be made from a variety of various haircuts, whereas a Mohawk requires cutting your sides and leaving a long-haired strip across the top of your head.
However, you'll need medium to long top-hair if you want to correctly resemble a Mohawk. However, what you do with the sides is entirely up to you. However, in this essay, we will just examine the Faux Hawk fade haircut So, if you're looking for additional faux hawk styles, you can look them up on our blog.
Styling The Faux Hawk Fade Haircut
The Faux Hawk's Styling for fade haircut A fake hawk fade haircut can be worn in a number of different ways. To begin, you'll need a good quality hair styling product like pomade or wax. You'll need to perform the following to get a fake hawk and style it: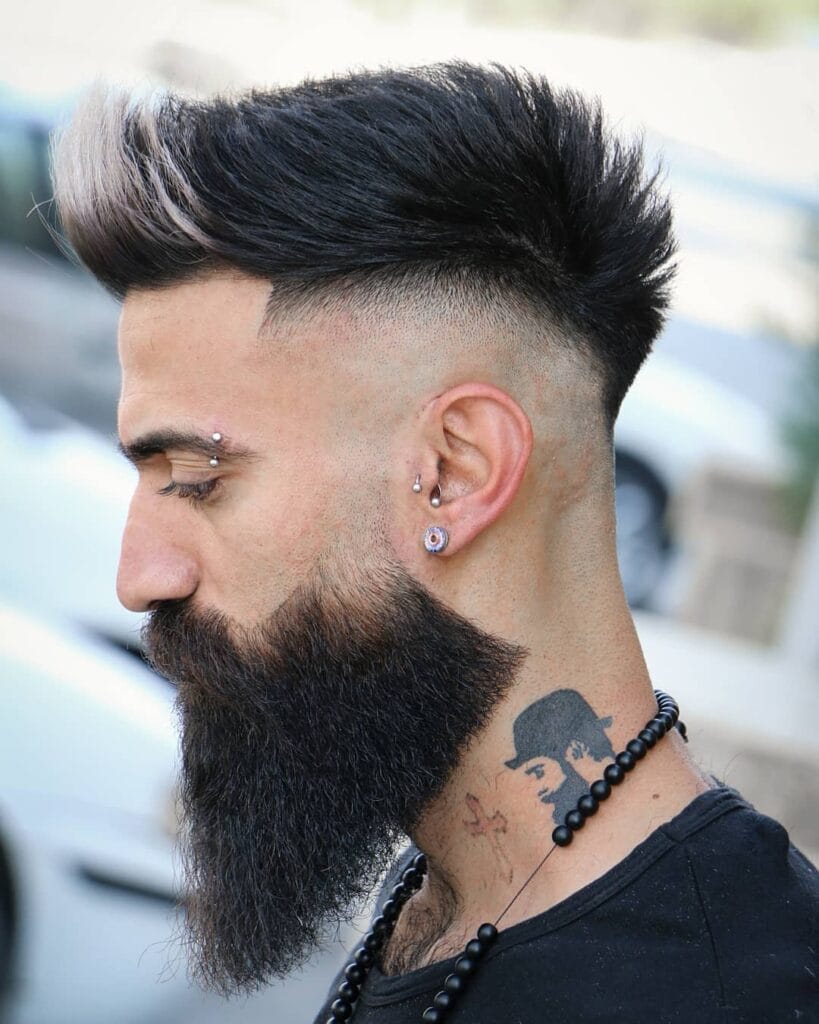 1. Start with hair that has been freshly washed and towel-dried.
2. Apply a thin layer of hair wax or pomade to your hair and thoroughly massage it in.
3. Depending on the type of faux hawk you want to make, this step may vary.
4. For textured volume, use a blow dryer to direct your hair up and towards the centre of your head.
5. To make a more pointed fauxhawk, pull your hair together with your hands.
The secret to styling a faux hawk is to play around with different looks until you find one that suits you. Some men choose to style their hawk in one direction, while others want to lift both sides and meet in the middle. You can even smooth all your hair back for a fresh hairdo that day if you're weary of the fauxhawk.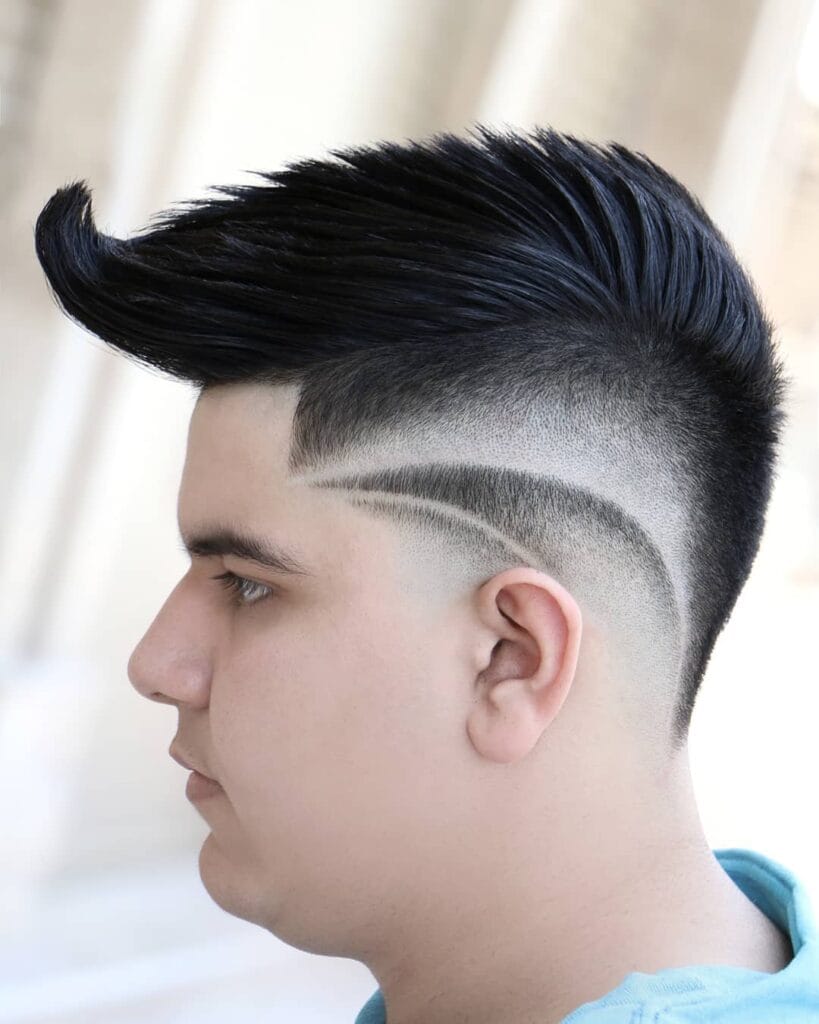 Types Of Faux Hawk Fade Haircut
•Flawless Faux Hawk Fade
You still have time to think about how you want your hair cut on the sides if you haven't yet seen a barber. The most basic and elegant of all the styles is this one. It's called flawless since it's possible to obtain it in a flawless method. The faux hawk fade is the haircut for you if you want a trendy, low-maintenance style but don't want to shave your hair.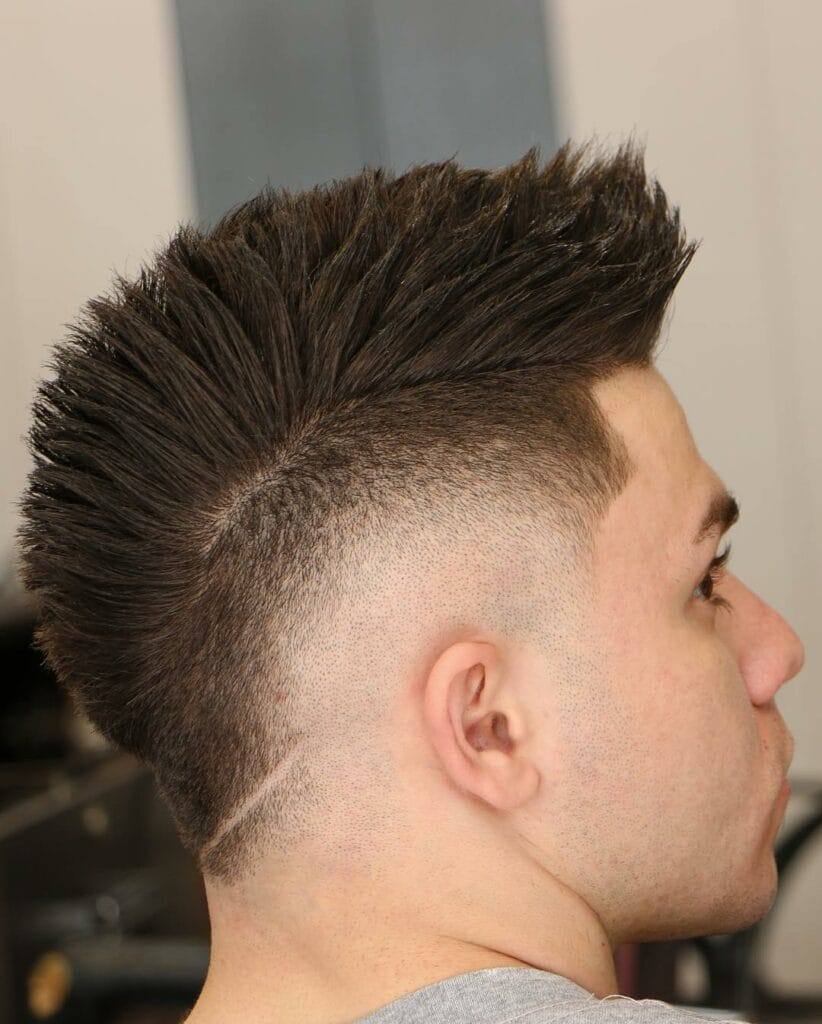 Simply select a mild or aggressive fade, as well as a buzz length that is appropriate. To create a significant contrast with the hair on top, we propose a high skin fade. This is a topic we'll cover later in this article.
• Faux Hawk Fade Haircut With Disconnected Cut
With a lovely top that is partially brushing up with half of its laid down texture, thick volume is typically praised. With that shaved slit and the line up being sliced in half, the sides are quite stylish. Furthermore, the undercut from a shave is pretty good, resulting in a very neat fade.
• Low Drop Faded Faux Hawk
Another hairstyle that straddles the line between a faux hawk a quiff or pompadour is this one. The hair is thick and full all over with a low drop fade. Just with these details you can easily make your barber understand about the desired haircut.
•Faux Hawk Taper Fade
And here's the laid-back look that everyone is going for with the layered dye. The taper fade sides are as clean as they get, and this is only the tip. The temple fade is entirely blended here, making it look more sleek, and the casual top completes the look. Taper fade just alone can be attention grabbing haircut, so with the spices of faux hawk this haircut is definitely going to get you some hot attention.
•Thin Out Blonde Faux Hawk Fade Haircut
Who says you can't have panache with thin hair? With an undercut on the sides, the brush-up is extremely strict. The sides are tapered with a mid fade, but that's not all; the colour brightens everything up. All of this is enhanced with a clean shave.
•Faux Hawk With Patchy Fade
Right now we are talking about nothing less but the work of art. The sides are tapered, but this pattern has never been seen before. With that angle and curve, the line-up is clever. The temple is fading on the underside, which is unusual.
•Short Faux Hawk With High Skin Fade
It's very cool to have a fine taper with a clean fade, and it's even better when one top is removed and replaced with a pocky stranded top with a brush-up texture. The line-up is mid-faded, with the sides being high-faded; it's the combination of fades that makes this one unique.
• Edgy Faux Hawk Fade
This look is both edgy and sophisticated. On one side, the faux hawk curls over, leaving a thick bank of hair trimmed short on the other. This ends, revealing a number 0 side shave with edgy designs buzzed in to make a statement. This is for males who want a great look but aren't afraid of a little upkeep!
Maintenance
The Fauxhawk requires far less maintenance. As a result, you won't have to go to the barber every week to maintain your hair looking fresh and on-point. You will, however, need to trim the sides and top from time to time. Depending on the person, this occurs on a more or less regular basis. However, a trim is usually done once or twice a month.
Conclusion
The Faux Hawk Haircut is a versatile, bold, and stylish hairstyle. It's one of the few hairstyles that can make you look fashionable and fashionable. It may also be worn up or down for any occasion, such as a wedding, night out, or job interview. Anyway, in the comments box below, let me know what you think or if you have any questions. Until we meet again