Your last look as a man greatly depends on how you style your beard and mustache in an Edwardian Beard Styles. And did you know that the symbols of masculinity are the mustache and beard? They amazingly add up to compliment and give you an appealing look regardless of the shape of your face.
Well, the beard and mustache are vital in providing a final look, whether good or bad. Have you ever considered getting an Edwardian Beard Style for a change of look? It is amazingly becoming popular within the last decades.
Not to mention that it also adds up to your cuteness and gives you alluring attention. Moreover, you will also get your grooming style outdone on another level. But the difficult part of it all is getting the best barber to get that accomplished look. It is one thing falling in love with what you see in the picture, and another thing getting the perfect barber to achieve the look.
However, you can visit us for a more professional look to bring you all the attention you want. We will give you the perfect manly look on top of a beautiful uniqueness. That said, I'm sure you can't wait to explore one of the seven best varieties of Edwardian Beard Styles that we have listed down for you. Read through to the end as we unveil them and give you various options.
7 Edwardian Beard Styles get Fashionable again
Speaking of a fashionable beard style, have you ever considered trying the latest Edwardian Beard Styles for a classy look? They add to your strong personality and give you a contemporary look that will catch everyone's attention. They also complement your face regardless of age and give you that unique beard style to wow everyone.
Would you mind going through each of them in detail as listed below to develop the next look that you will try? Please take a look at the following Edwardian Beard Styles, and I'm sure you will love them and have the desire to try out any of them, even if it is just one.
1. Russian Point Trim
It is a fashionable Edwardian Beard style suitable for a narrow pointed chin or a thin face. The barber trims the sides to a length of a ½ or ¾ inch, depending on the fullness of the face. He then adds the measurement at the center of the chin gradually to 1 and ½ inches.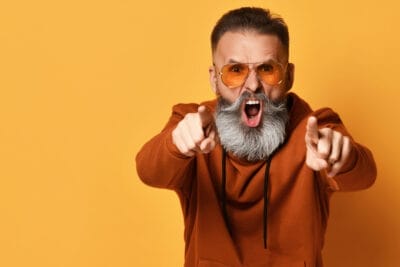 He brings down the jaw to a feather edge on the cheek and neck when the beard grows up high while at the same time thick, clearing up the mustache on either chin side to give it a proper shape.
The edge of the beard is featheredged to blend with the shaven part. Additionally, the lower plus the top of the cheeks can be clipped or shaven. You can choose to comb or loosely brush the mustache since it is slightly bent using a curling iron.
2. Lord Dundreary Trim
It is suitable for a professional man who is tall with a dignified appearance. It is pretty old but surprisingly fashionable at this current age. The chin is shaven slightly wider on the neck as the beard runs down to the mouth corner. Then you will have the straggling hairs clipped down to avoid being bushy and slightly trimmed from the hair down below the ears, to the end of the jaw, and at the ears.
Also, you can cut to a point at the end of the whiskers. You can do this twice a month or even three times. Trim the hair on the temple for a perfect blend with the whiskers. You can oil it with a little brilliantine and brush it back from the chin and down from the ears to dress it well for maintenance.
3. English Military Moustache
It is a type of Edwardian Beard Style that is trendy for just any face, except for a whole or short look. The barber shaves right from the mouth corners to below the ears on a slight measurement.
He uses the curling iron to bend the mustache easily and roll it up well, then brushing back and combing out loose. It comes out fashionably to give you the best Edwardian Beard Style that strikingly perfects your final look. Go ahead and try it out.
4. Business Man's style or Van Dyke
Considering the style and comfort, The Business Man's Style or Van Dyke is one of the trendy Edwardian Beard Styles. What do you think makes it stylish in this modern world? Well, the comfort that it has and the style make it strikingly perfect for any man. As much as it is more fashionable among the other Edwardian Beard Styles, it gives out the profile of the face clearer and prefers in hot weather or summer.
The length of the hair gradually diminishes to a point almost opposite the corners of the mouth. Accomplished by having a point lay off accurately below the centre line of the chin, it is then closely cropped and blended cleverly into the hairline to the area above the ear.
5. The Corporate Beard
It is one of the Edwardian Beard Styles meant for casual business offices. It dials down as a full beard version, and it is neat and slicker; plus, it enhances a little bit of a professional look on you.
Although it is more adaptable, it is bigger, bushier, with little attitude but less of a statement. When it comes to such a neat beard, Drake rocks it neatly together with celebrities like Prince Harry and Ryan Reynolds. You can also join them and rock this fantastic look.
Suppose you wonder whether you can wear this look without limitation; then you are lucky that your answer is yes. It is a perfect look for a wedding and a formal business meeting when you properly maintain it and keep checking it in a precise and defined shape for the edges.
6. The Beardstache
It combines two different styles to create a perfectly fashionable Edwardian Beard Style. It is not quite a beard but looks more than a mustache. However, it is currently popular, but you won't believe it has been around for like a hundred years as a typified long mustache surrounded by a shorter beard and an undercut.
Would you want to know various people who have had it most recently and had it appealing to every sight?
Well, actor Kurt Russel, Patrick Grant, and Model or DJ Chris Camplin have rocked this famous Edwardian Beard Style. Why should you not join them in trying it out and get the strikingly appealing look as well?
7. The Full Beard
It is a statement piece of facial styles as one of the current fashionable Edwardian Beard Styles. However, it dramatically requires self-assurance to walk around in it. Maintaining the Full Beard might seem very complicated, but you can get the products, TLC, and raft tools to ease the entire process.
It is a long beard suitable for any face shape, but you need to be aware that they make a square or oval face look round, while bushy and round faces have a rounded look. I recommend them for bald guys since they draw away attention from your pate as they are best for softening the angular jawlines.
However, you can still trim the sides to be slightly shorter than the chin. The Full Beard works best to perfectly adjust your appearance into that attractive and unnoticeable look that stuns everyone. They look good when you are in smart casual wear as it pops out in a rugged appearance. What are you still waiting for to try this fantastic look and be the talk of the town?
Which of the Different Categories of Edwardian Beard Styles Would you Prefer?
After going through each of the different categories of Edwardian Beard Styles, I'm sure you now have one that you can't wait to try. In the same way, you might as well be confused and not sure which one would be perfect for you.
Don't worry, and you might end up getting the best look just by switching from what people are used to seeing you to a new and more appealing beard style that will bring out your personality ideally.
A good beard style brings out the vibe of your masculinity and makes you look very respectable. Unlike other beard styles unprofessionally done, it improves your look to give you a younger look from your exact age.
I'm sure you have ever heard of or seen people who have turned out too old from the wrong choice of a beard style. That is weird. Nonetheless, did you know that there are places where you will be a vibrant and influential person just from your beard style? It gives you the impression of a morally focused person who is in the category of the men with class. So you better be cautious about the choice of beard style you choose.
How can I Get an Edwardian Beard Style?
Suppose you are troubled about getting the perfect barber to explore the new look, don't worry. You can open your heart to us to give you the desired new look from any of our professional barbers. Moreover, you can try it yourself, but an experienced hand will ideally give you the best results.
Of course, you would not want to walk out in the streets or your local residence with a crooked incompetent look. Besides, men care about their faces for the sake of the sought-after attention and stylish guise.
10 steps to grow an Edwardian Beard Style:-
Let your beard grow without shaving for a period of one to two months
Wash it completely
Please leave it to dry naturally before touching it for a trim
You can go for a slight border at the edges to shape it and get a neat look
Wash well using a beard wash to avoid beardruff and flaky skin
You can keep it tidy to avoid curls by blow-drying or wash using a mustache wash
Use beard oil to maintain it, and don't forget to trim the unwanted waves or stray hairs
Style it well and be confident about the grey hair
Comb well and enjoy the new look
Repeat the same process for a refreshing new look
Make yourself happy, and don't be among those that leave their beards shaggy and are too careless to groom themselves. Remember that a good look works hand in hand with your confidence level for a perfect personality. Please think about it and don't hesitate to visit us for the new trimming experience.
Who knows, you might be the next celebrity or a sought-after public figure with your desired look that is attractive to many people.
Wrapping Up
How does it feel to get the desired look at the end of the day? Don't be too much on one specific beard style since there are many others that you can go for and still look attractive. Besides, you should be aware that you might be limiting yourself to one beard style that makes you look too old or restrict your facial features.
In the long run, you won't get the strong appeal and compliment for your look when you don't try another beard style.
With the excitement usually unhidden, you get the courage to go anywhere and show off your striking look. Yes, that's the magic that ensues at the barber. Give it a try and get that interestingly modern look from the various Edwardian Beard Styles. Enjoy!