Conor McGregor's Haircut can make you look pretty sleek or pretty dull. It is important to choose what suits you. Here's an easy way to do just that:
Who is Conor McGregor?
Conor McGregor is an Irish, Ultimate Fighting Championship (UFC) fighter. He's a featherweight and lightweight champion and is currently number 9 in the rankings of UFC. One of his many memorable moments is knocking Jose Aldo (Another UFC champion) in the First 13 seconds of the fight. He's also built his whiskey business and you can see him promoting his brand in various fights.
Conor McGregor's haircuts:
The greatest trash talker in the history of UFC maintains a neat look thanks to his haircut. The most common of his many haircuts are:
A Buzz cut with a long beard
Taper Fade with a comb-over
Viking look with a ponytail in the middle
Short hair with an under fade
Trimmed sides with long comb over
Can I have the same haircut as Conor McGregor?
That depends! But here's a spoiler: most people can. While most of the haircuts depend on the shape of your face, the haircuts that MacGregor wears are not that hard to pull off. Anyone with no or slight beard can get his sides trimmed to the point where the skin is visible and have a good-looking haircut. Everybody wants to be a superstar but not everybody can, right? What everybody can have is a dashing look of these superstars like Conor McGregor.
Conor McGregor haircut – A step by step guide:
Follow these steps to get the exact haircut like McGregor's
Let your hair grow naturally:
First and foremost, you'll need to get rid of your current hairstyle. There are two main ways to go about this. Either you can let your hair grow for a month or two so that it can get a natural vibe going on or you can shave your head off. Both of these have their own benefits, but if you are looking for a quick fix, the first one would be your best bet.
Conor McGregor haircuts – Choose what Suits:
Are you wondering, if I can look like Conor or not? Well, lucky for you there is a way. "Ways" to be exact.
A buzz cut with a long beard:
A very easy-to emulate, sleek-looking haircut that Conor wore back in the day is the buzz cut.
Trim the sides to the length where you feel comfortable. But be aware that you'll have to trim the middle of your head in the same length.
Try to trim your hair until it reaches 0.5 inches or lower.
A beard with this cut will give you extra good look points.
Clean shave can also be rocked with this specific haircut.
Taper Fade with a comb-over:
Amongst the most popular hairstyle trends in 2021 are faded haircuts. So, we had to include at least one in our list,
Not the most high maintenance one but definitely requires some grooming now and then, this haircut can give you the look you want.
First draw two hairlines on each side of the head where you think the partition will look good.
The next step is simple. Trim your sides all the way to your skin but in a fade style. Cut the tips of your middle hair.
Now make your temples thin and sleek.
Enjoy
Viking look with a ponytail in the middle:
You must have watched Vikings this point of its popularity. The haircuts shown in the season aren't the most appealing ones but hey, I won't judge if you want a ponytail. The haircut itself is simple enough. But you are lucky if you got some beard hair for this one as it compliments the look.
Trim down the sides. Here you can choose how much you want to trim. You can leave the sides to be 0.5 inches or you can go all the way down to the skin. Its your choice.
Comb your hair backwards. Cut down the tips. Make a ponytail by grabbing all the hair that are long enough.
Trim the back of head as you did the sides.
A Kratos beard will compliment the look even further. Read how you can get a kratos beard:
Short hair with an under fade:
Looking for a low maintenance cut? Want to lay around without having to worry that the hair will leave its place after you have groomed and applied the gel? Let me introduce you to a carefree yet stylish and sleek look with short middle hair. (Not more than an inch tall though)
Trim the sides as we have described above.
Cut down middle hair until its an inch tall.
Keep in mind that you'll have to apply the gel as the length is too short.
Trimmed sides with long comb-over:
This cut has the ability to take you back in time. How far back you may ask? Well 1990's as it was popular back then but social media is thankfully bringing it back to life.
Cut down the side hair with the scissors. Trimmer isn't recommended as we want to end up with more than 1 inches.
You can opt to make a hairline in the way that you'll side part.
Cut the tips of middle hair and you are pretty much done.
How to maintain Conor McGregor's haircut for a long time?
It doesn't matter what haircut did you choose, as long as you care for your hair and trim it when necessary, you can keep the superstar's look for a long time.
Comb daily:
Nothing comes without putting in some effort. But the special thing about Conor McGregor haircut is very little to no maintenance. You can comb your hair twice when you feel like or pass by the dressing room. Combing ensures that the hair stays in its place and give neat look even if you haven't touched your hair in days.
Apply Essential Hair Oils:
Its impossible to talk about care and maintenance and not discuss oils. Hair is no exception. Oils do wonders for hair. Use essential oils of coconut, mustard, avocado and almond if you want: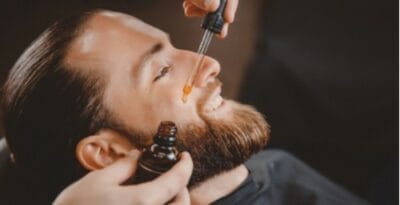 Thick hair
Greater hair density
Clean scalp
Hydrated scalp to promote better hair growth
Shampoo regularly:
Most people think of shampoo as a weekly thing. What they don't know is dust and pollution particles are always blocking and clogging the hair follicles and by not shampooing daily or every other day, they are inviting the trouble.
NIH even goes as far as labelling the shampoo to prevent hair damage and even prevent diseases:
Hair Conditioner:
Shampoo and conditioner go hand in hand because on one hand shampoo deprives your hair out of all the oils and on the other side, conditioner replenishes them and give your hair a strong and silky look that everybody dreams of. Conditioner also provides vital nutrients that are essential to hair growth. So, don't forget to condition after you shampoo your hair.
Hair Wax:
Unlike gel, hair wax doesn't make your hair dry and brittle. The gel may have its uses but we recommend wax mainly because it holds the hair firmly, imparts glow and makes it soft. Using wax can be extremely helpful as you may know that the hair is made out of keratin and keratin adopts the shape in which its molded In. When you apply it daily, hair starts to get manageable. nd after a month or two, little things like running the fingers through your hair or combing it slightly can restore the shape you want.
Eat these foods to keep your hair healthy:
You are what you eat. So, why not eat what's the best for your hair, right? The look of your hair surely depends on the haircut but the quality of your hair, the color and the thickness all depends on how you maintain it and what you eat. Here's the list of foods that are extremely beneficial for your hair:
Eggs
Spinach
Berries
Fatty fish
All of these foods contain high protein. Protein, according to Pub Med, is an important factor in maintaining the health of your hair. So, it is best to consume high amounts of protein-rich foods in your diet.
All in all:
You can definitely get Conor McGregor haircut irrespective of your face type. One of the above mentioned look is sure to suit you and elevate your personality to the levels that you only imagined. After you have decided which look you are going for and whether or not you want a beard, the next step is to care for it. Hair is an elegant part of our face and if Conor McGregor's haircut suits you, you are ready to compete with the most groomed people around you.