Chase Stokes hairstyle has a rich cultural background, which is surfing. There is mostly a traditional look for every surfer, which is the adorning of the tousled, sexy bed hair. You might not know this, but it is well a sought-after hair style among teens because of Chase Stokes, John B.
You see, the influence of movie characters over young teens is sometimes ignored. But the reality is that actors/Actresses have greatly impacted teens, especially in fashion. Young teens always want to dress and look like their favorite celebrity, which is why you are also reading this article. Before we continue, let's do a brief introduction of who Chase Stokes is.
Who is Chase Stokes?
Chase Stokes is popularly known as John B Chase Stokes in the widely successful teen drama series movie Outer Banks. John b was born James Alexander Chase Stokes to American parents. But had a fair share of early struggle; with both parents divorced several months into his birth, he grew up to become a fine young man.
Aside from his cuteness and calm composure, he had a very humble beginning in the movie industry. This makes him a role model to teenagers, and he lived a very humble and quiet lifestyle. So, as a role model, everything about him is copied, especially his looks. Now, I will be explaining how you can get your Chase Stokes Hair style.
What is Chase Stokes Hairstyle?
Chase Stoke's hairstyle is called the surfer/tousled style, and it has a messy, sexy look. It is a very charming look for those who are interested in impressing ladies. Aside from the cuteness, it is very easy to style and maintain, unlike some other styles. And, this fashion style does not discriminate or select the size of hair.
Whether your hair is short, medium, or long, you can tousle it. This particular length of Chase Stokes hair style is medium, but if yours is shorter or longer, you can start like that. However, you can always wait for it to grow if it's too short or trim yours if it is too long.
How Can I Get Chase Stokes Hairstyle?
While everyone quickly points people to the barbershop or hair stylist to get their haircut or hair styled. Just a few consider the possibilities of doing it themselves. And, I believe you will be able to do the Chase Stokes hair style by yourself after reading this blog.
Because the steps are very simple and practicable, you can get John B's hair style at the comfort of your home without seeking any help from professionals. All you need to do is follow the simple steps below.
Method 1: Quick Tousling Trick
Step 1: use salt water spray on your hair.
The reason for adding saltwater spray to your hair is to improve its texture, especially for those with flat silky hair. It gives your hair more hold, easier to ruffle, and makes it more coarse. When the saltwater spray is compared against hair spray, it is more natural and easier to brush. But, it has a less firm grip than hair spray.
Step 2: Tease your hair using a brush
Gently tease your hair to avoid fraying it, and do not tangle it too much. This process helps you increase the hair volume at the base. When teasing, please brush upward against the stands using your comb, brush, or fingers.
Step 3: Braid your hair overnight
To give your hair a messy curvy look, braid them into different strands. The tighter the braids, the curvier it becomes. Loosen the braids when you wake up, spray saltwater on them and tease it with your hands.
The bigger the braid, the larger the locks, while two or more braids make smaller locks.
Use a brush to separate the locks, and use your fingers to tousle a bit.
Now you can use hair spray on it to give it a lasting style.
Step 4: Maintain your look
The Chase Stokes hair style is easy to maintain, as earlier stated. You have to do daily touch-ups to keep the messy look by ruffling it up when you notice it is becoming neat.
Method 2: Tousled Bed to Beach Hair
Step 1: The night before tousling, wash and condition your hair
Wash your hair using warm water and apply your shampoo. Rinse, but do not allow the product to touch the tip.
Condition only the length to keep your hair healthy.
Step 2: Do not comb/brush your hair
Combing or brushing will remove the tousling look.
Step 3: Wipe your hair dry.
Use a towel to wipe your hair, then spray heat protection on it. Still, avoid brushing or combing it. Wrap your hair in a clean towel or specialized towel turban.
Step 4: Sleep with the turban/towel on your hair.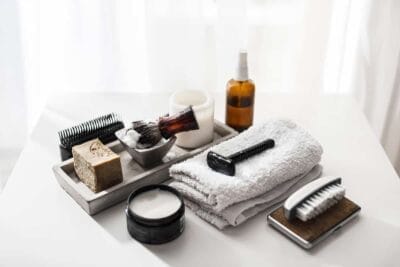 Dry your hair completely by the morning, but if otherwise, please blow dry it to remove dampness.
Step 5: You can add more waves.
If you require more waves on your hair, you can use curling irons on low it to add more waves. Be careful when using the irons; just hold for a few seconds to avoid any damage.
Avoid brushing, but tease any part that looks flat.
Step 6: Do not wash your hair afterward.
Avoid washing your hair and maintain the tousle by teasing and ruffling from time to time.
Method 3: Tousling Volumize Hair
Step 1: Wash and dry your hair.
Shampoo your hair, but do not use conditioner on it, or if you must, use a light one.
Dry your hair with a towel to keep it damp.
Step 2: Apply Mousse to your hair.
When applying the mousse throughout your hair, focus on the roots. Crunch your hair with your fingers and dry it with a towel.
Step 3: Curl your hair.
You can divide your hair into two sections through the middle. Then, spray heat protection over your hair and use the curling iron at low heat to curl your hair.
If you prefer loose wave curls, then curl larger sections.
But, if you prefer tightly tousled waves, then curl with smaller hair sections.
Step 4: You can consider applying mousse.
Instead of using a curling iron, you can opt to use mousse. Flip and crunch your hair, then apply mousse to keep the tousle firmly in place.
You can apply anti-frizz spray when scrunching to prevent frizz from occurring.
Step 5: Finishing
Apply any shine serum of your choice, or you can leave it like that. You can also add hair spray for proper finishing.
Why Is Chase Stokes Hair Style Special?
The Chase Stokes hair style is special because of its link to surfing. It has a similar heritage like dreads, though not as popular.
You can relate the hair style directly to surfing when you see it because most surfers like keeping their hair messy. Though the hair style is cool by itself, Chase Stokes also made the hair special among teens. Because of his movie character John B's influence, many people are now interested in Stokes hairstyle.
Conclusion
This article has made the best Chase Stokes hairstyle easier and simpler to get; all you need to do is follow the simple steps highlighted. You are sure to get that sexy look you have been craving for and look just as stunning as John B. If you are still not satisfied with Chase Stokes hairstyle, you can catch more of our blogs to get a wider range of options.